FedEx Express rewards young entrepreneurs ready to access new markets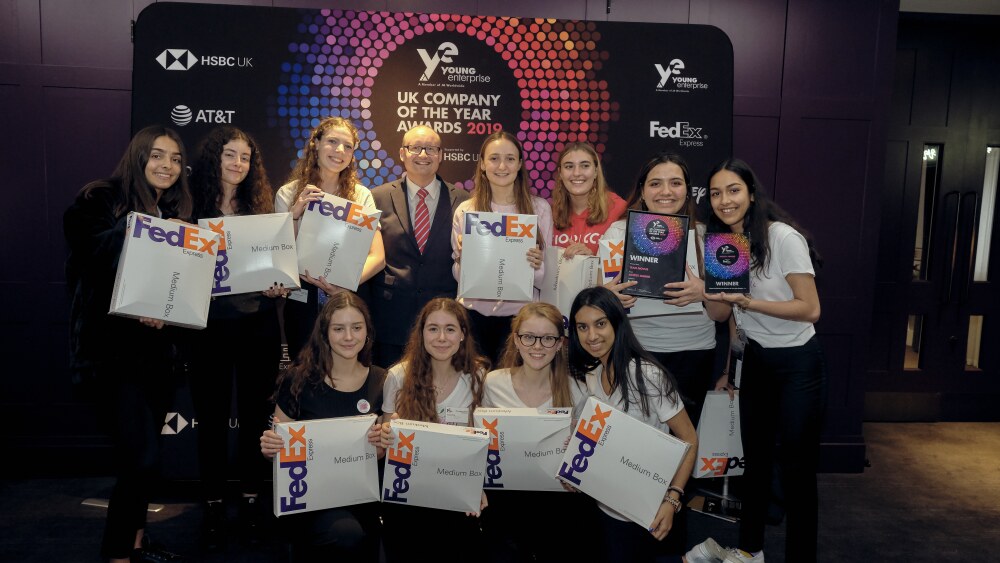 FedEx Access Award is presented at the Company of the Year Awards held by Young Enterprise
London, 20 June 2019— FedEx Express, a subsidiary of FedEx Corp (NYSE: FDX), awarded its signature FedEx Access Award to Team Novus, a student team from Channing School, London, who created the company Doodle Bloom. The award was made in London at the UK Company of the Year Awards event, which forms part of the Young Enterprise Company Programme.
Team Novus, a company established by students from Channing School, London, took home the award having set up their business, Doodle Bloom, and designed and manufactured 12 plantable, coloured pencils that are accompanied by a biodegradable plant pot.
Ed Clarke, Managing Director Operations, FedEx Express UK, and Award Judge said: "The FedEx Access Award is a great way to acknowledge and reward the innovative work achieved by companies run by young people. Team Novus really impressed us with its focus on sustainability and we've been inspired by the overall quality of entries for this year's competition run by Young Enterprise. FedEx Express supports small and medium enterprises across the world, and we're pleased to see that the future of business in the UK is in safe hands with this next generation of entrepreneurs."
The signature award was designed to incorporate the notion of 'access' into the core thinking of future entrepreneurs. It recognises the student-run company that best demonstrates innovation, a readiness to access global markets, a contribution to socio-economic development, and a responsible approach to environmental sustainability.
Shehnaz Cuerdo, Managing Director from Team Novus, said: "The Young Enterprise programme has given us a chance to start our business from scratch and taught us many skills we wouldn't learn in the classroom. We want to continue the business and expand our offering into a full stationary set."
Student Kate Anderson from Team Novus said: "This has been such an exciting opportunity! We are really proud of each other and how successfully we came together as a team. Being able to impact the world with our sustainable pencils has meant a lot and it's been amazing to be recognised for it with this award."
Michael Mercieca, Chief Executive of Young Enterprise, said: "I'd like to congratulate the students from Channing School for winning the FedEx Access Award. The award has been generously supported by FedEx Express who, like Young Enterprise firmly believe employability skills can have a real impact on young people's futures."
Young Enterprise is a national charity which works to equip young people with the skills, knowledge and confidence they need to succeed in the changing world of work. This year, students across the country have set up almost 1,000 companies over the academic year, making all the decisions about their business, from deciding the company name and product, to creating a business plan, managing their finances and selling their products.
The best 14 teams were chosen to take part in the finals of the national competition held in London on June 18, 2019. The winner will go on to represent the UK at the Junior Achievement Company of the Year Final which is taking place in Lille, France in July with President Macron in attendance.
FedEx Express has supported Young Enterprise for three years, as part of its commitment to Global Entrepreneurship under FedEx Cares.