FedEx Express Joins Forces with Motorwise, Educating Students on Road Safety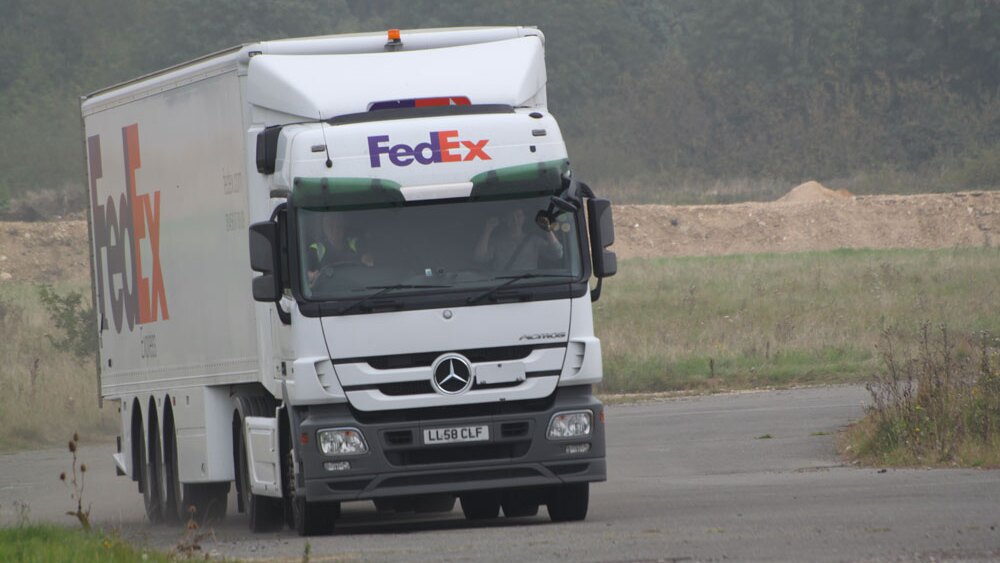 On 15 September, FedEx Express, a subsidiary of FedEx Corp. (NYSE: FDX) and the world's largest express transportation company, joined forces with Motorwise, a week-long intensive Road Safety Course. Run by Uttlesford District Council, Motorwise promotes responsible attitudes towards the use of motor vehicles. In total, 11 FedEx volunteers donated their time during the programme to help educate 15-17 year olds on the importance of driver safety and awareness.
FedEx has supported this annual programme since its creation in 2003 and again provided an LGV vehicle to help communicate the dangers of blind spots to over 700 teenagers during the week long education programme. The FedEx team demonstrated the blind spots of an LGV Truck and braking/stopping distances as well as providing a road safety quiz for students with FedEx prizes on offer for the top candidate.
Based in Essex, this education programme offered students the chance to sit in the cab of a FedEx LGV vehicle as well as the opportunity to learn skills and gain knowledge about handling a vehicle safely before they start driving themselves and also aimed to help influence their parents' own driving habits.
"At FedEx, we place a high priority on driver safety and training. It is integral to our business that our drivers not only look after the safety of themselves and cargo in transit, but act in a responsible manner towards others on the roads," said William Martin, managing director, International Operations at FedEx
"I would like to take the opportunity to thank FedEx who brought a new dimension to Motorwise with its LGV vehicle showing the dangers of blind spots," says Motorwise event organiser Martin Ford, community safety officer for Uttlesford District Council. "The students were shocked to find out the difficulty the drivers have in seeing other vehicles in their wing mirrors. The Motorwise education programme is designed to give the students lifesaving experiences and this set was an excellent addition to our programme. We hope very much that FedEx will be able to support us again this year''.
Helping them understand, evaluate and rectify situations drivers, passengers and members of the community face on a day-to-day basis, FedEx and Motorwise look to emphasise the importance to students of accepting responsibility for their own safety and that of others.
About FedEx Express
FedEx Express is the world's largest express transportation company, providing fast and reliable delivery to more than 220 countries and territories worldwide. FedEx Express uses a global air-and-ground network to speed delivery of time-sensitive shipments, by a definite time and date with a money-back guarantee.
About FedEx Corp.
FedEx Corp. (NYSE: FDX) provides customers and businesses worldwide with a broad portfolio of transportation, e-commerce and business services. With annual revenues of $46 billion, the company offers integrated business applications through operating companies competing collectively and managed collaboratively, under the respected FedEx brand. Consistently ranked among the world's most admired and trusted employers, FedEx inspires its more than 300,000 team members to remain "absolutely, positively" focused on safety, the highest ethical and professional standards and the needs of their customers and communities. For more information, visit newsroom.fedex.com/newsroom.
About Motorwise
Motorwise is the work of the Uttlesford Community Safety Partnership, a collaboration of organisations working to make the district safer. Members include the district council, Essex County Council, Essex Police and Essex County Fire and Rescue Service, with additional support coming from local driving schools and FedEx.