FedEx Express Gateway for Central & Eastern Europe Moves to Cologne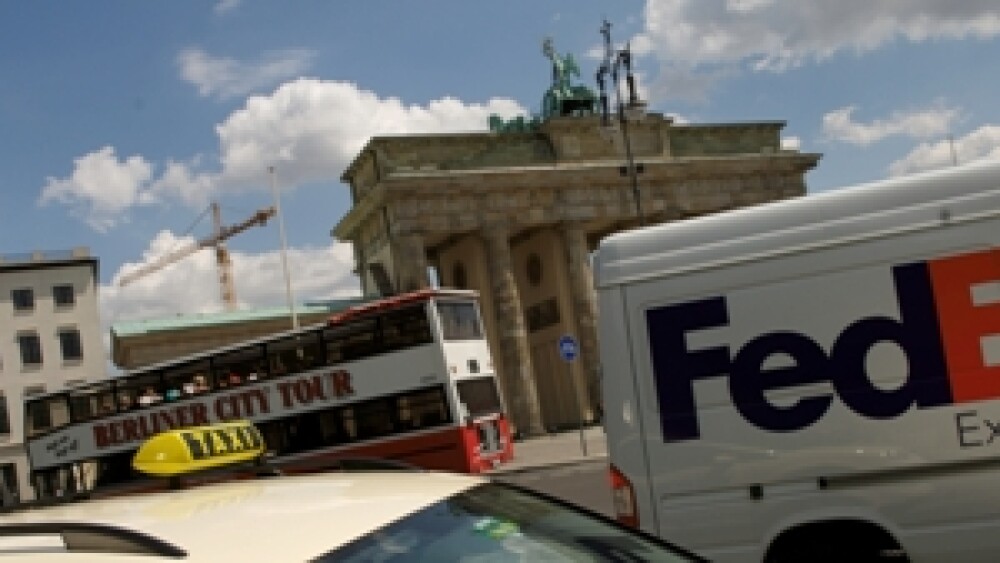 FedEx's Largest hub in Germany to be Built at the Cologne/Bonn Airport
Cologne/Frankfurt, August 6, 2007 – FedEx Express, a subsidiary of FedEx Corp. (NYSE: FDX) and the world's largest express transportation company, will relocate its largest German gateway from Frankfurt/Main to the Cologne/Bonn airport in 2010. FedEx and the operator of the airport, Flughafen Köln/Bonn GmbH, signed a cooperation agreement. New ramp and sort facilities will be built on a total floor space of approximately 50,000 square meters. The reason for this decision is the rapidly-growing demand for express services in Germany and Eastern Europe and its alignment with the strategic objectives of the company.
"In order to be able to provide the highest possible quality in all our services to our customers worldwide, we need to expand our hub capacities," said Michael Mühlberger, vice president, Operations, FedEx Express Central & Eastern Europe. "Due to a potential ban on night flights, the Frankfurt/Main location cannot provide FedEx with long-term planning reliability."
However, the Rhine/Main region will continue to play an important role for FedEx's intercontinental and Europe services. Therefore, a part of the workforce will continue to work in Frankfurt in the future. In addition, new jobs will be created in the Cologne/Bonn region.
Cologne airport holds a number of benefits for FedEx, including great air traffic capacities. With a volume of 698,000 tons, it is the second-largest cargo airport in Germany and has longstanding experience in collaborating with air cargo and express service providers. Due to its proximity to highways, railway transportation and the river Rhine, the airport provides an ideal infrastructure for cargo traffic.
"It was important for us right from the beginning to continue serving Germany and Eastern Europe from a central gateway in Germany," said Michael Mühlberger. "We have made a good choice in the Cologne airport and we found a reliable partner for our plans in the Flughafen Köln/Bonn GmbH."
Michael Garvens, chairman of Flughafen Köln/Bonn GmbH, said, "I am looking forward to collaborating with FedEx Express. The relocation is a great gain for the Cologne/Bonn airport as well as for the whole region."
About FedEx Express
FedEx Express is the world's largest express transportation company, providing fast and reliable delivery to more than 220 countries and territories. FedEx Express uses a global air-and-ground network to speed delivery of time-sensitive shipments, by a definite time and date with a money-back guarantee.
About FedEx Corp.
FedEx Corp. (NYSE: FDX) provides customers and businesses worldwide with a broad portfolio of transportation, e-commerce and business services. With annual revenues of US$35 billion, the company offers integrated business applications through operating companies competing collectively and managed collaboratively, under the respected FedEx brand. Consistently ranked among the world's most admired and trusted employers, FedEx inspires its more than 280,000 employees and contractors to remain "absolutely, positively" focused on safety, the highest ethical and professional standards, and the needs of their customers and communities. For more information, visit news.van.fedex.com.
Contact: Felix Ullmann, ergo Kommunikation
Phone: +49 (0)221-91 28 87-26, Fax: +49 (0)221-91 28 87-76
Email: fedex@ergo-pr.de