FedEx Express Expands in Antwerp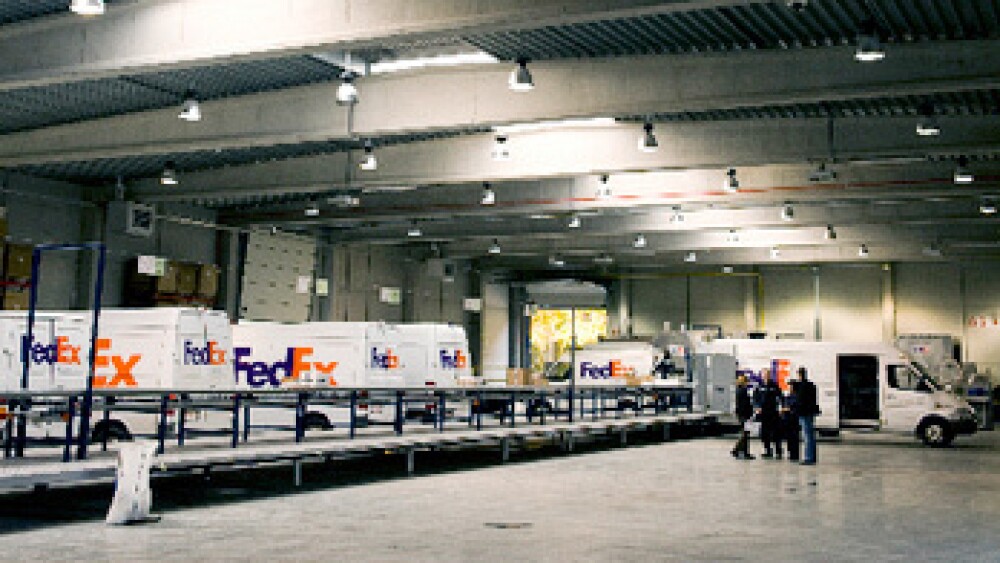 ANTWERP, Belgium, November 17, 2008 - FedEx Express, a subsidiary of FedEx Corp. (NYSE: FDX) and the world's largest express transportation company, today announced a new state-of-the-art distribution centre to meet customer demand in the Antwerp region.
Located in Wilrijk (Antwerp), the new 2,500 meters facility is equipped with a number of energy efficient solutions including an innovative air-water heat pump which reduces energy consumption by more than 40 percent, and CO2 emissions by more than 60 percent. It also features a sophisticated ventilation and building automation system, allowing each room to be lighted and heated separately.
"The new distribution facility significantly expands the current capacity of the centre by almost one third, allowing us to drive greater service efficiency to meet future demand and accommodate extra personnel," said Patrick Stienlet, Managing Director of Operations, FedEx Express Benelux. Developed in partnership withGACSSOLUTIONS nv / Invictus nv, a company specialising in environment-friendly industrial construction, the expanded facility will be fully equipped to load and unload thirty delivery vans simultaneously, representing a 25 per cent increase in capacity.

"At FedEx we are committed to doing what we can to ensure our business practices are as environmentally responsible as possible. We are proud of the leadership role we have played in the industry in developing technological solutions for attaining greater sustainability in our operations. This station represents another step toward that commitment," said Robert W. Elliott, president, FedEx Express, Europe, the Middle East, the Indian subcontinent and Africa.

The new distribution centre was also developed with a range of other energy saving measures. In total, 1,235 low-energy light bulbs are used throughout the facility; water is recycled for washing vehicles and its location was strategically selected to cut down on driving time by providing immediate access to highways and public transportation.

The facility highlights the drive towards sustainable entrepreneurship at FedEx. Recently, the company broke ground on a new 50,000 meters solar-powered hub in Cologne, Germany to serve Central and Eastern Europe. The hub is due for completion in 2010 and is expected to employ 450 people in Cologne. The roof of the hub will have solar panels with a total yearly production output of 1.3 gigawatt-hour, enough to supply electricity to 450 families. If you would like to visit the new distribution centre or receive illustrated material, please contact jo.thuys@duvalguillaume.com.