FedEx Express Expands Air Network with Launch of New Flight Between Europe and Japan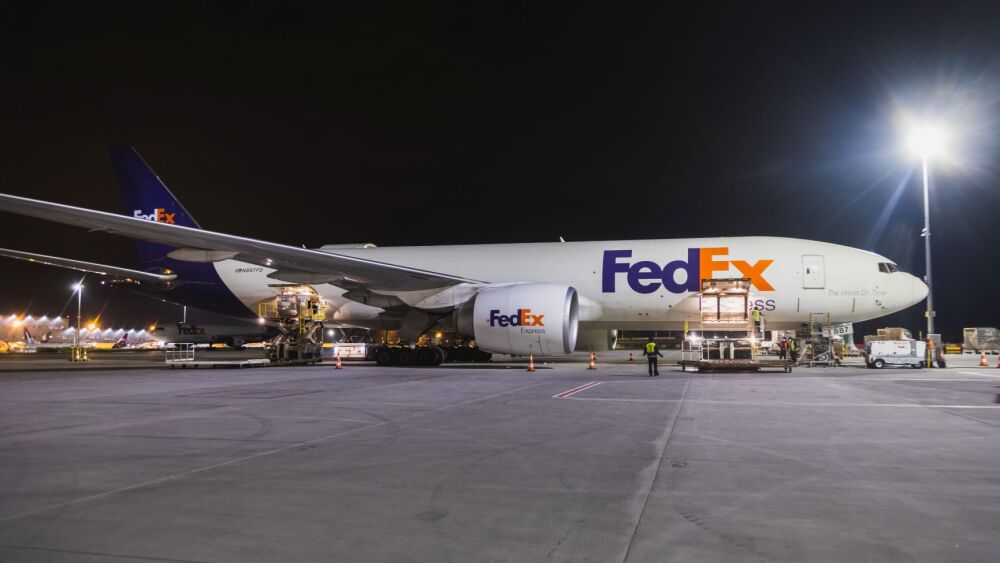 Hoofddorp, Netherlands, October 6, 2021 – FedEx Express, a subsidiary of FedEx Corp. (NYSE: FDX) and one of the world's largest express transportation companies, today announces the launch of a new intercontinental flight between Europe and Japan, giving customers improved direct connectivity to the country and additional capacity to Japan and Northern China. The flight, operated by a Boeing 777, adds approximately 440,000 pounds of additional capacity per week. It departs from Charles-de-Gaulle Airport in Paris, France, and flies four times per week directly to Kansai International Airport in Osaka, Japan. It will then go on to Guangzhou Baiyun International Airport in Guangzhou, China. Additionally, one day a week, a flight will leave Charles-de-Gaulle Airport to Singapore Changi Airport, before travelling on to Guangzhou Baiyun International Airport, adding another 110,000 pounds of weekly capacity.
These new connections – along with the company's recently announced flights for Asia Pacific exporters – strengthen the FedEx commitment to meeting customer demand, particularly for e-commerce shipments in the region. In June 2021 FedEx reported a growth of e-commerce parcel volume by more than $1 billion year over year out of Asia and Europe[1]. The new flight will support businesses that operate on EU-Japan and intra-Asian lanes by improving access to APAC markets, many of which are rebounding following the initial shock economies experienced in 2020.[2] Key benefits for European businesses include:



Direct connectivity to Japan – customers will benefit from delivery within 48 hours to many key cities in Japan.

Additional capacity to other APAC markets – this flight provides customers with additional capacity for express and freight shipments.
"Online retail sales in APAC generated approximately $2.45 trillion in 2020[3] – and with research suggesting e-commerce sales in APAC are expected to almost double by 2025[4], it is crucial that European businesses can easily and reliably access the growth potential this region offers," said Karen Reddington, president of FedEx Express Europe. "Our latest network enhancement means European businesses now have improved access to the enormous growth opportunities available in Japan and other APAC markets, and they can rely on FedEx as a partner to grow their business on this thriving trade lane."
The high-growth APAC markets will appeal to many European businesses looking to grow in the region. Japanese global imports increased by 28.3% between May 2020 and May 2021,[5] and Europe accounts for 16% of all Japanese imports ($103 billion).[6] Japan is also the fourth largest e-commerce market.[7] As one of the leading express logistics players in the APAC region, FedEx currently operates more than 200 weekly flights in and out of APAC to trans-Pacific and European destinations, connecting EU and APAC customers to the company's extensive global network.
About FedEx Corp.
FedEx Corp. (NYSE: FDX) provides customers and businesses worldwide with a broad portfolio of transportation, e-commerce and business services. With annual revenue of $87 billion, the company offers integrated business solutions through operating companies competing collectively, operating collaboratively and innovating digitally under the respected FedEx brand. Consistently ranked among the world's most admired and trusted employers, FedEx inspires its 560,000 team members to remain focused on safety, the highest ethical and professional standards and the needs of their customers and communities. FedEx is committed to connecting people and possibilities around the world responsibly and resourcefully, with a goal to achieve carbon-neutral operations by 2040. To learn more, please visit about.fedex.com.
[1] FedEx FY21 Q4 Earnings transcript, June 24, 2021
[2] Uneven Recovery: East Asia and Pacific Economic Update, April 2021 | The World Bank
[3] Asia accounts for nearly 60% of the world's online retail sales | Digital Commerce 360
[4] E-Commerce Sales in Asia Pacific to Nearly Double by 2025, Reaching USD 2 Trillion | Business Wire
[5] Japan (JPN) Exports, Imports, and Trade Partners | OEC - The Observatory of Economic Complexity
[6] Japan-EU – international trade in goods statistics - Statistics Explained (europa.eu)
[7] Top 10 Countries, Ranked by Retail Ecommerce Sales, 2020 & 2021 (billions and % change) | Insider Intelligence (emarketer.com)