FedEx Express Celebrates 35 Years of Service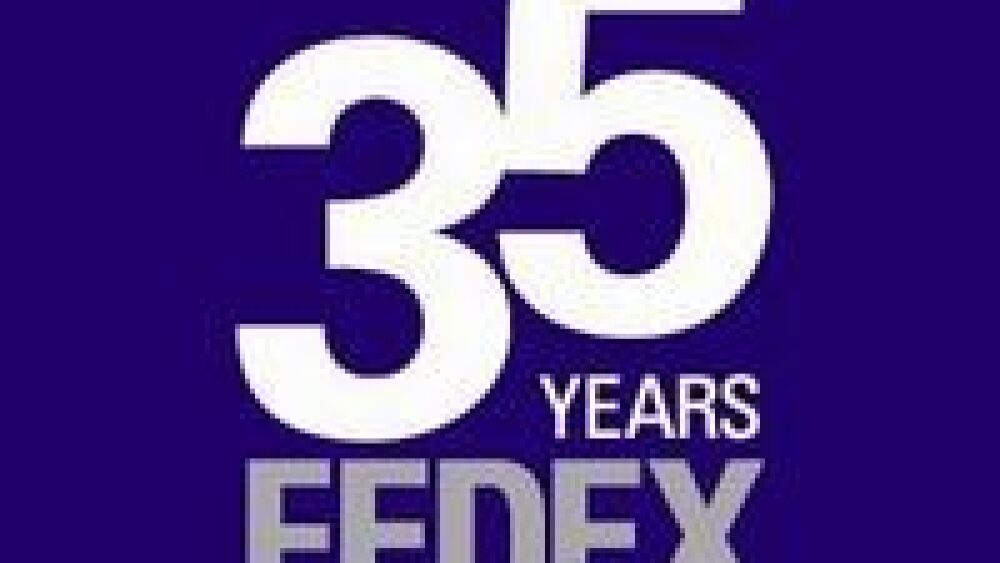 Brussels, 17 April, 2008 – FedEx Express, the world's largest express transportation company and a subsidiary of FedEx Corp. (NYSE: FDX), is celebrating 35 years of service in the air cargo industry on 17 April 2008. In 1973, founder Fred Smith launched FedEx from an abandoned military hangar at Memphis International Airport. Since then, FedEx has risen to become a global company facilitating trade across nations and continents. FedEx has experienced many milestones along the way, including being the first express delivery company to introduce overnight shipments and to have its own fleet of aircraft.
On 17 April 1973, 14 FedEx Falcon airplanes took off carrying just 186 packages. Today FedEx Express employs approximately 141,000 employees and handles an average daily volume of more than 7.5 million shipments, with 671 aircraft and more than 44,500 vehicles servicing 220 countries in its integrated global network.
Operating in 123 countries and territories in Europe, the Middle East, Africa and the Asian sub-continent, FedEx has consistently been recognised by Fortune as one of the World's Most Admired Companies, ranking seventh in 2007. The company has also been repeatedly named as a Great Place to Work and trusted employer throughout Europe and ranked 9 in France.
"We've been working hard to make every customer touch-point a point of differentiation, whether it's on our Web site, on the telephone, or during the pickup and delivery experience," Smith said during a recent meeting of investors and lenders. For years, Smith has championed the drive to make every FedEx experience outstanding.
Over the years, FedEx has handled and delivered a wide range of unique and unusual shipments such as white tigers, classic Ferraris, racing cars, artwork and Easter eggs, always honoring its pledge to satisfy customer needs no matter what it takes. For example, in 2002 FedEx shipped a female hippo from Basel Zoo, Switzerland, to Dublin Zoo, Ireland. The hippo was flown from Basel, Switzerland direct to Dublin. On arrival at Dublin airport, FedEx used its customs clearance expertise to expedite the very special shipment through Irish customs and delivered the animal on a dedicated FedEx vehicle, straight to Dublin Zoo.
In 2006, FedEx announced its active membership in the Roissy CAREX association, thus demonstrating its proactive support for the development of air/rail intermodality at Roissy-Charles de Gaulle to transport freight by high-speed train throughout Europe. This solution would enable FedEx to link its European sorting centre at Roissy to the main Northern European cities located within a radius of 300 to 800 kilometres, including London, Brussels, Amsterdam, Cologne, Frankfurt and Basel, and to the South of Europe in the long term.
The Europe-wide project will also significantly contribute to the competitiveness of businesses. It will encourage firms selling high value-added products to set up near Roissy-CDG, creating value and jobs, while limiting the environmental impact of the airport's growth. This flexibility to adapt to new circumstances that comes with each new challenge is possible thanks to the wide variety of services offered by FedEx worldwide.
As FedEx celebrates 35 years of dedicated customer service and business success, the company is looking ahead to find innovative solutions to future customer needs. Whatever the future brings, if it comes via FedEx, it will be on time and delivered with a smile.
About FedEx Express
FedEx Express is the world's largest express transportation company, providing fast and reliable delivery to more than 220 countries and territories. FedEx Express uses a global air-and-ground network to speed delivery of time-sensitive shipments, usually in one to two business days with the delivery time backed by a money-back guarantee.
About FedEx
FedEx Corp. (NYSE: FDX) provides customers and businesses worldwide with a broad portfolio of transportation, e-commerce and business services. With annual revenues of $36 billion, the company offers integrated business applications through operating companies competing collectively and managed collaboratively, under the respected FedEx brand. Consistently ranked among the world's most admired and trusted employers, FedEx inspires its more than 290,000 employees and contractors to remain absolutely, positively focused on safety, the highest ethical and professional standards and the needs of their customers and communities. For more information, click here.