FedEx Express Breaks Ground on New Central and Eastern Europe Hub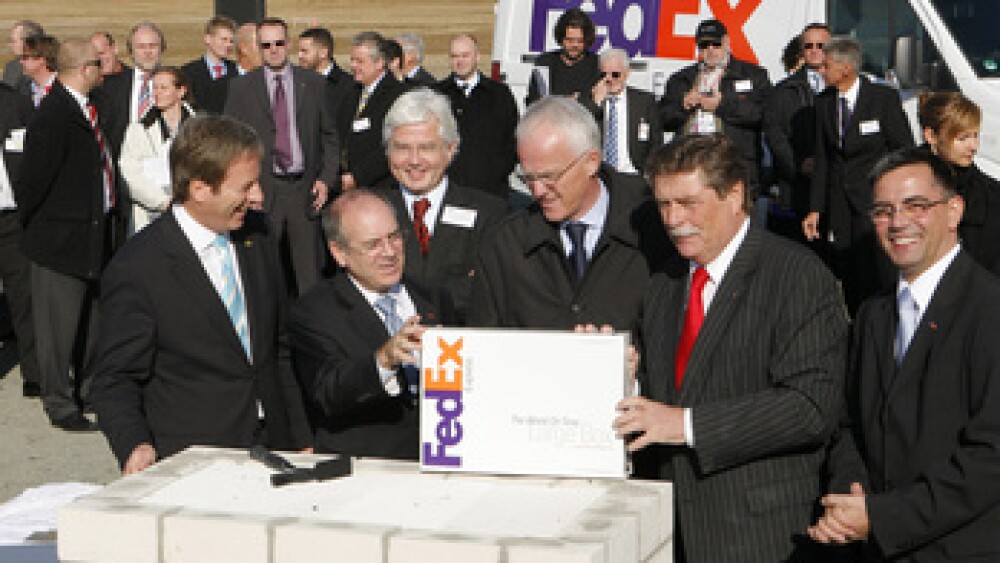 COLOGNE/FRANKFURT/MAIN, Oct. 20, 2008 – FedEx Express, a subsidiary of FedEx Corp. (NYSE: FDX) and the world's largest express transportation company, today broke ground on a new hub at the Cologne/Bonn airport, the site of the company's new Central and Eastern European gateway.

The state-of-the-art facility will be the largest FedEx Express gateway in Germany. In addition, it will be the first solar-powered hub for FedEx outside of the U.S. and the company's largest solar-powered hub worldwide. The hub is slated for completion in 2010 and is expected to employ 450 people in Cologne.
FedEx opted to build its new hub in Cologne because of the region's excellent freight transport infrastructure and the central location of the airport within Germany and Europe. "Moving to Cologne enables FedEx to plan effectively for the future," said Robert W. Elliott, president, Europe, Middle East, Africa and Indian subcontinent, FedEx Express. "With the availability of space to expand and more flexible night flight regulations, we have found innovative and practical solutions to meet the needs of our customers worldwide."

New ramp, freight and sort facilities with a fully-automated sort system will cover a floor space of approximately 50,000 square meters. In addition, the facility will be equipped with a 1.4-megawatt solar power system, which can generate approximately 1.3 gigawatt hours of electricity per year – equivalent to the annual consumption of 370 households. Solar panels, fitted to the roof of the new ramp and sort facilities, will cover a total surface area of 16,000 square meters.
The Rhine/Main region, including the Frankfurt airport, remains an important market for FedEx, and the company will continue to offer its entire service portfolio from Frankfurt.

"Demand for express delivery services in Germany and Eastern Europe continues to grow," said Gerald P. Leary, senior vice president, Global Trade Services and International Planning and Engineering, FedEx Express. "By moving into Cologne, FedEx can continue to provide a seamless service for customers seeking access to European and global markets while minimizing our impact on the environment."
FedEx supports the growth of sustainable energy use through commitments to renewable power sources in company operations. In August 2005, FedEx Express activated California's then-largest corporate solar power installation at its Oakland, Calif., West Coast Hub. FedEx Freight recently completed the installation of solar-electric systems at facilities in Whittier and Fontana, California. The new FedEx Express hub in Cologne will nearly double the amount of electricity FedEx currently generates from solar power.