FedEx Express Boosts Intra-Europe and Intercontinental Air Network Capacity Ahead of Peak Season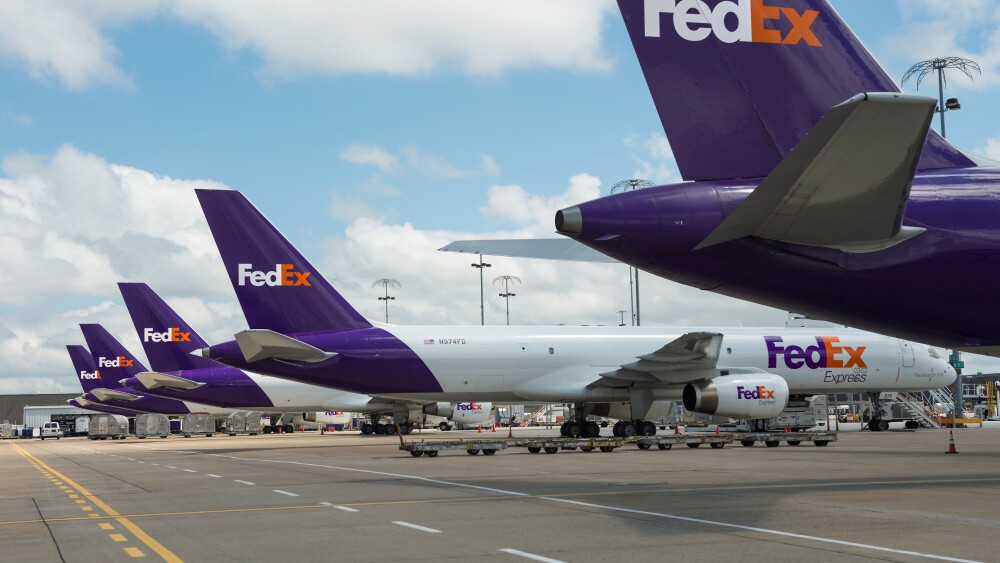 Three new intra-Europe flights and four flight extensions launched from CDG to key city hubs and gateways
Up to 20% of additional weekly EU-US capacity added in response to high demand for holiday season goods
Amsterdam, Netherlands, November 12, 2021 — FedEx Express, a subsidiary of FedEx Corp. (NYSE: FDX) and the world's largest express transportation company, has boosted its intra-Europe air network capacity with the addition of three new flights and four flight capacity upgrades, adding a total of almost 210,000 kilograms of weekly capacity on specific lanes within Europe. In anticipation of high holiday volumes, FedEx Express will also temporarily boost its transatlantic air capacity, reaching up to 20% additional capacity in the busiest week of the holiday season.
The intra-Europe flight upgrades, introduced in a phased approach as of September 2021, are a permanent addition to the FedEx Express air network and connect the FedEx Paris Charles-De-Gaulle (CDG) hub to key city hubs and gateways in Europe.
Additional flights



CDG-Kiev (Ukraine): adding 68,000 kilograms of weekly capacity.

CDG-Manchester (UK): adding 23,500 kilograms of weekly capacity.

CDG-Stockholm (Sweden): adding 60,000 kilograms of weekly capacity.
Flight capacity upgrades



CDG-Shannon (Ireland): replacing the existing ATR72-202 aircraft with the new ATR72-600, adding 3,500 kilograms of weekly capacity.

CDG-Prague-Timisoara (Romania): replacing smaller ATR-72 aircraft with a B737 on the existing CDG-Prague connection and extending it to Timisoara in Romania, adding 35,000 kilograms of weekly capacity.

CDG-Venice (Italy): replacing the ATR42 aircraft with the ATR72, adding 5,500 kilograms of weekly capacity.

CDG-Katowice-Warsaw: replacing two smaller ATR aircraft with one B737, adding 12,500 kilograms of weekly capacity.
These upgrades are the latest air network investments for FedEx Express in Europe. Together with a recently announced new transpacific connection, as well as additional peak season capacity between Europe and the US, these investments add a total of up to 1 million kilograms of weekly capacity in December for businesses shipping their products across Europe or intercontinentally.
Karen Reddington, President of FedEx Express Europe, said: "These latest air network investments demonstrate our commitment to growth, to our customers, and to supporting the flow of trade at a challenging time for supply chains and companies." Karen added: "Together with our peak capacity expansion to the US and our new EU-APAC flight, we are ready to support our customers during peak and beyond, whether they do business within Europe, or intercontinentally to the East or to the West".
As consumers continue shopping online through the pandemic, the 2021 peak season is expected to meet or exceed the unprecedented 2020 holiday season, leading to a high demand for capacity. In August, global demand for air cargo was already up 7.7% compared to pre-COVID levels[1]. Continuing supply chain challenges, including in ocean freight, are also leading to higher demands for air cargo capacity as businesses replenish stock levels in time for the holiday season.
About FedEx Corp.
FedEx Corp. (NYSE: FDX) provides customers and businesses worldwide with a broad portfolio of transportation, e-commerce and business services. With annual revenue of $87 billion, the company offers integrated business solutions through operating companies competing collectively, operating collaboratively and innovating digitally under the respected FedEx brand. Consistently ranked among the world's most admired and trusted employers, FedEx inspires its 560,000 team members to remain focused on safety, the highest ethical and professional standards and the needs of their customers and communities. FedEx is committed to connecting people and possibilities around the world responsibly and resourcefully, with a goal to achieve carbon-neutral operations by 2040. To learn more, please visit about.fedex.com.
###
[1] https://www.iata.org/en/pressroom/2021-releases/2021-09-29-01/