FedEx Express Announces Acquisition of Indian Express Company PAFEX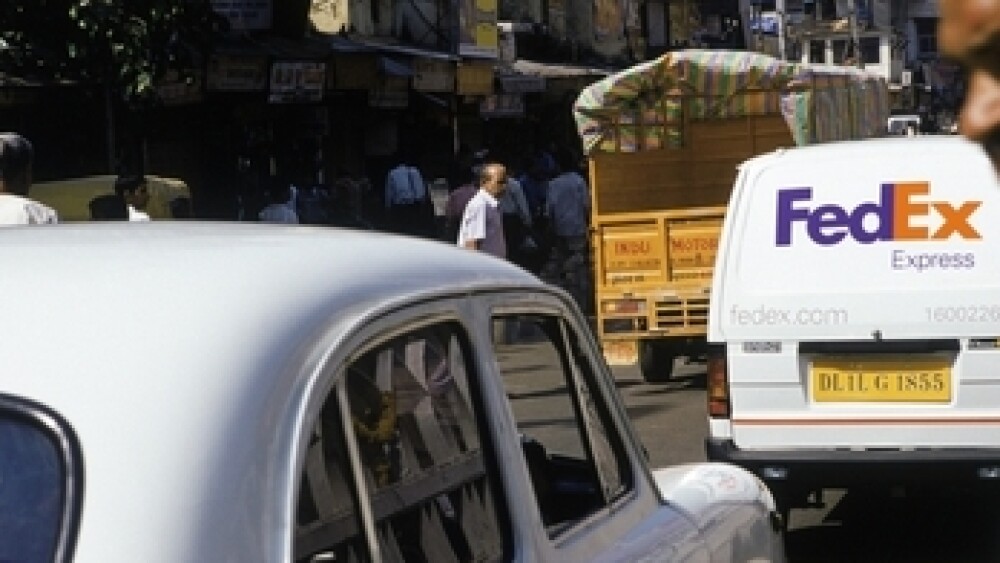 Mumbai, January 31, 2007 – FedEx Corporation (NYSE: FDX) announced today that its FedEx Express unit had completed the previously announced acquisition of its Indian service provider, Prakash Air Freight Pvt. Ltd. (PAFEX).

PAFEX, formerly a privately held company, is one of the largest domestic express companies operating in India , with more than 384 offices and depots serving nearly 4,400 destinations. The nationwide network covers every city in India . PAFEX began domestic express operations in India in 1986 and has been the FedEx service provider in India since 2002.

"The continued growth and improvement of express services in India will serve to strengthen the country's infrastructure, enhancing the competitiveness of Indian businesses and their access to global markets," said Robert W. Elliott, FedEx Express president, Europe, Middle East, Indian Subcontinent and Africa.

According to the goal set by the Indian Minister for Finance in the most recent budget, Indian exports will reach US$150 billion by 2008-2009. The acquisition of PAFEX allows FedEx Express to invest more effectively and directly in the long-term growth and prosperity of India 's economy.

PAFEX has an established track record in meeting the quality standards required by FedEx and its customers. The acquisition consolidates the resources of the two companies and ensures customers continue to receive the same reliable, seamless service they have come to expect from FedEx.

"FedEx and PAFEX are committed to the success of the Indian market, its workforce and its customers," said Michael L. Ducker, president - International, FedEx Express. "Through this acquisition we will have direct control of our pick up and delivery operations, which will enhance our business flexibility and speed to market. Customers will benefit from a reliable service offering to, from and within India as a result of this acquisition."

"As a fast-growing, market-driven economy that recorded 8.4 percent growth between 2005 and 2006[1], FedEx believes India is poised to take a leading role on the world's stage as an economic superpower, and we want to be partners in making it happen," said Jacques Creeten , FedEx Express vice president - India.

PAFEX day-to-day services will remain unchanged for the foreseeable future.

About FedEx in India

FedEx Express set up operations in India in 1984. Since that time, it has continued to play a leadership role in connecting India to the world:


FedEx was the first express company to introduce an all-cargo flight in India in 1997;

FedEx began the first overnight express service between India and China in 2005;

FedEx was the first express air cargo company to operate two gateways in India (Mumbai and Delhi ), with a total of 16 MD-11 flights in and out per week.
About FedEx Express

FedEx Express is the world's largest express transportation company, providing fast and reliable delivery to more than 220 countries and territories. FedEx Express uses a global air-and-ground network to speed delivery of time-sensitive shipments, usually in one to two business days with the delivery time backed by a money-back guarantee.

About FedEx

FedEx Corp. (NYSE: FDX) provides customers and businesses worldwide with a broad portfolio of transportation, e-commerce and business services. With annual revenues of $34 billion, the company offers integrated business applications through operating companies competing collectively and managed collaboratively, under the respected FedEx brand. Consistently ranked among the world's most admired and trusted employers, FedEx inspires its more than 275,000 employees and contractors to remain "absolutely, positively" focused on safety, the highest ethical and professional standards and the needs of their customers and communities. For more information, visit fedex.com.
---

[1] Data from the Economist Intelligence Unit - http://www.economist.com/countries/India/profile.cfm?folder=Profile-Forecast