FedEx Express and Urban-Cab Join Forces for Ecological Deliveries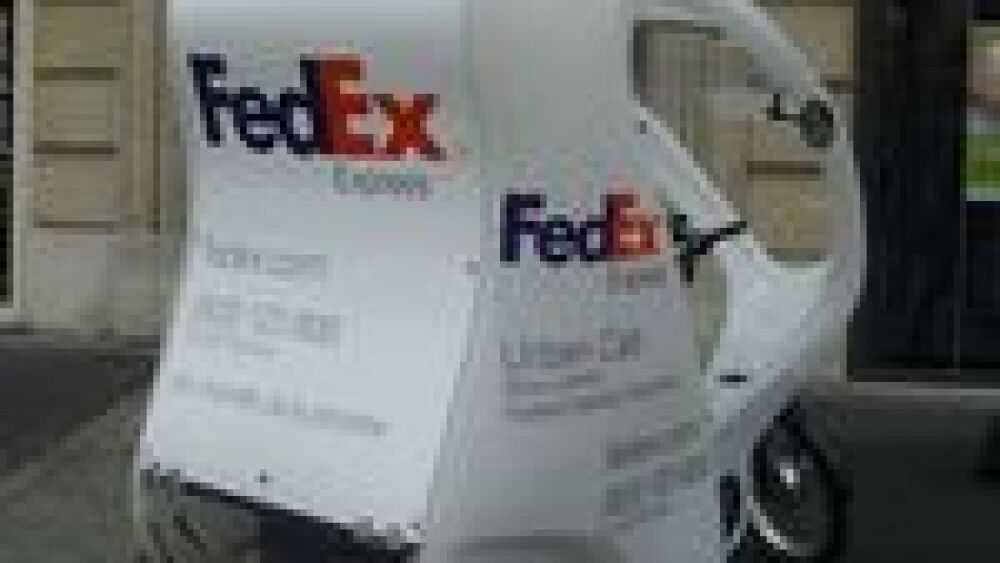 PARIS, April 21st, 2009 — FedEx Express, a subsidiary of FedEx Corp. (NYSE: FDX) and the world's largest express transportation company, and Urban-Cab, Paris leader in 100% ecological passenger transportation, have announced their program for efficient and environmentally-friendly parcel deliveries in the heart of the capital. The two vehicles, specifically designed for town-centre operations, have been tested since the beginning of January 2009 and passed with flying colors.

A recent survey indicates 37% of the French population consider the environment to be one of their major concerns (source TNS-Sofres) –all the more reason for FedEx to continue its environmental impact reduction policy.

FedEx currently runs two vehicles from Urban-Cab—an electric utility vehicle (Goupil & Matra) and an electrically-assisted tricycle—in Paris' sixth district out of Urban Cab's Opéra logistics base. During the eleven-week trial, Urban-Cab vehicles delivered more than 2,400 documents and small parcels, with an average of about fifteen emission-free stops per hour.

Based on this experience, FedEx aims to raise the number of vehicles to five in the next few months and to expand its delivery coverage to more districts.
"This project is fully in line with FedEx commitment to connecting the world in responsible and resourceful ways. With a global fleet to 170 hybrid electric vehicles and solar-powered buildings in the United States and as of 2010 in Germany, this partnership clearly demonstrates FedEx desire to reduce its environmental impact and represents a new step in France," explained Dirk van Impe, managing director, Operations for FedEx Express France. "Urban-Cab is a company able to provide the quality of service needed to meet this challenge," he added.

The main activity of Urban-Cab's innovative 100% ecological 22 vehicles is passenger transportation throughout the capital. At the request of FedEx, the company agreed to diversify its business, with the success of the concept justifying the ongoing business and fleet deployment plan.
"The ethical environmental management promoted by Urban-Cab with its emphasis on the individual is fully in tune with FedEx values. It is a real pleasure to see that a major international group such as FedEx is making a concrete commitment," said Francis Allouche, CEO of Urban Cab.

In addition to the obvious fundamental benefits for the environment, the service provided by Urban-Cab also enables FedEx to anticipate any automobile traffic restrictions in the heart of the capital and to help keep down the particularly dense traffic there. Thanks to this mode of clean parcel transportation, FedEx is also improving its day-to-day efficiency by getting even closer to its end-customers, as the Urban-Cab vehicles can access pedestrian-only areas.

TECHNICAL DATA SHEET
Non-polluting vehicles



Electric utility vehicle: "Goupil" or Gem"

Light-weight vehicles, designed for medium size parcels
Capacity: 3 m3
Speed: 25 km/hour
Range: 70 km


Electrically-assisted tricycles: "Urban-Cargo"

250 Watt motor
Capacity: 1.5 m3
Speed: 20 km/hour
Range: 40 km or 6 hours
Eco-design vehicle

About FedEx Express
FedEx Express is the world's largest express transportation company, providing fast and reliable delivery to more than 220 countries and territories. FedEx Express uses a global air- and-ground network to speed delivery of time-sensitive shipments, by a definite time and date with a money-back guarantee*.
*Subject to relevant terms and conditions.
About FedEx Corp.
FedEx Corp. (NYSE: FDX) provides customers and businesses worldwide with a broad portfolio of transportation, e-commerce and business services. With annual revenues of $38 billion, the company offers integrated business applications through operating companies competing collectively and managed collaboratively, under the respected FedEx brand. Consistently ranked among the world's most admired and trusted employers, FedEx inspires its more than 290,000 team members to remain "absolutely, positively" focused on safety, the highest ethical and professional standards and the needs of their customers and communities. For more information, visit news.fedex.com.
About Urban-Cab
Urban-Cab is a limited company with a capital of 87,690€, specializing in ecological, town-centre micro-journeys. In 2008 Urban-Cab's electric tricycles carried more than 100,000 passengers in Paris. This new "bicycle-taxi" transport concept offers users the chance to reconnect with the Capital in a less-aggressive, more enjoyable way, in particular through its wide range of private and corporate tours. Urban-Cab chose in 2009 to diversify into ecological deliveries through a robust partnership with FedEx Express. From its Opéra base, Urban-Cab is today deploying through Paris, opening up new logistics bases at Arc de Triomphe, St-Germain & Rive gauche Bercy. For more information, visit www.urban-cab.com.