FedEx Express and Modec Roll Out Electric Vehicles in Paris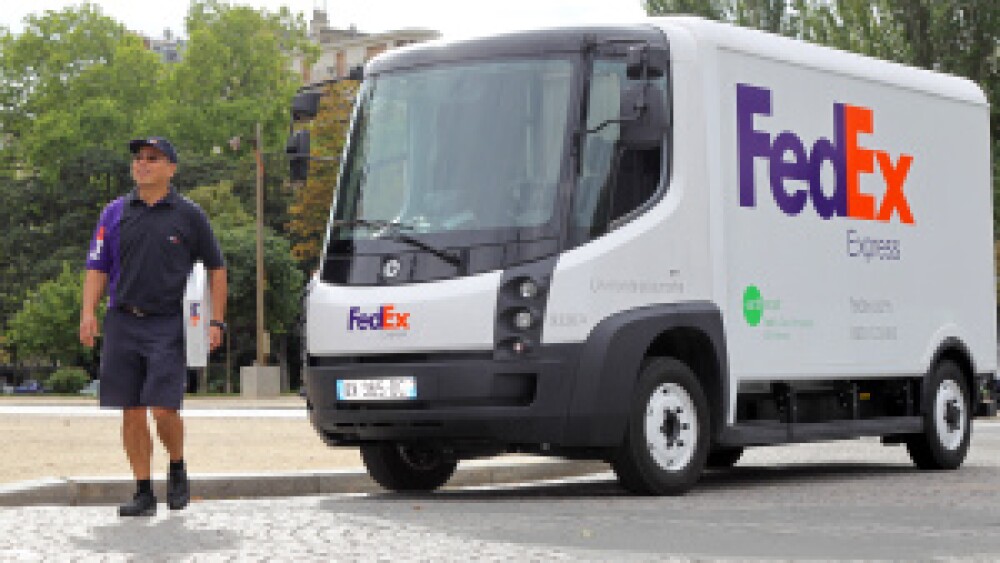 PARIS, May 26th, 2010 – FedEx Express, the world's largest express transportation company and a subsidiary of FedEx Corp. (NYSE: FDX), today announced the expansion of its alternative-energy vehicle fleet with the introduction of five new electric commercial vehicles for use in Paris. These five state-of-the-art trucks—optimized for electric operation—will hit the roads of Paris at the end of May 2010, joining more than 1,800 alternative-energy vehicles already in use at FedEx locations around the world, including ten electric parcel delivery vehicles already in London, four in Paris and four coming to the United States.
With the largest hybrid fleet in the transportation industry, along with one of the largest alternative energy vehicle fleets, FedEx clearly demonstrates its desire to reduce its environmental impact.
"In 2004, we were the first global company to invest in hybrid-electric commercial trucks, and now we're continuing our introduction of even cleaner, all-electric parcel delivery trucks. We're making these investments, and invite others to join us, so that together we can speed the transition to a cleaner transportation system," said David J. Bronczek, president and CEO, FedEx Express.
The new Modec vehicles, which have been heralded as the future of urban vehicle manufacturing, are designed specifically for commercial operation in urban environments, making the vehicle quick and easy to enter and exit, and maximizing driver comfort and productivity. Modec vehicles feature a large, removable battery pack and can travel more than 90 km on one overnight charge. The Modec vans are a concrete example of FedEx commitment to connecting the world in responsible and resourceful ways, through industry-leading innovations that are more efficient and better for the environment.
Rather than creating its own proprietary technology, FedEx is again turning to the marketplace to spur solutions that can be scaled up to provide affordable and reliable services to a wide range of delivery truck operators.
In Paris, FedEx already runs three state-of-the-art Iveco hybrid vehicles and four electric vehicles—one Goupil electric utility vehicle and three electrically assisted tricycles in the center of the city in partnership with Urban Cab, Paris' leader in 100% ecological passenger transportation. FedEx has also more than 320 LPG and electric-powered ground support units in use, mainly at its European hub in Paris Charles de Gaulle (CDG) airport.
"Even if electric trucks are still in their infancy, we think they have a bright future in the mix of alternative energy vehicles. We are delighted to welcome the first five FedEx-branded electric Modec vehicles in operation in Paris. The vehicles offer a perfect solution for urban delivery operations, where the potential to cut emissions is impressive, and businesses like FedEx and Modec are leading the way in this field," said Alain Chaillé, vice president Operations, FedEx Express Southern Europe. "I feel that these vans will meet both the practical needs of our customers and the need to operate in a sustainable manner."
The integration of the Modec vehicle into the French fleet is part of FedEx pledge to improve the fuel efficiency of its vehicle fleet by 20 percent and reduce carbon dioxide emissions from its aircraft fleet by 20 percent per available ton mile by 2020.
FedEx is working to achieve these ambitious goals through EarthSmart—the FedEx roadmap for operating in an increasingly sustainable way and engaging team members, customers, business partners, and a network of influencers to help us reduce the environmental impact of our daily business operations. Through EarthSmart, FedEx seeks to extend the depth and breadth of how sustainability is woven throughout the company. The FedEx EarthSmart program was developed in collaboration with Esty Environmental Partners, a sustainability management consultancy founded by Yale professor Dan Esty, author of Green to Gold.