FedEx Express and Dutch Non-profit Natuur & Milieu Launch Collaboration to Accelerate Sustainable Solutions for the Transportation Industry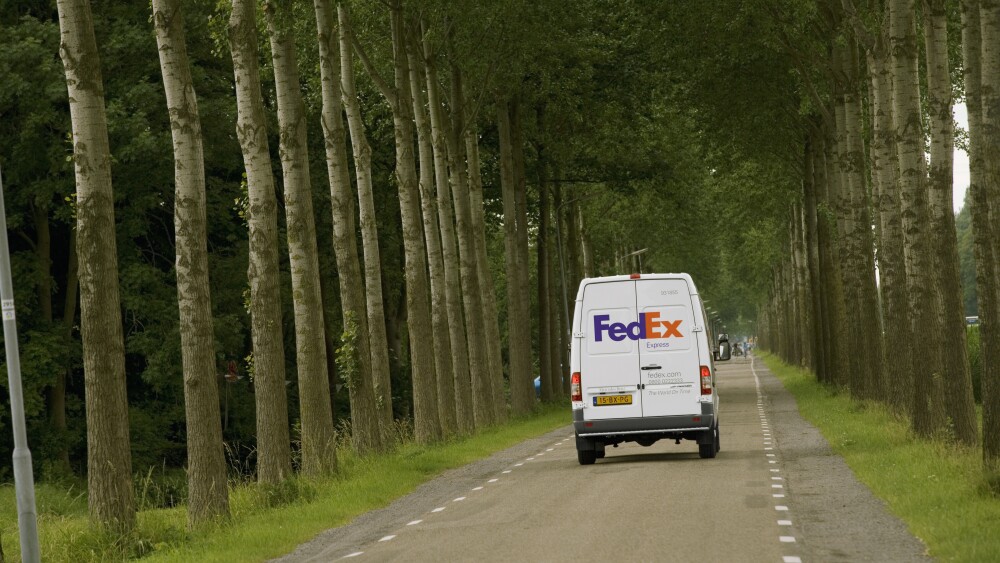 Three sponsored projects spanning road, facilities and air, aim to tackle emissions from the ground up


[28 April, 2021] NETHERLANDS: This month, express transportation company FedEx Express Europe and Natuur & Milieu (Nature & Environment) embark on a collaboration aiming to pave the way for a more sustainable transport sector.
Charitable funding from FedEx Express Europe will enable the Dutch non-profit to deliver three sub projects over the coming 12 months, aiming to realise sustainable solutions that drive down carbon emissions across road, logistics distribution facilities and aviation.
Projects include: empowering small to medium fleet operators to transition to zero emissions operations, promoting use of renewable energy and charging infrastructure in distribution centres, and finally, stimulating uptake of Synthetic Aviation Fuel as a means of reducing emissions of modern aircraft.
The transport sector has an important contribution to make in achieving the climate goals set out in the Paris Agreement. The EU Green Deal has also led to specific targets for transportation included in the Sustainable and Smart Mobility Strategy.
In the Netherlands, transportation of goods is responsible for 12% of the CO2 emissions of the Dutch economy. Aviation is responsible for 45% percent of these emissions, with road transport making up an additional 21% percent (CBS, 2019).
"We're excited to embark on these projects with the support of global transportation provider FedEx Express. Our ambition is that this collaboration will lead to sustainable logistics solutions becoming readily available and accessible on the one hand, while stimulating a significant reduction in CO2 emissions generated by the transport sector on the other. We look forward to working together on achieving climate goals in Europe," said Marjolein Demmers, Director of Natuur & Milieu.
FedEx Express will lend the expertise of its cross-functional sustainability department to the collaboration – adding its experience and perspective as the operator of an extensive European road network and the world's largest cargo airline.
"Electrification of our own parcel pick-up and delivery fleet and readying our facilities now to meet the needs of the future are both important components in how FedEx Express will move towards carbon neutral operations in Europe. In collaborating with Natuur & Milieu, we're proud to be able to play a role in enabling zero emissions solutions on a broader scale. Whether reducing road transport emissions to zero, replacing energy and infrastructure to future-proof distribution centres, or revolutionising aviation with synthetic fuels, we are enabling more sustainable logistics from the ground up," said David Canavan, Chief Operating Officer, FedEx Express.
FedEx recently announced its own goal to achieve carbon neutral operations globally by 2040, including a more than USD $2 billion investment in optimising its operations, renewable energies and carbon sequestration. This collaboration with Natuur & Milieu complements the $100m of funding FedEx is providing to establish the Yale Center of Natural Carbon Capture in the United States – adding a European collaboration with potential to accelerate solutions for the industry.
###
Contact:
Kate Bowen
FedEx Express Europe
e: kbowen@fedex.com
t: +44 (0) 7967 182 608
About FedEx Corp.
FedEx Corp. (NYSE: FDX) provides customers and businesses worldwide with a broad portfolio of transportation, e-commerce and business services. With annual revenue of $79 billion, the company offers integrated business solutions through operating companies competing collectively, operating collaboratively and innovating digitally under the respected FedEx brand. Consistently ranked among the world's most admired and trusted employers, FedEx inspires its more than 570,000 team members to remain focused on safety, the highest ethical and professional standards and the needs of their customers and communities. FedEx is committed to connecting people and possibilities around the world responsibly and resourcefully, with a goal to achieve carbon-neutral operations by 2040. To learn more, please visit about.fedex.com.
About Natuur & Milieu
Natuur & Milieu is an independent environmental organization that believes in a sustainable future for everyone. A future in which we live and work without negatively affecting the climate and nature. We are working on sustainable solutions in the areas of energy, mobility, resources, and food. Because it is these areas that will have the greatest impact on achieving our goals: a climate neutral country by 2050 and restoration of biodiversity. We always work based on the following core values: Fact-based, Faster solutions. Together we can achieve more.