FedEx Expands Healthcare Shipping Portfolio With New Cold Shipping Packaging Option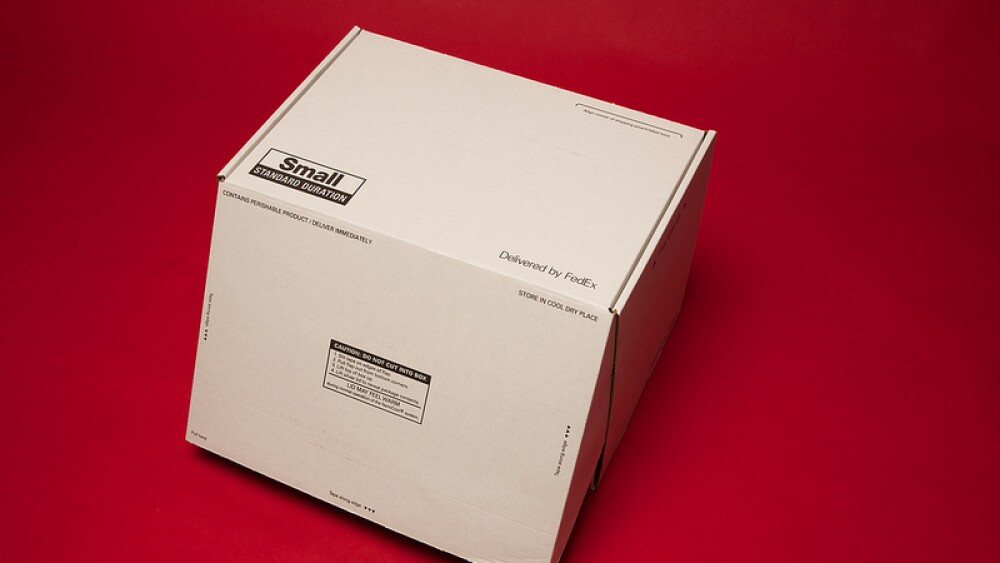 BRUSSELS, Belgium, Oct. 10, 2013, FedEx Corp. (NYSE: FDX) announced today that it has expanded its temperature controlled packaging (TCP) portfolio to include a new "cold shipping" packaging option for customers that require a refrigerated environment of 2-8° Celsius up to 96 hours for their shipments. The new packaging brings significant benefits to the healthcare industry, as it is easy to use, reliable, cost-effective and environmentally friendly. It is now available to customers in the following countries: Austria, Belgium, Czech Republic, Denmark, Estonia, Finland, France, Germany, Great Britain, Hungary, India, Ireland, Italy, Latvia, Lithuania, Luxembourg, the Netherlands, Norway, Poland, Slovenia, Spain, Sweden, Switzerland and the United Arab Emirates.
The patented system, built by NanoCool, achieves a temperature of 4°C in less than five minutes without the use of gel packs or dry ice. The packaging device maintains its exacting "cold ship" temperature requirements with a special cooling system that evaporates water over time, a process that is activated by merely pushing a button inside the box.
"The demand for global temperature-controlled shipping is growing quickly and FedEx Healthcare Solutions is growing with it," said Carlo Novi, managing director of Global Accounts, FedEx Express Europe, Middle East, Indian Subcontinent and Africa. "With our new cold shipping packaging option, FedEx customers who ship items that require a temperature controlled environment have peace of mind knowing their shipments are being taken care of in the secure FedEx network."
FedEx not only delivers a reliable, cost-effective method to transport temperature-sensitive shipments—it provides these services with easy use for customers. The convenient benefits of the system include:
· Reliable maintenance of a 2-8°C environment for up to 96 hours from activation without gel packs or dry ice
· Simple, easy-to-use product with no refrigeration, frozen preparation or "pre-conditioning" steps required
· Smaller, lighter packaging that weighs less than half of some gel-pack systems
· No complex assembly needed; the package arrives ready for use
· Packaging that's easier to dispose of than gel packs and produces less packaging waste
· Regulatory compliance for both infectious substances (UN3373 only) and non-infectious clinical samples
The packaging, which can also be used in combination with FedEx Priority Alert® service, is part of the broad portfolio of FedEx healthcare solutions designed to meet even the most sensitive shipping needs of FedEx customers.
"We are constantly striving to break new ground across the business because our customers are always seeking to push the boundaries, particularly in the healthcare industry," said Novi. "When it comes to critical, life-saving inventory, we are dedicated to developing the latest in cutting edge cold chain technology to protect these sensitive goods in transit. Our customers depend on us to offer solutions that reflect the speed and temperature specifications that are crucial for their industry."
To learn more about FedEx cold shipping solutions, visit http://www.fedex.com/us/healthcare/.