FedEx Delivers Innovative, Interactive View of World Data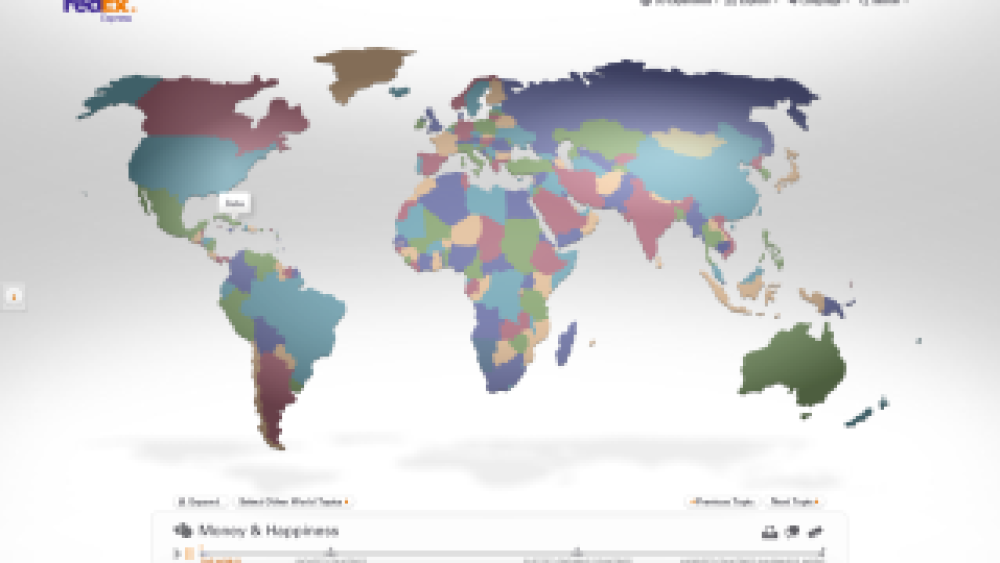 STANSTED, UK, October 28, 2010— FedEx Express (FedEx), a subsidiary of FedEx Corp. (NYSE: FDX) and the world's largest express transportation company, today launched the next evolution of its ambitious global advertising effort, "FedEx Delivers to a Changing World", which includes a groundbreaking digital web experience that puts global business trends and insights at visitors' fingertips.

By visiting http://experience.fedex.com, users can interact with a dynamic world map that displays data and content on a number of key global trends that impact and affect the constantly evolving business world. The trends included within the map are air travel, people in cities, entrepreneurs and success, paper trail, business growth, education, money, happiness, and research and development. Visitors to the site can analyse the data, read supplementary content, share information and participate in online surveys.

The site uses state-of-the-art technology to enhance the user experience. On entering the site, the visitor is met with a spinning globe and a host of morphing maps that help to visualise the global business data and statistics. The campaign also provides the user with an augmented reality experience through a three-dimensional interpretation of global data. Using a webcam, the visitor can hold up a FedEx print advert to discover a world's worth of information and statistics within the box.

"This campaign and the experience.fedex.com website offers customers intriguing and insightful information to help them stay ahead of their customers' needs in a continually changing world," said Andrew Self, vice president, Marketing and Communications, FedEx Express Europe, Middle East, Indian Subcontinent and Africa. "The website offers visitors the chance to share their perspectives on global trends through online polls and points them in the direction of the solutions that FedEx has created to facilitate their navigation of the global business environment."

The "FedEx Delivers to a Changing World" campaign is available in eight languages across 14 markets, including Germany, India and the United Kingdom. The campaign is also be supported by print and online advertising.

The creative for the campaign was handled by BBDO, FedEx advertising agency since 1989, using a cross-network team from both the Philippines and New York. Digital design and development was done in the U.S. by Grow Interactive in Norfolk, Virginia.