FedEx Courier of the Year Winner Announced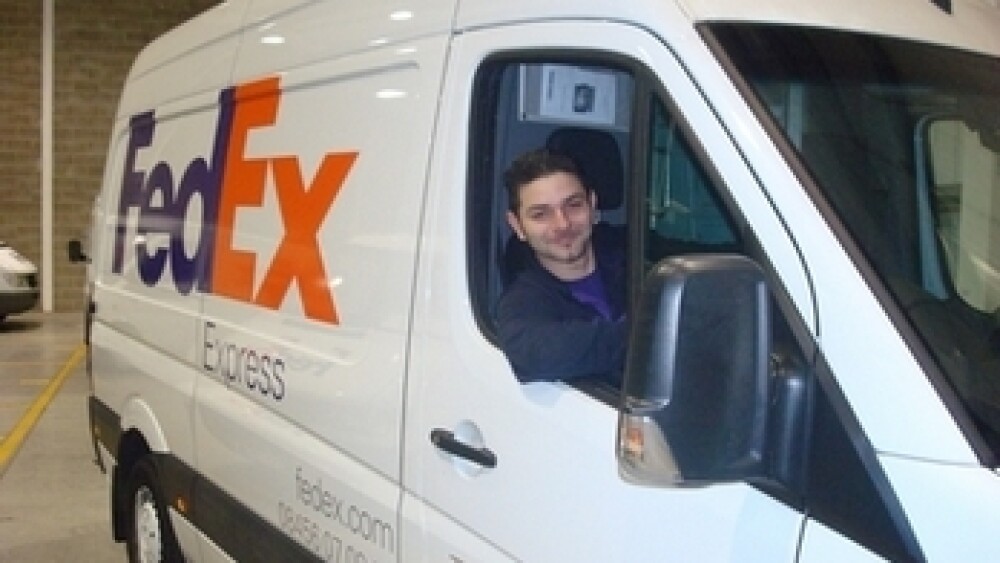 FedEx Express is the world's largest express transportation company, providing fast and reliable delivery to more than 220 countries and territories. We use a global air-and-ground network to speed delivery of time-sensitive shipments, by a definite time and date with a money-back guarantee.

All our couriers work daily to make sure that every FedEx experience is outstanding. Our culture has repeatedly been recognized, making FedEx one of the best companies to work for in the world.

When hiring couriers, FedEx looks for an excellent driving record but also for commitment to customer service, teamwork, initiative, common sense and personal pride. The couriers who won awards this year epitomise the hard work and dedication shown by all our employees

All are superb ambassadors of FedEx, embodying the company's commitment to ensuring each and every customer experience is outstanding. They achieved top scores in politeness, presentation and helpfulness and also earned some fantastic compliments from customers for the work they do.


Overall mileage covered (on the ground) by FedEx Express in 2007 – 3,477,728

Average mileage covered by a courier per year – 12,541

347 FedEx Express couriers
Here are the winners:

Leo Zdobylak – Vauxhall, London

The Vauxhall, South London, courier who travelled the equivalent of half way round the world in the last 12 months beat off competition from the nation's other messengers to be voted Courier of the Year.

Leo, who has been chosen as the UK's FedEx Courier of the Year, travelled 12,500 miles in the last 12 months delivering packages to customers in Wandsworth and Tooting, South London

Leo, 30, who is from Poland and has been a courier for three years, prides himself on going the extra mile for his customers – though he doesn't always have to as he knows all the shortcuts in Wandsworth and Tooting and uses them to make sure packages are delivered on time.

'Every package that I can't deliver feels like a failure to me. I treat every package like it's my own and do everything I can to deliver and pick up for my customers whatever the conditions.

'Every day is different in this job and that's what I like about being a courier,' said Leo.

His can-do attitude makes life easier for his customers.

"Leo is always extremely helpful and attentive. He checks all our paperwork and makes sure that it is correct to avoid any hold ups at the depot or at customs," said Lorraine Dunbar of Gander and White.

Raymond Ellis – Feltham, London

Ray Ellis prides himself on going the extra mile for his customers – though he doesn't always have to as he knows all the shortcuts in Wimbledon and uses them to make sure packages are delivered on time.

The Feltham-based courier is particularly busy during Wimbledon fortnight when he ensures many of the top players, like Maria Sharapova, have a steady supply of well-strung rackets throughout the tournament.

Ray, 52, who has been a courier for 26 years, has been voted Feltham's Courier of the Year for the second year running.

'Ray seems to know everybody in Wimbledon and people always notice when he is not around. He never has an off day,' said Mick Gollop, an operations manager at Feltham.

His customers think the same.

"Ray is the most professional and helpful courier. He goes out of his way to provide the right service and materials for shipping. He is extremely approachable and always has time for a chat, which cheers everyone up in my office. FedEx have a great asset in Ray!" said Claire Tomassini of Westmont Management Ltd.

Russell Johnson – Enfield, London

Russell Johnson is always polite and friendly and has a can-do attitude, according to his manager. That's why his customers all like the 27-year-old courier.
Russell, from Barkingside, Ilford, who has been a courier for four years, has been voted Enfield's Courier of the Year.

"He is a breath of fresh air coming into our office, always smiling, regardless of how many boxes or flights of steps he has to endure," said Shirley Williams of Landmark Fashion Design Ltd.

'This job combines lots of things I like to do – driving, meeting new people and then there's the camaraderie with the other drivers as we work together really well,' said Russell.

Tajinder Nagra – Birmingham

Tajinder Nagra has been a courier for just fifteen months but has already made a big impression on his FedEx Express customers.

The Birmingham courier, 40, from Wolverhampton, has been voted the Midlands Courier of the Year.

"Come rain or shine Tajinder always has a friendly welcome and a smile for everyone he meets," said Sue Parsons, of Longwear Products.

Taj's manager Steven Searle agreed: 'Taj is 100 per cent customer focused. He goes the extra mile in everything he does.'

Ernest Mensah - Beckton, London

Ernest delivers packages to customers throughout the East End of London, including fragile works of art for trendy galleries in that part of the city.

Ernest Mensah has been a courier for three years and has the knowledge and expertise to ensure that each and every one of the packages has the correct documentation.

Katie Guggenheim of Maureen Paley said, "He is immensely and consistently cheerful and friendly, and polite. He is well liked by all the art galleries in East London where he delivers and collects strange things and patiently deals with our particular requests. We are always pleased to see him and he has a lovely smile".

"Ernest really takes care to ensure his packages arrive safely and on time" said Mark Gordon, a senior operations manager at Beckton.

Debra Johnson, Stansted, Essex
Debra hails from New Zealand originally. After travelling half way round the world to get here, she now drives almost the same distance every year delivering packages to customers in Essex.

Debra Johnson, 35, has been a courier for nearly three years and enjoys meeting different people and helping customers meet their business needs.

Nicola Fouhy of Cambridge University Medicine Department said, "Debra is always friendly and helpful. She is extremely efficient and deserves some recognition. An excellent courier – always one to rely on".

Crayton MacDonald, an operations manager, said, "Part of providing excellent customer service involves constantly listening to your customers and anticipating their needs. Debra really epitomises customer service in this sense"

George Montgomery, Paisley, Scotland
George, 36, hails from Hendon near Wembley originally, but moved up to Scotland six and a half years ago with his partner with whom he has two young daughters.

George has been a courier for six years and says that working for FedEx is like working with "one big extended family".

He also feels that FedEx offers him an opportunity to get on and really offers him prospects to go places in life.

Eileen Gallagher of Molex Far East South Management said, "George always has such a pleasant manner. He is professional, efficient, timely and reliable. He is a great representative for FedEx and the reason why our company use FedEx".

Erkan Yaman, Leyton, London

Erkan, 28, has a lot of responsibility, as his route takes him through the famous Hatton Gardens area of London, where all the diamond merchants are located.

Erkan has been a courier for a year and really enjoys the freedom and flexibility his job offers him.

Paul Koppelman of Invedia said, "He is always willing to accommodate our wishes especially when a very urgent situation arises such as either bringing a package early in the morning or collecting one late at night".

Mark Gordon, a senior operations manager, said "Erkan demonstrates his commitment to excellent customer service every day by delivering packages safely and on time".

Erkan loves driving so much he is hoping to use his red letter day voucher to race a Lamborghini around a race track.