FedEx Access Forum To Offer Exclusive Information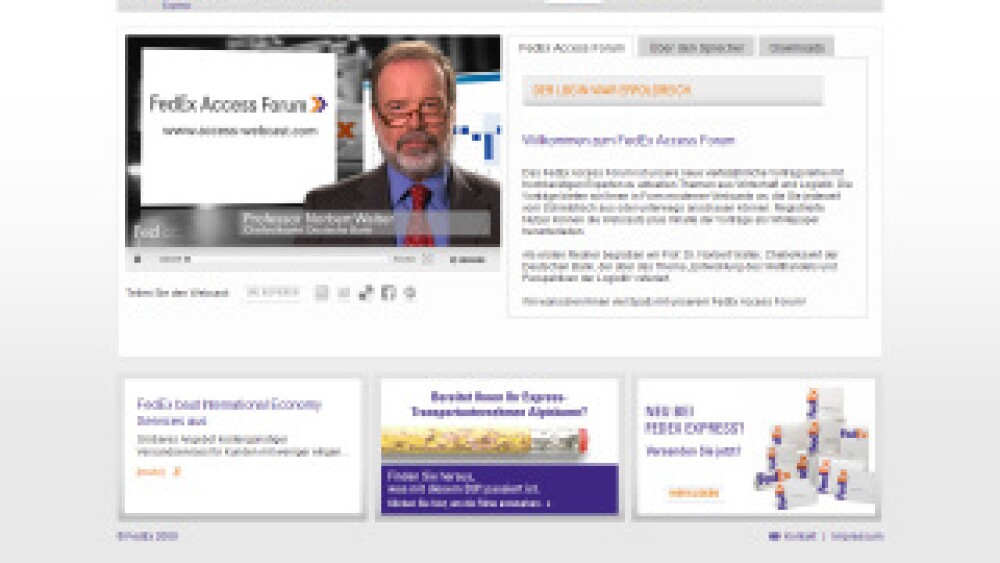 FRANKFURT/MAIN, Oct. 1, 2009 – FedEx Express, subsidiary of FedEx Corp. (NYSE: FDX), has launched a new business portal on the internet, the "FedEx Access Forum", where independent and renowned experts will give presentations about relevant global trends. Texts of these exclusive and informative webcasts will be available as downloads only to registered visitors to the web page.
The series of presentations will begin with Professor Norbert Walter, chief economist at the Deutsche Bank Group, who will discuss "The current world recession does not mean the end of globalization" –one of his theses on the topic, "Developments in world trade and the perspectives of logistics."
"With the FedEx Access Forum, we have created a state-of-the-art information platform to offer our customers and other visitors genuine added value," said Petra Rittersberger, managing director, Commercial Strategic Integration, FedEx Express Europe, Middle East, Indian Subcontinent and Africa. "Here they get up-to-date information and insight into global export markets and relevant trends from quality business and industry sources."
By providing this service free of charge, FedEx is strengthening its position as a valuable ally for its customers.
Visit the FedEx Access Forum at: access-webcast.com
You can find further information on Access here: acces.fedex.com/access