Chinese School Children Send their Well-Wishes to Edinburgh and its Newest Residents Onboard the "FedEx Panda Express"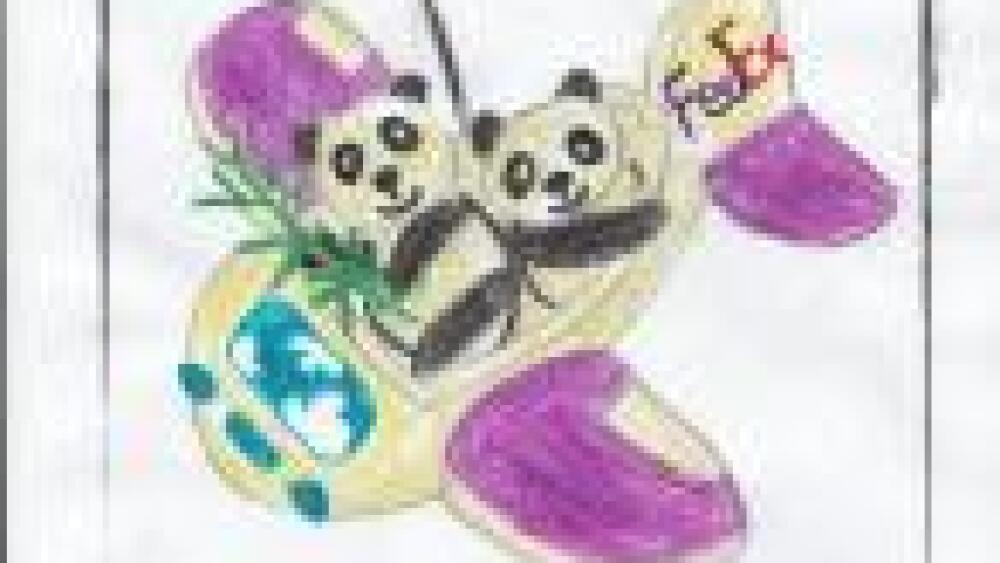 LONDON, December 2, 2011 – FedEx Express, a subsidiary of FedEx Corp. (NYSE: FDX) and the world's largest express transportation company, has revealed that the specially chartered Boeing 777F flight carrying two giant pandas to their new home in Scotland's Edinburgh Zoo will also be carrying one other Very Important Package – the well-wishes of more than 1,000 schoolchildren.
Called "From China with Love," FedEx Express China asked employees and local schoolchildren from the Sichuan Normal University Experimental Foreign Language School to share handwritten drawings and messages that will be carried onboard the special "FedEx Panda Express" flight on Sunday 4 December.
Eddy Chan, Senior Vice President Operations, China, explained: "We wanted the 'FedEx Panda Express' flight carrying Tian Tian (甜甜, aka Sweetie) and Yang Guang (阳光, aka Sunshine), to bring with it all the love China feels for our pandas, and share our happiness that they've found a wonderful home in Scotland."
FedEx Express in China involved more than 1,000 children from the local school, creating artwork and handwritten messages wishing Tian Tian and Yang Guang good luck in their new home.
Eight year-old female panda Tian Tian and eight year-old male panda Yang Guang are due to depart on the "FedEx Panda Express" on Sunday morning Chengdu time. The pandas' arrival marks the first time in more than 17 years that giant pandas will reside in the United Kingdom.
To follow Tian Tian and Yang Guang's journey on board the "FedEx Panda Express" visit: http://blog.fedex.com/panda-express. Additional content is also available at http://news.fedex.com/PandaExpress2011. Extensive b-roll and images will be available on arrival of the pandas on Sunday, 4 December. Please contact the FedEx Media team at LON-fedexpandas@ketchumpleon.com / +44 (0) 207 611 3500 for more information.
FedEx Express Transports Many Unusual Shipments
FedEx Express has a long history of transporting rare and delicate cargo. In February 2010 FedEx Express transported Tai Shan, a male panda born at the National Zoo in Washington DC, US, and Mei Lan, a male panda born at Zoo Atlanta, Georgia, US, back to China. In 2003, FedEx Express transported two giant pandas from China to the Memphis Zoo, Tennessee, US. In 2000, FedEx Express transported Tai Shan's parents from China to Washington D.C.'s National Zoo.
Exotic cargo transported by FedEx Express has included polar bears, white tigers, elephants, penguins, mountain lions, gorillas, eagles and even a 13-foot tiger shark used in filming the movie "Jaws".
Other unusual international cargo transported by FedEx Express includes a windmill from Denmark, the Ryder Cup and a vintage Jaguar Le Mans car worth over £1 million.
About FedEx Express
FedEx Express is the world's largest express transportation company, providing fast and reliable delivery to more than 220 countries and territories. FedEx Express uses a global air-and-ground network to speed delivery of time-sensitive shipments, by a definite time and date with a money-back guarantee.
Corporate Overview
FedEx Corp. (NYSE: FDX) provides customers and businesses worldwide with a broad portfolio of transportation, e-commerce and business services. With annual revenues of $40 billion, the company offers integrated business applications through operating companies competing collectively and managed collaboratively, under the respected FedEx brand. Consistently ranked among the world's most admired and trusted employers, FedEx inspires its more than 290,000 team members to remain "absolutely, positively" focused on safety, the highest ethical and professional standards and the needs of their customers and communities. For more information, visit news.fedex.com.
About the Boeing 777 Freighter
The Boeing Company produces a complete line of commercial freighter airplanes, including the 777 Freighter. The Boeing 777 Freighter is the world's largest and most capable twin-engine freighter. The unsurpassed efficiency and flexibility of the 777 Freighter has resulted in a significant number of customer orders, with FedEx Express as the largest customer. FedEx Express has taken delivery of 14 Boeing 777 Freighters and has orders for 31 more.