Canada's Favourite Panda Family Moves out West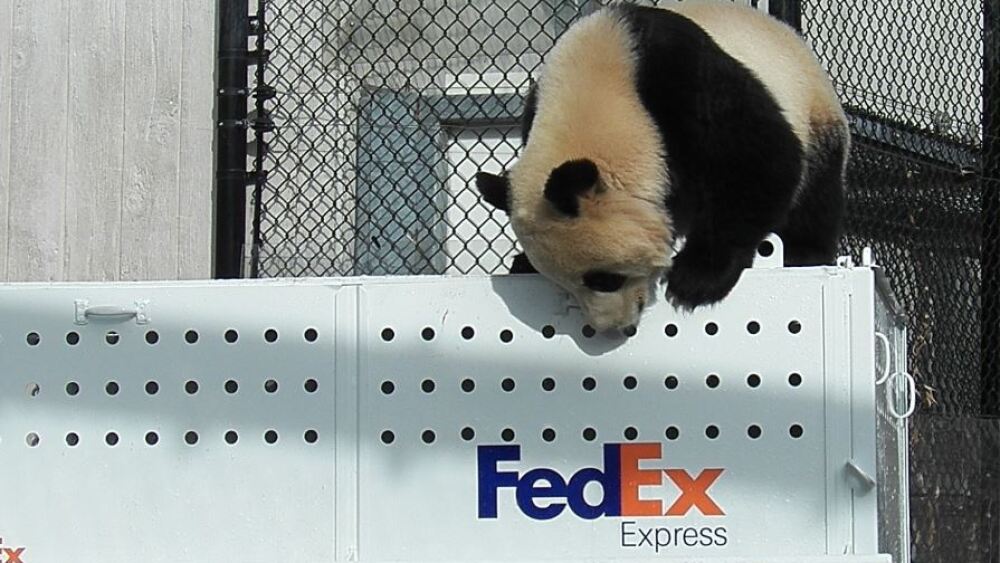 FedEx Successfully Delivered Da Mao, Er Shun, Jia Panpan, and Jia Yueyue to New Home at the Calgary Zoo
MISSISSAUGA, Ontario, March 23, 2018 – FedEx Express Canada, a subsidiary of FedEx Corp. (NYSE: FDX), had the honour of transporting four giant pandas from Toronto to their new home at the Calgary Zoo, where they will stay until 2023.
With the help of FedEx Express Canada, Da Mao (male) and Er Shun (female) travelled from China to the Toronto Zoo in 2013 as part of a global giant panda conservation breeding program. After the successful 2015 birth of the first giant panda cubs born in Canada, Jia Panpan (young male) and Jia Yueyue (young female), the pandas left Toronto as a family of four.
"After six years of planning and millions of dollars in upgrades, we are delighted to welcome the giant pandas to the Calgary Zoo," says Dr. Clément Lanthier, President and CEO, Calgary Zoo. "We are grateful to have a trusted provider in FedEx, transport this precious cargo, safely and comfortably across the country. We will let the pandas settle into their new home in Panda Passage and then open the doors to the general public on May 7. Hosting these international symbols of wildlife conservation over the next 5 years, gives us the chance to educate our community about helping protect species at risk, here in Canada and around the world."
"At FedEx, we take great pride in using our global networks to move precious cargo around the world," said Lisa Lisson, president of FedEx Express Canada. "Through our charitable shipping program, we are honored to participate in this long-term conservation agreement between China and Canada, and are thrilled at its incredible success. The world can be confident that our team of skilled logistics experts, pilots and drivers will ensure these four beloved, rare animals have a safe, comfortable trip from Toronto to Calgary."
The giant pandas will be travelling 3.5 hours over 2,716 kilometres onboard a dedicated Boeing 757F aircraft. The flight crew aboard was specifically chosen for their experience with transporting large animals, and a Load Master will travel with the pandas to ensure the pandas get both on and off the plane safely. To ensure the pandas' travel is as comfortable as possible, the onboard vet and two attendants will have constant access to the pandas at all times during the flight as well as a fresh supply of bamboo.
"It has truly been an honour to host the giant pandas, since 2013, as part of a global giant panda conservation breeding program and we are so proud to have contributed to the increase in the giant panda population worldwide," says Robin Hale, Interim Chief Executive Officer, Toronto Zoo. "On behalf of the Toronto Zoo's Board of Management, staff and volunteers we wish Da Mao, Er Shun, Jia Panpan and Jia Yueyue all the best for another wonderful five years at the Calgary Zoo."
Here is the passenger list for today's flight:
Da Mao - Male








Weight: 109.5 kg

Names means "First of Mao"

Physical Characteristics: bright white fur, biggest of the four pandas

Other facts: quite vocal, born at the Chengdu Panda Base in China


Er Shun – Female




Weight: 96.6 kg

Name means "Double Smoothness"

Physical characteristics: beige coloured, especially on her back, finer boned with smaller head than Da Mao

Other facts: a nurturing caring mother


Jia Yueyue – Young Female




Weight: 50.5 kg

Name means "Canadian Joy"

Physical characterizes: easy to recognize with square shaped eye patches that extend on to the bridge of her nose

Other facts: smart and curious, seems to enjoy games and challenges, born at the Toronto Zoo


Jia Panpan – Young Male




Weight: 55.1 kg

Names means "Canadian Hope"

Physical Characteristics: broad nose and oval eye patches

Other facts: cautious but cunning, not quite as quick as his sister to figure things out, born at the Toronto Zoo
FedEx supports the movement of rescued or endangered animals across the country and around the world as part of its commitment to conservation. Giant pandas are listed as "vulnerable" in the wild by the International Union for Conservation of Nature. There are only an estimated 1,800 in the wild.
About FedEx Express
FedEx Express is one of the world's largest express transportation companies, providing fast and reliable delivery to more than 220 countries and territories. FedEx Express uses a global air and ground network to speed delivery of time-sensitive shipments, by a definite time and date with a money-back guarantee.
About FedEx Corp.
FedEx Corp. (NYSE: FDX) provides customers and businesses worldwide with a broad portfolio of transportation, e-commerce and business services. With annual revenues of $62 billion, the company offers integrated business applications through operating companies competing collectively and managed collaboratively, under the respected FedEx brand. Consistently ranked among the world's most admired and trusted employers, FedEx inspires its more than 400,000 team members to remain "absolutely, positively" focused on safety, the highest ethical and professional standards and the needs of their customers and communities. To learn more about how FedEx connects people and possibilities around the world, please visit about.fedex.com.
# # #