Online Shopping: a Cross-Canada Holiday Tradition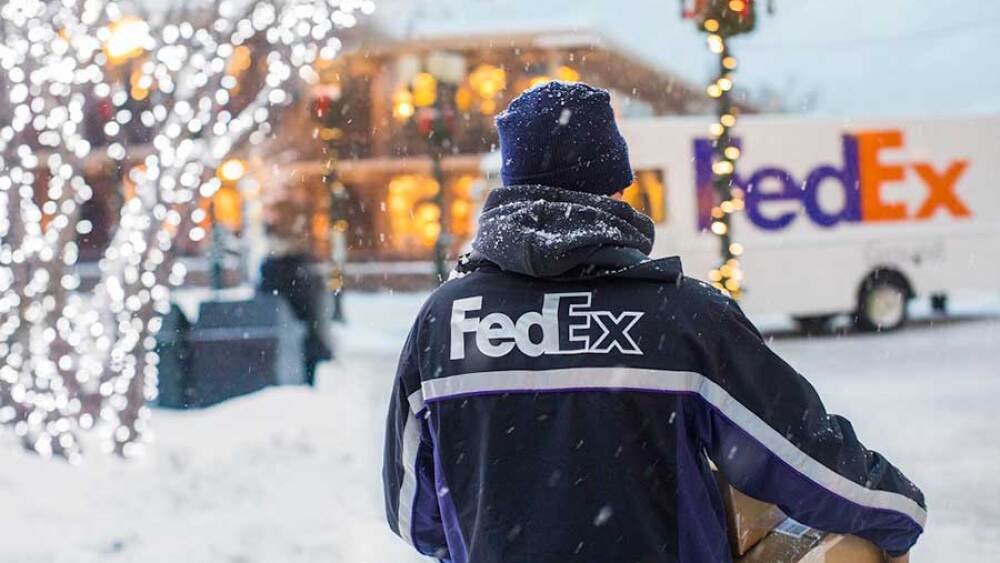 Every Region of Canada to Embrace Online Shopping this Holiday Season

MISSISSAUGA, ON, Nov. 22, 2017 – Sixty-five per cent of Canadians plan to do some or all of their holiday shopping online this season, according to a new survey by FedEx Express Canada, a subsidiary of FedEx Corp (NYSE: FDX). The fifth annual FedEx Online Shopping Intentions survey reveals that the ease and convenience of online shopping are embraced across Canada.
Click Here for our 2017 FedEx Holiday Infographic
The survey of 1,493 Canadians by Angus Reid between October 5th and October 7th, 2017 also found:



Online holiday shopping is poised to grow in 2017.




Only 55 per cent of respondents stated that they did any online holiday shopping in 2016. Sixty-five per cent of respondents plan to shop online this holiday season.




Six per cent of Canadian shoppers indicated they plan to buy online this holiday season for the very first time.

Three out of five respondents from each of the Canadian provinces surveyed plan on "clicking and shipping" in 2017


Respondents from Ontario (68 per cent), Atlantic Canada (67 per cent), and British Columbia (67 per cent) represent the most likely to shop online this holiday season.

Saskatchewan (58 per cent), Quebec (61per cent), and Alberta (62 per cent) had the lowest percentage of respondents who intend on shopping online this holiday season.


Canada's Online Shoppers Plan Ahead




Three quarters (74 per cent) of online shoppers plan start their online holiday shopping before Cyber Monday.

Less than 1 per cent of respondents plan to start online holiday shopping one week before the holidays.


There's no place like home, with a computer, for Canadians




An overwhelming 87 per cent of survey respondents plan on doing their online holiday shopping from their home.

Surprisingly, 76 per cent of respondents prefer their laptop or desktop computer over a mobile phone or tablet to do their online holiday shopping.


According to 69% of survey respondents, Canadians are shopping online because it's fast, efficient, and offers an opportunity to find a better selection of gifts.
"Since we first published this survey in 2012, we have witnessed Canada's steady embrace of digital solutions for the holiday season," said Lisa Lisson, president of FedEx Express Canada. "In 2012, we were impressed that 55 per cent of respondents planned on shopping online for the holidays, today that number is 65 per cent. Canadians across the country are shopping online which is terrific news for our country's e-tailers."
Canadians from of all walks of life plan on shopping online this year based on the following survey findings:



A whopping 80 per cent of millennials (ages 18 – 34) are planning on shopping for holiday gifts online this year.

Seven out of 10 Generation X respondents (ages 35 - 54) plan on shopping for holiday gifts online this year.

Representing the demographic with the most growth potential, almost half of respondents aged 55 and over stated they plan to shop online this year. Of those in this age group who did not shop online for the holidays in 2016, 23 per cent stated they are likely to do so this holiday season and most of them would be doing so for the first time.
"Canadians are counting on us more than ever before to help deliver a memorable and worry-free holiday season," continued Lisson. "Our vast global network is ready to serve Canadians and deliver the peace of mind they deserve during this busy time of year."
Globally, FedEx is again expecting to see a record number of packages shipped through its network over the upcoming peak holiday shipping season. FedEx expects to handle between 380-400 million packages over the season.
FedEx offers Canadians access to over 517 staffed locations, including convenient locations at participating Home Hardware, Super C, and Penguin Pick Up stores. The FedEx global network, built over four decades, consists of thousands of facilities, more than 650 planes, and more than 150,000 motorized vehicles. FedEx connects Canadians to over 220 countries and territories around the world, linking more than 99 percent of the world's GDP. FedEx was most recently recognized as a Platinum Employer in Canada by Aon Hewitt for the ninth consecutive year and by FORTUNE as one of the World's Most Admired Companies. This is a reflection of the more than 400,000 team members who are committed to making every FedEx experience outstanding.
About The FedEx Express Canada Online Shopping Intentions Survey
From October 5th to 7th, 2017 an online survey was conducted among 1,493 randomly selected Canadian adults who are Angus Reid Forum panelists. For comparison purposes, a probability sample of this size has a margin of error of +/- 2.5%, 19 times out of 20. The results have been statistically weighted according to education, age, gender and region Census data to ensure a sample representative of the entire adult population of Canada. Discrepancies in or between totals are due to rounding.
About FedEx Express
FedEx Express is one of the world's largest express transportation companies, providing fast and reliable delivery to more than 220 countries and territories. FedEx Express uses a global air and ground network to speed delivery of time-sensitive shipments, by a definite time and date with a money-back guarantee.
About FedEx Corp.
FedEx Corp. (NYSE: FDX) provides customers and businesses worldwide with a broad portfolio of transportation, e-commerce and business services. With annual revenues of $61 billion, the company offers integrated business applications through operating companies competing collectively and managed collaboratively, under the respected FedEx brand. Consistently ranked among the world's most admired and trusted employers, FedEx inspires its more than 400,000 team members to remain "absolutely, positively" focused on safety, the highest ethical and professional standards and the needs of their customers and communities. To learn more about how FedEx connects people and possibilities around the world, please visit about.fedex.com .
# # #