NASCAR Driver Denny Hamlin, FedEx Express Canada and Safe Kids Canada Encourage Drivers to Slow Down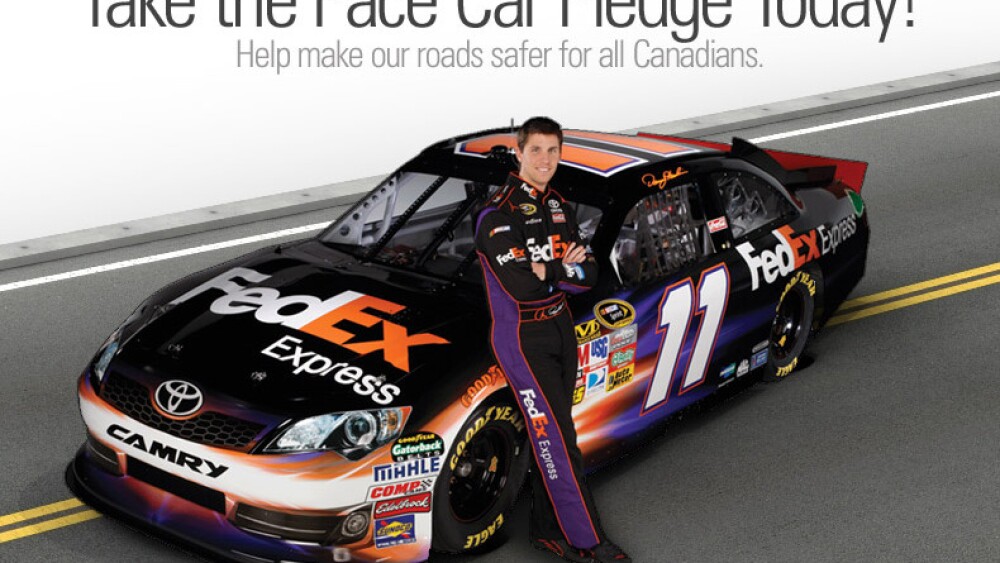 MISSISSAUGA, ON, November 30, 2012 - Did you know that in Canada more than 14,000 pedestrians are injured every year, including 1,500 children, many of these by unsafe drivers? That's why NASCAR driver Denny Hamlin, Safe Kids Canada (now a part of Parachute) and FedEx Express Canada are asking Canadians to take the Pace Car pledge to be a safe and responsible driver.
"On the track, speed is an important part of winning races—but it can have drastic consequences on the streets in our communities," said NASCAR driver Denny Hamlin. "You can help make a difference. Take the Pace Car pledge to be a safe and responsible driver, and help make your roads safer for all Canadians."
Many Pace Cars calm traffic throughout a neighbourhood. The more people who participate, the better it works. By taking the pledge, you agree to become a Pace Car driver by caring for others, driving with courtesy and safety in mind. You agree to:
Recognize that your car use impacts the livability of other residents' streets, just as theirs impacts yours.
Drive the posted speed limit on all roads, stop to let pedestrians cross, and be courteous to bicyclists and other road users.
Minimize your car use by using active transportation (walking, cycling, etc.), transit and car-pooling.
Display my Pace Car stickers on the back of your vehicle and encourage others to take the pledge.

It is important that Pace Cars be easily identifiable as a Pace Car so motorists behind know why the person is driving within the speed limit. This is why drivers display a Pace Car window cling and/or bumper sticker on the back of their vehicle.
"Unfortunately, speeding is common in Canada. About 2.7 million Canadians admit to habitually driving well over the speed limit; and over two million admit to frequently accelerating to get through a traffic light, according to the Traffic Injury Research Foundation," said Kristen Gane, Children's Program Manager at Parachute. "We are asking drivers to take the Pace Car pledge and reduce their speed. They could save a life or prevent a child from experiencing a life-altering injury."
"As the world's largest express transportation company, FedEx Express puts safety above all, both in the workplace and in the communities in which we operate. Our drivers know the importance of adhering to the speed limit, especially around school and pedestrian crossings," said Lisa Lisson, president of FedEx Express Canada.
Contest
People are invited to take the Pace Car pledge and join the discussion on how they pledge to drive safely in their community. Those who 'like' the FedEx Express Canada Facebook page and take the Pace Car pledge will be entered into a random draw to win one of 10 FedEx Racing prize packages consisting of an autographed Denny Hamlin photo, a reversible #11 Denny Hamlin beanie and a FedEx Express die cast car.

Contest conditions and rules are posted on the Pace Car Contest tab at www.facebook.com/FedExCanada.
Denny Hamlin® and #11® licensed under authority of Joe Gibbs Racing, Huntersville, N.C.
Toyota trademarks used with permission.
About Parachute
Parachute is a national, charitable organization dedicated to preventing injuries and saving lives. Parachute officially came into being in July 2012 and unites the former organizations of Safe Communities Canada, Safe Kids Canada, SMARTRISK and ThinkFirst Canada into one leader in injury prevention. Parachute's programming and advocacy efforts are designed to help Canadians reduce their risks of injury while enjoying long lives lived to the fullest. For more information, visit www.parachutecanada.org.
About FedEx Express Canada

Federal Express Canada Ltd. is a global logistics and transportation company offering domestic and international shipping and electronic commerce solutions. The company uses advanced package status tracking systems, automated customs clearance services and a dedicated air and ground transportation network to serve Canadian and global markets. FedEx Express Canada employs approximately 6,000 people in over 70 facilities coast-to-coast. For more information, visit fedex.ca.
About FedEx Corp.
FedEx Corp. (NYSE: FDX) provides customers and businesses worldwide with a broad portfolio of transportation, e-commerce and business services. With annual revenues of $43 billion, the company offers integrated business applications through operating companies competing collectively and managed collaboratively, under the respected FedEx brand. Consistently ranked among the world's most admired and trusted employers, FedEx inspires its more than 300,000 team members to remain "absolutely, positively" focused on safety, the highest ethical and professional standards and the needs of their customers and communities. For more information, visit newsroom.fedex.com/newsroom.
Video with caption: "Video: Denny Hamlin invites Canadians to take the Pace Car pledge". Video available at http://youtu.be/YpeXAQyfs8k
For further information:
James Anderson
Public Affairs and Media Relations
FedEx Express Canada
905-212-5372
Kathy Blair
Coordinator, Media Relations and Communications
Parachute
Tel: 647-776-5125
Email: kblair@parachutecanada.org