Global Shipping Leader Invests in Saskatchewan's Largest City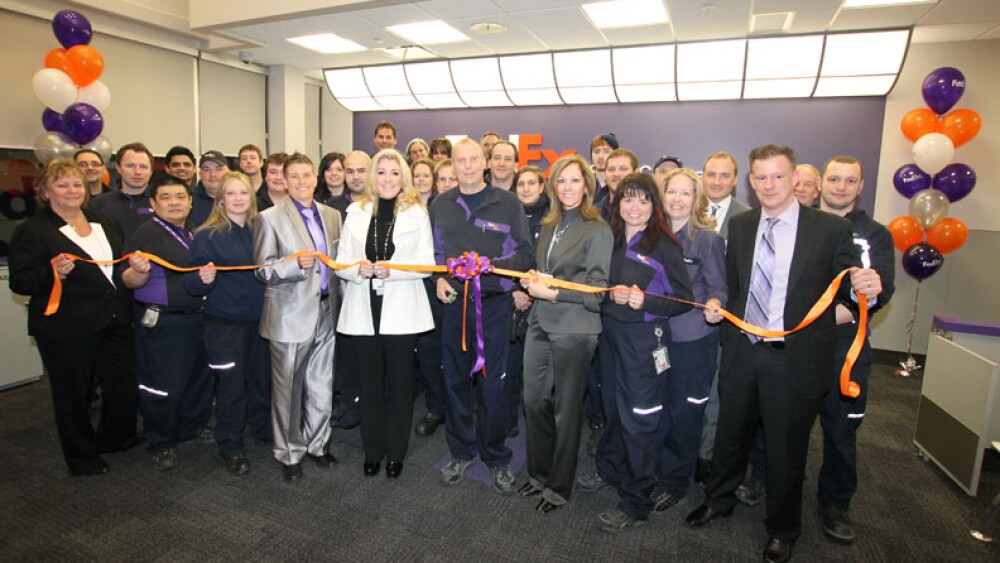 Contact:
James Anderson
Media Relations, FedEx Express Canada
(905) 212-5372
jcanderson@fedex.com
FOR IMMEDIATE RELEASE
MISSISSAUGA, Ontario, February 5, 2013—FedEx Express Canada, a subsidiary of FedEx Corp. (NYSE:FDX), opened a new state-of-the-art service centre in the heart of the Canadian Prairies—Saskatoon, SK. The event featured distinguished guests including Saskatoon's Deputy Mayor Ann Iwanchuk. Also on hand were Lisa Lisson, president of FedEx Express Canada, and FedEx Express Canada employees and customers.
The multi-million-dollar, 27,270-square-foot FedEx Express Canada facility is ideally positioned to accommodate Saskatoon and its surrounding areas, including local businesses of all sizes, particularly those specializing in mining and energy, manufacturing, biotechnology, life sciences, construction, agriculture, education, and transportation. The local FedEx Express Canada team is expertly trained to exceed the expectations of Saskatoon's budding small and medium business community while bringing the world to the doorsteps of the city's largest employers. According to the Saskatoon Regional Economic Development Authority, 85% of local manufacturers export globally.[i]
"FedEx Express Canada is proud to commemorate the opening of our facility in a city that has experienced tremendous growth and opportunity," said FedEx Express Canada president Lisa Lisson. "Much like the City of Saskatoon itself, this facility is designed to meet the needs of today and the opportunities of tomorrow with enthusiasm and service excellence."
The new facility (call-sign "YXE") features a large customer service area, ample parking, and cutting-edge technology for dispatching vehicles to coordinate pickups and deliveries across Central Saskatchewan.
The official opening took place on February 5, 2013 at the new service centre which is located at 3703 Millar Avenue. The Saskatoon facility marks the latest in service centre investments across Canada by FedEx Express Canada, which in the last year has included new facility openings in St. John's, NL, Barrie, ON, Markham, ON, and Surrey, BC.
About FedEx Express
FedEx Express is one of the world's largest express transportation companies, providing fast and reliable delivery to more than 220 countries and territories. FedEx Express uses a global air and ground network to speed delivery of time-sensitive shipments, by a definite time and date with a money-back guarantee.
About FedEx Corp.
FedEx Corp. (NYSE: FDX) provides customers and businesses worldwide with a broad portfolio of transportation, e-commerce and business services. With annual revenues of $43 billion, the company offers integrated business applications through operating companies competing collectively and managed collaboratively, under the respected FedEx brand. Consistently ranked among the world's most admired and trusted employers, FedEx inspires its more than 300,000 team members to remain "absolutely, positively" focused on safety, the highest ethical and professional standards and the needs of their customers and communities. For more information, visit http://news.van.fedex.com/intl/ca.
[i] http://sreda.com/business/opportunities-key-industries