FedEx Express Canada Announces School Greening Program With Tree Canada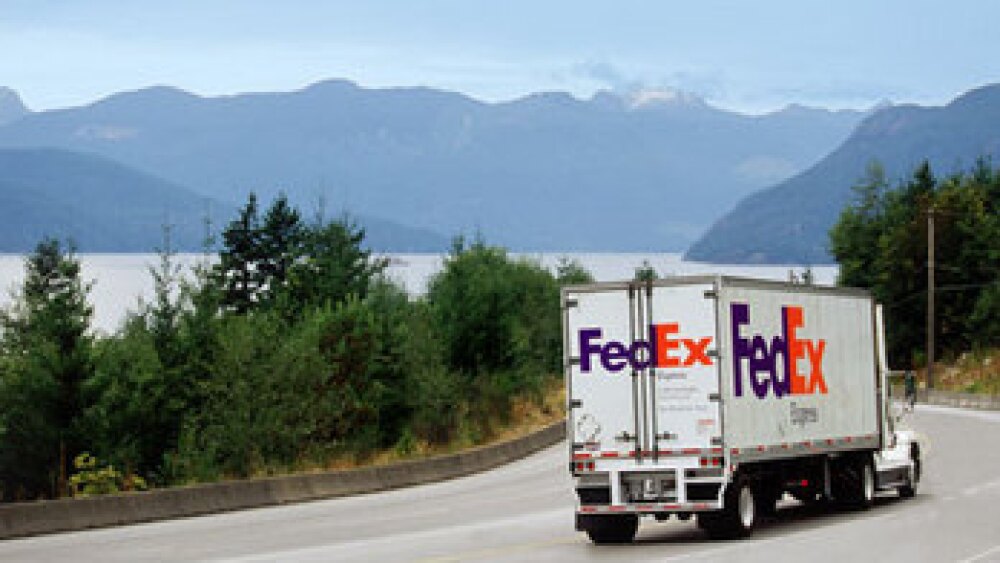 TORONTO, June 15, 2009—Federal Express Canada Ltd. ("FedEx Express Canada"), a subsidiary of FedEx Corp. (NYSE: FDX), today announced an exciting program with Tree Canada to give back to schools and communities across the country.

FedEx Express Canada's work with Tree Canada will be focused primarily on the Greening Canada's School Grounds program, which asks volunteers to replace schoolyard asphalt with vegetation to enhance its play, educational, ecological and aesthetic value.

"We at FedEx Express Canada are committed to minimizing our environmental impact throughout our business and working with Tree Canada is an obvious step towards a greener future," said Pina Starnino, vice president of operations for FedEx Express Canada. "Our team is proud to be able to give back to the communities where we live and work, and programs like Greening Canada's School Grounds allow us to do just that, while providing a positive impact on the environment, supplying cleaner air for the future, increasing wildlife habitat and reducing the effects of global warming."

In the first year of the program, FedEx Express Canada employees will help plant trees in 15 communities across Canada. Official celebrations will commence at École Renaissance in Burlington, Ontario today and will continue across the country until later this fall.

In addition to the Greening Canada's School Grounds program, FedEx Express Canada will also provide Tree Canada with ongoing natural emergency relief assistance and will help with Canadian reforestation projects.

"We are so honoured and appreciative of sponsors like FedEx Express Canada, that choose to support our cause," said Michael Rosen, president of Tree Canada. "With FedEx Express Canada's commitment to our new relationship, it is crucial that we recognize their efforts."
In celebration of this year's Earth Day, FedEx Express Canada helped Tree Canada plant 6,250 trees across the country in support of its natural emergency relief and reforestation projects, which included the Kelowna, British Columbia lands burned by the 2003 wildfires and the Ontario Land Reclamation Project in Sudbury, Ontario.

This year, FedEx Express Canada employees will participate in tree plantings at schools in the following locations:


Kelowna, BC

Richmond, BC

Edmonton, AB

Calgary, AB

Lumsden, SK

Winnipeg, MB

Toronto, ON

Kitchener, ON

St. Catharines, ON

Burlington, ON

Ottawa, ON

Montréal, QC

Gatineau, QC

Fredericton, NB

Dartmouth, NS
About FedEx Express Canada
Federal Express Canada Ltd. is a global logistics and transportation company offering domestic and international shipping and electronic commerce solutions. The company uses advanced package status tracking systems, automated customs clearance services and a dedicated air and ground transportation network to serve Canadian and global markets. FedEx Express Canada employs approximately 5,000 people in over 60 facilities coast-to-coast. For more information, visit www.fedex.ca
About FedEx Corp.
FedEx Corp. (NYSE: FDX) provides customers and businesses worldwide with a broad portfolio of transportation, e-commerce and business services. With annual revenues of $38 billion, the company offers integrated business applications through operating companies competing collectively and managed collaboratively, under the respected FedEx brand. Consistently ranked among the world's most admired and trusted employers, FedEx inspires its more than 290,000 team members to remain "absolutely, positively" focused on safety, the highest ethical and professional standards and the needs of their customers and communities. For more information, visit http://news.fedex.com.
About Tree Canada
Tree Canada is a not-for-profit charitable organization established to encourage Canadians to plant and care for trees in urban and rural environments. A winner of the Canadian Environmental Award (2007), Tree Canada engages Canadian companies, government agencies and individuals to support the planting of trees, the greening of schoolyards, and other efforts to sensitize Canadians to the benefits of planting and maintaining trees. To date, more than 76 million trees have been planted, more than 450 schoolyards have been greened, and Tree Canada has organized 8 national urban forestry conferences. More information about Tree Canada is available at www.treecanada.ca.