FedEx Expands SenseAware to Canada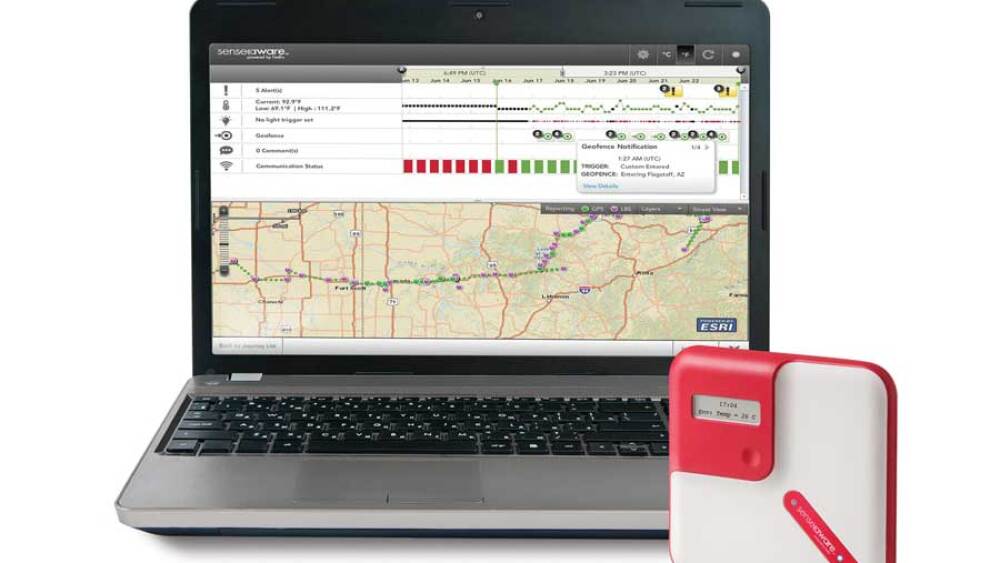 Contact:
James Anderson
Media Relations, FedEx Express Canada
(905) 212-5372
FOR IMMEDIATE RELEASE
MISSISSAUGA, Ont., Nov. 5, 2012— Federal Express Canada Ltd. ("FedEx Express Canada"), a subsidiary of FedEx Corp. (NYSE: FDX), today announced an expansion of its SenseAwareSM solution to Canada, offering customers an enhanced information service for sensitive shipments.
SenseAware provides near-real-time access to a shipment's vital statistics, including location, temperature, light exposure, relative humidity and barometric pressure. The service integrates an advanced multi-sensor device that travels inside the shipments, with a powerful web-based application, enabling shippers to stay connected when contents are critical.
"SenseAware is innovative because the condition of shipments that are sensitive to environmental conditions can be monitored throughout the delivery process," said Brie Carere, vice president of Marketing, Customer Experience and Corporate Communications. "SenseAware benefits customers with critical inventories, such as Canada's healthcare and pharmaceutical sectors, because it equips organizations with information to make near-real-time decisions. If needed, intervention services are available with our expanded FedEx Priority Alert® solution, including dry-ice replenishment, gel-pack reconditioning and access to cold storage," she said.
SenseAware service expands to international markets
Initially available for shipments only in the U.S, SenseAware now also helps customers monitor shipments and inventory within Canada*, and to and from select Canadian postal codes**, the United Kingdom, Australia and Singapore. SenseAware is also targeting further international expansion.
About SenseAware Powered by FedEx
SenseAware is an enhanced information service that provides near real-time access to a package's vital statistics within the in-transit supply chain or stationary inventory monitoring. The SenseAware service has the ability to share that information continually across global supply chain partners. A multi-sensor device, deeply integrated with a powerful web-based application, enables customers in a broad selection of industries to stay connected to their high-value, critical shipments. The SenseAware service can provide:
· Current location of the shipments (when travelling on the ground)
· Accurate temperature, relative humidity, and barometric pressure readings
· Alerts or notifications when a shipment's contents have been exposed to light
SenseAware is a contract-only service that can be easily adopted without infrastructure or large managed-service commitments. The added flexibility of the SenseAware device enables it to be used for monitoring of inventory, single shipments, or large palletized shipments. Customers simply set up a shipment in the SenseAware application and place the activated device in the package before shipping. SenseAware can also be used to conduct targeted experiments for supply chain development.
Features:
· Accessories: SenseAware 2000 device is designed to support a temperature probe which has a temperature measurement range of -80°C to 60°C (-112°F to 140°F).
· Route Geo-fences: Customers can create a geo-fence along the actual route a shipment should follow and set up alerts to notify the customer if the shipment deviates from this pre-established route. This feature is available on ground shipments.
· Environmental Data Specification: When setting up a journey or creating a template, customers can choose which environmental data, such as temperature, humidity or barometric pressure, is collected. This ensures that the device only collects data for specific environments requested, thus streamlining the amount of information the customer receives.
· Nonevent Geo-fence Triggers: Triggers can be set up to alert or notify customers when geo-fence events do not occur as expected by a specified time. This helps customers determine if a package has gotten off pace or off track.
SenseAware service is available in the U.S., Canada, Australia, the U.K., and Singapore. For more information on SenseAware as well as applicable service restrictions, visit www.SenseAware.com .
About FedEx Express
FedEx Express is one of the world's largest express transportation companies, providing fast and reliable delivery to more than 220 countries and territories. FedEx Express uses a global air and ground network to speed delivery of time-sensitive shipments, by a definite time and date with a money-back guarantee.
About FedEx Corp.
FedEx Corp. (NYSE: FDX) provides customers and businesses worldwide with a broad portfolio of transportation, e-commerce and business services. With annual revenues of $43 billion, the company offers integrated business applications through operating companies competing collectively and managed collaboratively, under the respected FedEx brand. Consistently ranked among the world's most admired and trusted employers, FedEx inspires its more than 300,000 team members to remain "absolutely, positively" focused on safety, the highest ethical and professional standards and the needs of their customers and communities. For more information, visit news.fedex.com.

* Intra-Canada service is available through FedEx Ground.
** International service via FedEx Express is available to/from most postal codes in Ontario, Alberta, Manitoba, Quebec, and in Vancouver and Chilliwack, BC. Visit www.SenseAware.com for details on service restrictions.
# # #