Canadians Turn to Online Shopping to Alleviate Holiday Stress
Recent survey by FedEx Express Canada shows that convenience matters when it comes to holiday shopping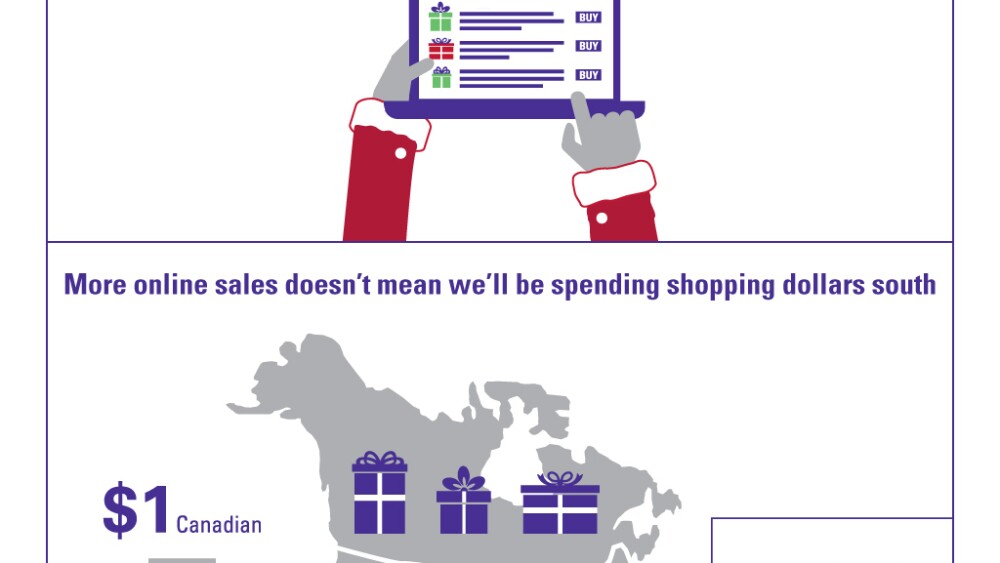 MISSISSAUGA, ON., Nov. 12, 2015 - A new survey reveals that 77% of Canadians believe it is more convenient to shop for gifts online than in stores, so much so that Canadians plan to do almost half of their holiday shopping online this year.
Findings from the fourth annual FedEx Express Canada Online Shopping Intentions Survey also show that more than two-thirds (69%) of Canadians believe buying online is the fastest and most efficient way to shop for gifts. The poll of [1,513] Canadian residents was conducted by Vision Critical and commissioned by Federal Express Canada Ltd. (FedEx Express Canada), a subsidiary of FedEx Corp. (NYSE:FDX), one of the world's largest express transportation companies.
"With all the shopping, baking, cleaning, entertaining and travel that's involved with the holidays, it can be an incredibly stressful time for many of us," said Lisa Lisson, president of FedEx Express Canada. "To minimize this stress and enjoy the holiday season, more Canadians than ever before will be looking to purchase their presents online this year."
Canadians believe online shopping has many advantages, with 62% of survey respondents agreeing that it is easier to compare prices when shopping online and almost half (41%) feeling there are better deals available online. Just over half of Canadians (51%) also enjoy the greater selection, believing they can buy products online that are not available elsewhere.
According to e-Marketer[1], retail ecommerce sales in Canada for 2015 are projected to be almost $30 billion, an increase of 16.8% over 2014 spending levels. In addition, the survey revealed that 55% of Canadians plan to shop online this holiday season, compared to the 45% who said they bought gifts online in 2014.
The surge in online holiday shopping could make for a positive impact on Canadian retailers this year. With a high US dollar, almost three quarters of the consumers surveyed (71%) said they are unlikely to purchase goods online from US retailers this holiday season. In fact, exactly half of survey respondents said that Canadian online retail websites have just as good a selection as their US counterparts, and 41% believe prices are as good as those offered on US sites.
"While the high exchange rate may discourage Canadians from sending their shopping dollars south this year, consumers should embrace this as an opportunity to explore all the excellent options Canadian e-tailers have to offer this holiday season," said Lisson. "Our mission at FedEx is to connect all Canadians, whether they are shopping online with Canadian e-tailers or internationally, and make their holiday season easier and worry-free."
FedEx Corp. continues to make strategic investments throughout Canada and the world to prepare for the holiday season. FedEx Corp. is investing $1.6 billion in FedEx Ground this fiscal year, with more than 160 major expansion projects, including a 400,000 sq. ft. hub in Vaughan, Ontario. FedEx Express also enhanced the capabilities of its global network through a fleet modernization program that saw 30 new, more reliable and efficient aircraft added over the past year and a new addition of a B757 to the domestic air fleet in Canada.
In addition, FedEx expanded its retail network with two of Canada's premier companies. Canadians can benefit from shipping assistance with the full suite of FedEx services, at any of the 423 FedEx retail locations nation-wide including FedEx counters at select Home Hardware locations, all Super C stores based in Quebec, and all FedEx Office locations throughout Canada. The purpose behind these agreements is to offer Canadians more local points-of-access for FedEx Express and FedEx Ground services, including:



FedEx Priority Overnight® and FedEx First Overnight®, offering next business day morning delivery to most metropolitan areas of Canada, right up to December 24th;

FedEx International Priority® and FedEx International First®, with morning next business day delivery to select cities in the USA, second day morning delivery to most cities in Europe and Latin America, and third day morning delivery to most cities in Asia;

FedEx Ground®, offering one to seven day service across Canada at economical rates.

FedEx Express delivery on Saturdays to most major cities in Canada and to select international points;

FedEx Hold at Location through FedEx Express and FedEx Office locations - allows customers to better control their delivery options, minimizing missed deliveries and returns.
About The FedEx Express Canada Online Shopping Survey
From October 28th to October 29th, 2015 an online survey was conducted among 1,513 randomly selected Canadian adults who are Angus Reid Forum panelists. The margin of error—which measures sampling variability—is +/- 2.5%, 19 times out of 20. The results have been statistically weighted according to education, age, gender and region (and in Quebec, language) Census data to ensure a sample representative of the entire adult population of Canada. Discrepancies in or between totals are due to rounding.
About FedEx Express
FedEx Express is one of the world's largest express transportation companies, providing fast and reliable delivery to more than 220 countries and territories. FedEx Express uses a global air and ground network to speed delivery of time-sensitive shipments, by a definite time and date with a money-back guarantee.
About FedEx Corp.
FedEx Corp. (NYSE: FDX) provides customers and businesses worldwide with a broad portfolio of transportation, e-commerce and business services. With annual revenues of $48 billion, the company offers integrated business applications through operating companies competing collectively and managed collaboratively, under the respected FedEx brand. Consistently ranked among the world's most admired and trusted employers, FedEx inspires its more than 325,000 team members to remain "absolutely, positively" focused on safety, the highest ethical and professional standards and the needs of their customers and communities. For more information, visit newsroom.fedex.com/newsroom/.

# # #