FedEx to Launch Commercial Hybrid-Electric Vans in Europe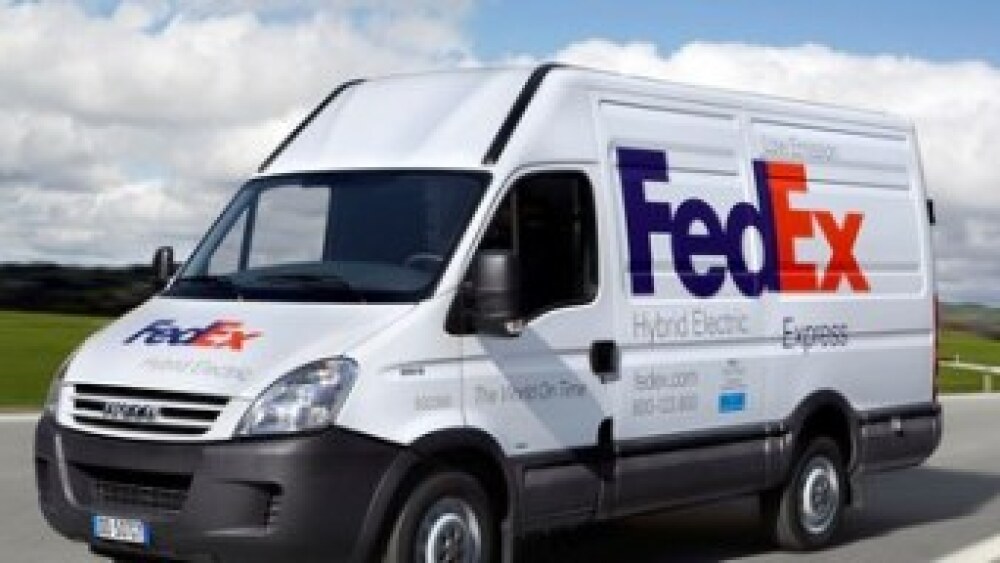 Vans Manufactured by Iveco Drive Global Hybrid Program Past Milestone. FedEx Express (FedEx), a subsidiary of FedEx Corp. (NYSE: FDX) and the world's largest express transportation company, today announced plans to introduce 10 hybrid-electric/diesel vehicles to its European fleet, bringing the worldwide total of hybrid vehicles in revenue service at FedEx to more than 100 in North America, Asia and, now, Europe.

The vans, manufactured by Iveco, will initially be trialed close to the manufacturer's site in Turin, Italy, and will be the first hybrid-electric/diesel vehicles operated by FedEx in Europe. FedEx currently operates hybrid vehicles in the U.S., Canada and Japan.

The van and the hardware that enables the vehicle to operate on both electric and diesel systems will be unveiled at the European Road Transport Show in Amsterdam, Oct. 24 through Nov. 3, 2007.

"With nearly 100 hybrid-electric/diesel vehicles already on the road, knowledge of local regulations and a commitment to the development of alternative technology solutions, FedEx is the perfect company to operate these vehicles," said Robert W. Elliott, president, FedEx Express, Europe Middle East the Indian Subcontinent and Africa.

"FedEx is making smart strategic investments in projects that will help drive the commercial development of new technologies for industry. We expect these hybrid-electric vehicles to perform with increased fuel efficiency and decreased emissions, making them ideal for city and urban environments," Elliott said.

"Iveco is recognized as a leader in the automotive field and a company with a strong history in supporting innovative new technologies. Over the last two years, Iveco and FedEx have joined efforts to develop a new Diesel-electric hybrid vehicle. The Daily Hybrid, showing for the first time at the European Road Transport Show, provides the autonomy and fuel efficiency of a Diesel vehicle with zero-emission levels of the electric engine," said Stefano Sterpone, senior vice president, Iveco Sales & Marketing.

FedEx recognizes that effective environmental management is one of its most important corporate priorities, and is committed to implementing and helping develop new cost-effective green technologies that provide a real alternative for businesses and consumers in today's market.

"This investment demonstrates FedEx's continuing commitment to aid in the further development of hybrid-electric commercial vehicles across the globe, and reflects the growing commercial viability of this technology," said John Formisano, vice president of Global Vehicles, FedEx Express. "We have been pleased with the performance of other hybrid vehicles already in operation across our global fleet."

In 2004, FedEx Express introduced the FedEx OptiFleet E700, an environmentally-superior delivery truck, into its delivery fleet. FedEx now has 95 hybrid-electric vehicles in service worldwide that have traveled more than one million miles, and has the largest fleet of hybrid-electric delivery vehicles of any transportation company within theUnited States.

About FedEx Express
FedEx Express is the world's largest express transportation company, providing fast and reliable delivery to every U.S. address and more than 220 countries and territories. FedEx Express uses a global air-and-ground network to speed delivery of time-sensitive shipments, usually in one to two business days with the delivery time guaranteed.

About FedEx Corp.
FedEx Corp. (NYSE: FDX) provides customers and businesses worldwide with a broad portfolio of transportation, e-commerce and business services. With annual revenues of $36 billion, the company offers integrated business applications through operating companies competing collectively and managed collaboratively, under the respected FedEx brand. Consistently ranked among the world's most admired and trusted employers, FedEx inspires its more than 280,000 employees and contractors to remain "absolutely, positively" focused on safety, the highest ethical and professional standards and the needs of their customers and communities. For more information, visit news.fedex.com.

About Iveco
Iveco designs, manufactures, and markets a broad range of light, medium and heavy commercial vehicles, off-road trucks, city and intercity buses and coaches as well as special vehicles for applications such as fire fighting, off-road missions, defence and civil protection. Iveco employs over 24,500 people and runs 28 production units in 16 Countries in the world using excellent technologies developed in 5 research centres. Besides Europe, the company operates inChina, Russia, Australia, Argentina, Brazil, and South Africa . More than 4,600 service outlets in over 100 Countries guarantee technical support wherever in the world an Iveco vehicle is at work.