FedEx Global Education Center embodies academic, outreach goals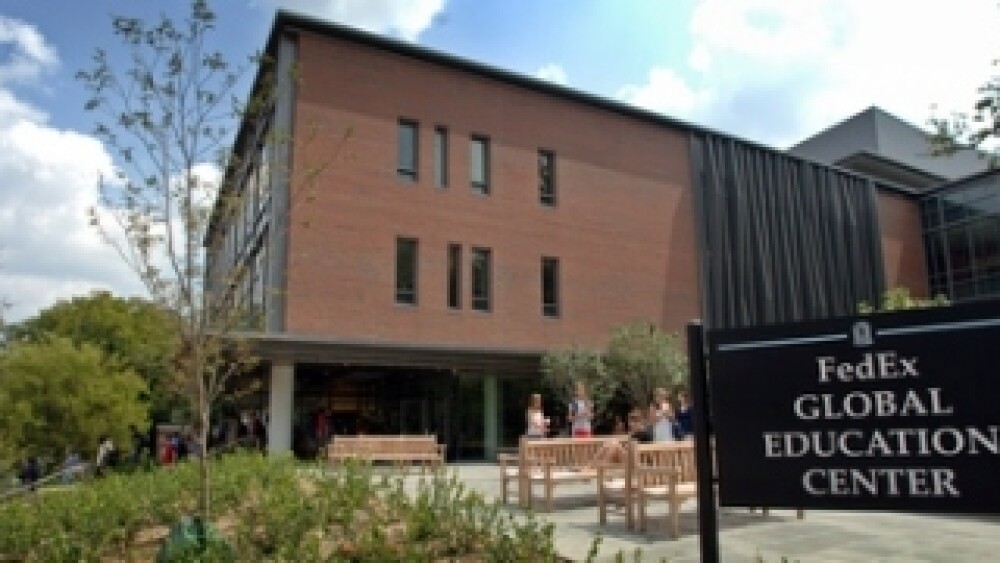 CHAPEL HILL – The University of North Carolina at Chapel Hill today (Oct. 12) formally dedicated a new building devoted to innovative global education efforts and catalyzing Carolina 's involvement with the world to benefit the state.

The FedEx Global Education Center , located at McCauley and Pittsboro streets, brings international studies and research at the University under one roof and advances a major academic priority of preparing students for success in an increasingly connected world.

"We knew when we began planning this building that we wanted it to be a major statement about Carolina and all we envision for it to be in the 21st century," UNC Chancellor James Moeser said at the dedication ceremony. "Bold. Innovative. A symbol of progress and change for our University, the people of North Carolina and our world."

Funded by sources including the 2000 Higher Education Bond Referendum and private gifts, including $5 million from FedEx Corp., the center now houses student and faculty services, academic instruction, research, study abroad and cultural exchange.
Today's dedication was part of annual University Day events. In addition to Moeser, speakers at the dedication ceremony included Frederick W. Smith, chairman, president and chief executive officer of FedEx Corp.; UNC juniors LyTonya and Tamryn Fowler, identical twin sisters from Graham who spoke about their student experiences; UNC Trustee Chair Roger Perry; Dave Bronczek, president and chief executive officer of FedEx Express; and UNC Trustee Alston Gardner, a key donor and volunteer who has championed efforts to enhance global education at Carolina.

Moeser said the center represented Carolina 's commitment to global education. "A key part of the University's job is to educate our students and prepare them for the workforce of tomorrow," he said.
The building and the academic activities it houses also represent the University's commitment to serve North Carolina when many issues facing the state have global dimensions. "For North Carolina to compete in this global economy, the University must be a player on the world stage," Moeser said.

The four-story, 80,000 square-foot building includes classrooms, offices, a 256-seat auditorium and exhibit space. The $39 million facility was designed by architect Andrea Leers of Leers Weinzapfel Associates in Boston , which received the 2007 American Institute of Architects' Firm of the Year Award.

Offices housed at the center include those for study abroad, the International Student Center , the Center for Global Initiatives and numerous centers collecting faculty who teach about and research various regions of the world. Those include the Carolina Asia Center , the Center for European Studies and the Institute of Latin American Studies .

Among academic programs based in the center are the curricula in international and area studies, in comparative literature, and in peace, war and defense. The University participates in numerous academic exchange programs for students with campuses in other countries. Recently, Carolina launched an innovative joint undergraduate degree program with the National University of Singapore.

The FedEx Center also offers public programs and exhibits about international issues and people and cultures around the world. At a reception after today's dedication, Mamadou Diabate performed on the kora, an ancient, 21-string West African harp.
An exhibit at the center, "Women Empowered," features photographer Phil Borges' portraits of women in remote parts of the world who have worked to alleviate poverty in their communities. The exhibit, which is free and open to public, was made possible in part by Gardner .

Carolina students, faculty and staff researchers have long worked in numerous countries to combat diseases ranging from malaria to HIV/AIDS. Earlier this week, the University announced the creation of the Institute for Global Health and Infectious Diseases, based in the School of Medicine , that will extend and enhance research efforts to improve the lives of people around the world.

Students, faculty and staff moved into the building last spring, but, as is the custom with noteworthy events in the university's history, its formal dedication was saved for Carolina 's annual University Day celebration. Carolina 's future in a global context was the theme of University Day this year. The nation's oldest public university, UNC turned 214 today (Oct. 12).

For more information about the center and international activities at UNC, visit http://international.unc.edu.

University Day news release: http://www.unc.edu/news/archives/sep07/uday091207.html

FedEx Corp. gift news release: http://www.unc.edu/news/archives/may06/fedex052306.htm