Young Entrepreneurs Take on the FedEx /Junior Achievement International Trade Challenge 2015
Three finalists will represent Japan in the regional finals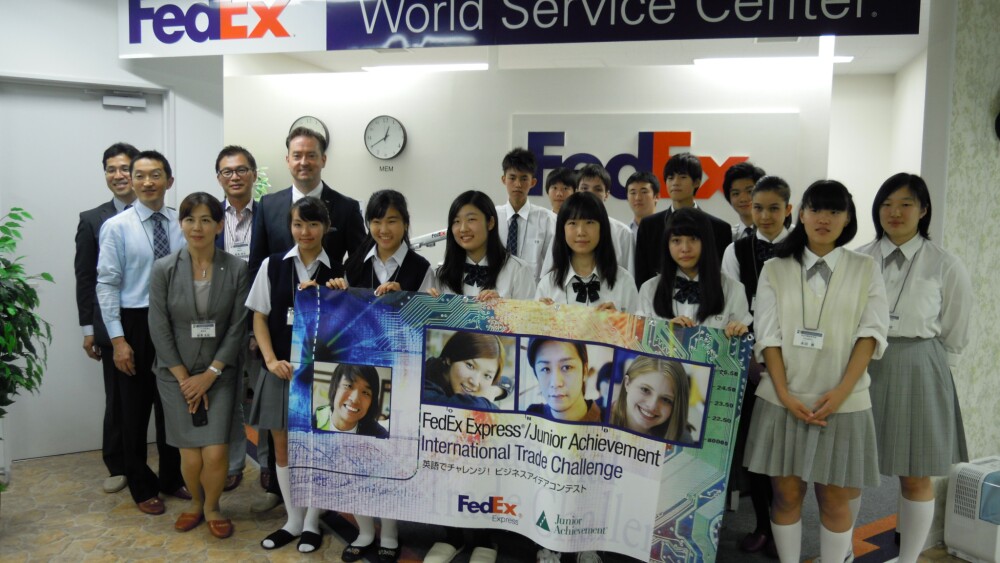 TOKYO, July 22, 2015 – FedEx Express (FedEx) and JA Worldwide® (Junior Achievement™), an organization dedicated to inspiring and preparing young people to succeed in the global economy, hosted the FedEx Express/Junior Achievement International Trade Challenge (FedEx/JA ITC) 2015 in Tokyo on July 20.
The theme for the ninth annual competition was to introduce a product or service to address social problems in Ethiopia. Despite economic growth, Ethiopia remains beset by a range of social problems including poverty. Eighty students on 40 teams submitted their business ideas on how to tackle problems in Ethiopia, with seven teams being shortlisted to make a presentation in the local competition. In addition to explaining about their product or service, the students presented detailed plans on how their solution would improve the social situation in Ethiopia. Three winning teams will now move on to represent Japan at the regional finals to be held in Singapore, August 10-13.
The three selected teams are; first prize winner Miho Kurasawa and Kokoa Yoda (Keimei Gakuen Senior High School), runner up Natsumi Furo and Kodo Sugawara (Hiroo Gakuen Senor High School) and second runner up Rihito Ikeuchi and Ariki Edward Ueda (Keimei Gakuen Senior High School).
"As our world grows closer through increased connectivity, the next generation of business leaders will need strong, well-developed skills in innovation and collaboration to succeed," said Ken McMahon, managing director, Global Account Management, FedEx Express, who served as a judge at the local competition. "FedEx is proud to continue its sponsorship of the International Trade Challenge. The students in this year's Japan ITC demonstrated an impressive ability to rapidly analyze market opportunities and then apply their growing entrepreneurial skills to create interesting, innovative business proposals. I am confident that we will see more from these exciting young leaders in the future."
"Through the experience of coming up with ideas from scratch to tackle an issue with no single straight solution and presenting these ideas in English, I hope that all the young people who participate in this competition will appreciate the essential nature of such skills in the global business world," said Yoshihiro Nakamoto, managing director, Junior Achievement Japan. "I'm confident that the number of participants in the FedEx/JA ITC will continue to rise each year as global human resource development grows increasingly important."
Held annually since 2007, the FedEx/JA ITC program aims to help young people in Asia Pacific understand how entrepreneurship can improve the quality of their lives and the communities where they live. Nine Asia-Pacific markets, namely Japan, Hong Kong, Korea, Malaysia, New Zealand, the Philippines, Singapore, Thailand and Vietnam, will have participants attend the ninth annual FedEx/JA ITC Regional Finals.