Young Entrepreneurs Chosen to Represent Korea at the 2017 FedEx/JA International Trade Challenge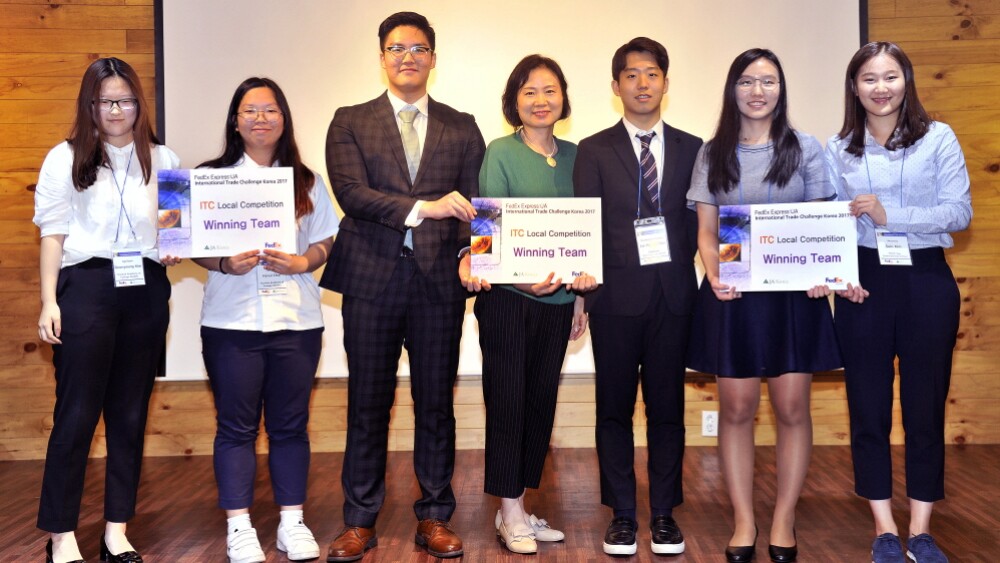 SEOUL, July 24, 2017 — FedEx Express, a subsidiary of FedEx Corp. (NYSE: FDX) and the world's largest express transportation company, and Junior Achievement (JA) today announced the three teams of secondary school students that will represent Korea in the FedEx/ JA International Trade Challenge's (FedEx/JA ITC) Asia-Pacific finals in Singapore August 20-24, 2017.
The three pairs of student business teams who advanced to the Asia Pacific FedEx/JA ITC 2017 are:



Kim Geun-young, Choi Ha-neul, Hankuk Academy of Foreign Studies

Shin Jae-hyung, Chadwick International School; Jang Seo-hoon, KIS Jeju

Cho Yoon-bin, Kim Soo-in, North London Collegiate School
The finalist teams presented their ideas to a judging panel composed of FedEx experts and Junior Achievement representatives who evaluated them on their innovative ideas for "Household Items in India." The winning teams were assessed based on the originality of their concept, thoroughness of research for their business plans, and feasibility of their ideas. Outshining 12 other teams, the winning teams won the opportunity to compete in the regional finals.
This year's regional finals will feature an exciting change from the previous competition format. To further promote cross-border collaboration, finalists will not be competing in the same local groups but will instead go through a random shuffle to form a mixed team of two team members from different countries.
Before heading to Singapore, the six representatives will receive further training from JA Korea to prepare for the Regional Finals.
"FedEx is committed to supporting education in Korea through the International Trade Challenge program. We hope to inspire a new generation of entrepreneurs to succeed in the global economy," said Eun-Mi Chae, managing director of FedEx Express Korea.
Since its launch in Korea in 2007, the FedEx/JA ITC has attracted more than 1,700 students nationwide, with 60 Korean students representing the country at the regional challenge. The program aims to encourage aspiring entrepreneurs to showcase their originality, creativity, and flair for business.