Students from Thailand Net FedEx Access Award at Junior Achievement Company of the Year Competition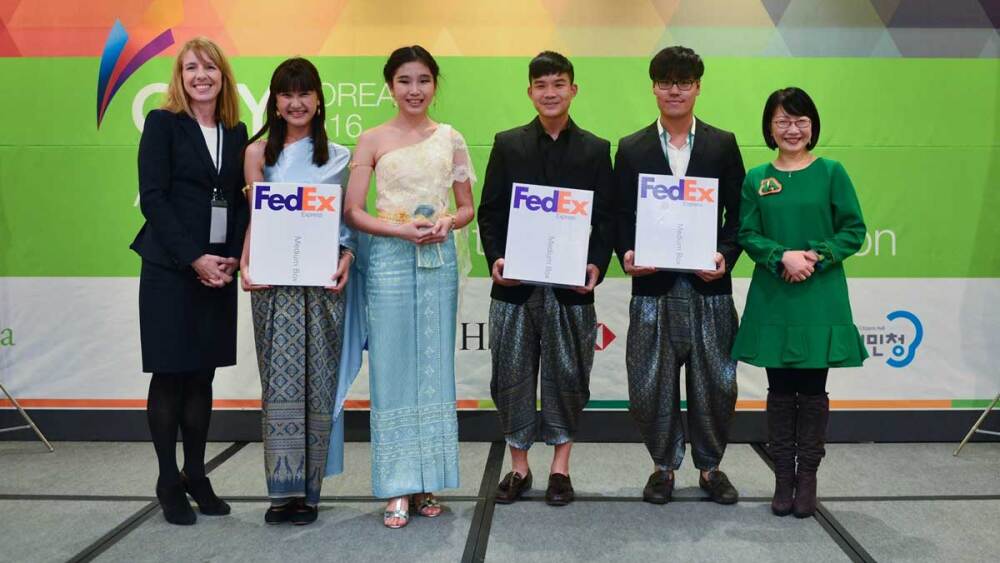 HONG KONG, February 25, 2016 —Teenage entrepreneurs in student company MUnited from Thailand have been named winners of the FedEx Access Award at the Junior Achievement (JA) Asia Pacific Company of the Year Competition finals in Seoul, Korea. Sponsored by FedEx Express (FedEx), the world's largest express transportation company, the FedEx Access Award aims to help participants broaden their understanding of the power of global access. The award is given to the team whose business idea has the highest potential to create jobs, grow small business, expand into other markets and improve the environment.
Team MUnited recognized the urgency of the problem of plastic waste and designed a foldable and re-usable water bottle to reduce the use of plastic. The team impressed the judges by their drive to help build a sustainable future for the planet with their business.
Alongside the FedEx Access Award, the winners of the JA Company of the Year Award were announced. Team CED from Korea won the first place by developing an environment education game. ReKUnize from Thailand netted second place with their idea for a compact phone case and wallet hybrid, which are made from recycled materials. Third place went to student company Facio from Singapore, for their handmade versatile lifestyle bag, produced from recycled materials.
Launched in 2011, the Asia Pacific JA Company Program aims to equip high school students with the capabilities to organize and operate an actual business by providing basic economic education and business skills. This year, 15 student companies from 10 markets (China, Guam, Hong Kong, Indonesia, Japan, Korea, Malaysia, Singapore, Thailand and United Kingdom) participated. In addition to the student companies from the Asia Pacific region, a student company from United Kingdom joined the event as the exhibiting team, enhancing cross border experience for students.
"FedEx is a strong supporter of the JA Company program, which encourages students to develop a range of interdisciplinary skills and aptitudes that they would need in the real-life world of business," said Karen Reddington, president, FedEx Express, Asia Pacific. "Through the program, many of the students realized that they can take advantage of the unprecedented level of global connectivity that exist today and make their innovative products easily accessible to customers outside their home market."
"We are proud to see secondary students across Asia Pacific taking part in our flagship Company Program," said Vivian Lau, president, JA Asia Pacific. "Through this initiative, students are able to gain key insights into the world of entrepreneurship. This is one of the best experiences a young person can have in order to be successful in today's global economy."
About FedEx Express
FedEx Express is the world's largest express transportation company, providing fast and reliable delivery to more than 220 countries and territories. FedEx Express uses a global air-and-ground network to speed delivery of time-sensitive shipments, by a definite time and date supported by a money-back guarantee[1] .
About FedEx Corp.
FedEx Corp. (NYSE: FDX) provides customers and businesses worldwide with a broad portfolio of transportation, e-commerce and business services. With annual revenues of $49 billion, the company offers integrated business applications through operating companies competing collectively and managed collaboratively, under the respected FedEx brand. Consistently ranked among the world's most admired and trusted employers, FedEx inspires its 340,000 team members to remain "absolutely, positively" focused on safety, the highest ethical and professional standards and the needs of their customers and communities. For more information, visit news.fedex.com.
About JA Asia Pacific
JA Asia Pacific Limited is a member of JA Worldwide®, one of the largest global NGOs dedicated to addressing fundamental social and economic challenges of young people by educating and empowering them to transform their future and own their economic success.
JA Asia Pacific Limited is dedicated to enabling and empowering youth to benefit from the region's economic development, and to create a positive impact in their lives and communities. Through a dedicated volunteer network, JA Asia Pacific Limited provides in school and after school programs for students which focus on three key content areas: work readiness, entrepreneurship, and financial literacy. JA Asia Pacific envisions a future that young people dream big and, as a group, drive productive social and economic change.
The 20 Members JA Asia Pacific network is powered by over 23,000 volunteers and mentors from all sectors of society, reaching around 1 million students around the region.
For more information, visit www.jaasiapacific.org.
NOTE TO EDITORS: FedEx Express press releases are available on the World Wide Web at http://www.fedex.com.
[1] Subject to relevant terms and conditions