Phase Two of the FedEx AnQ Awakening Cloud Classroom Joint CSR Program Successfully Concludes
Building a public care ecosystem through safety and health education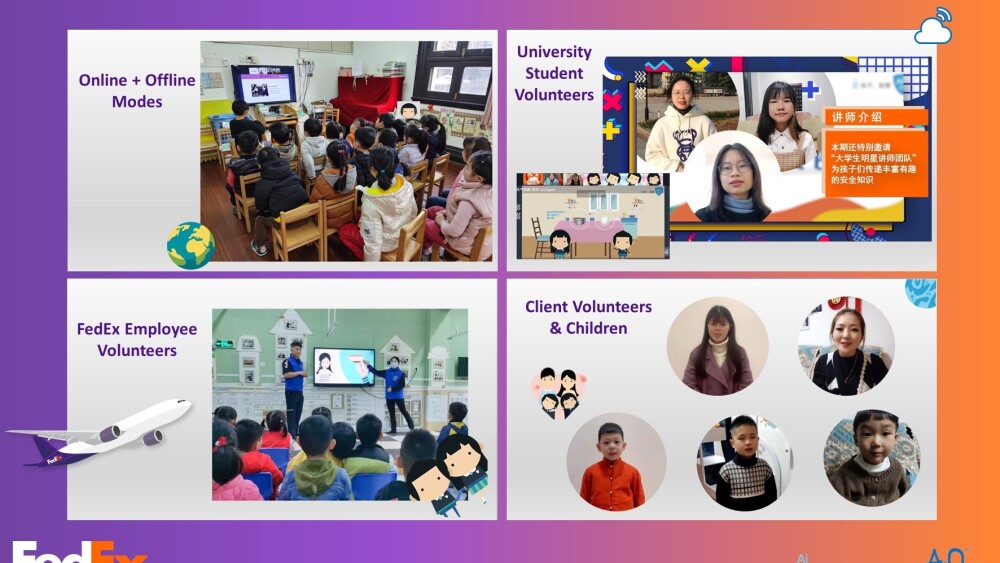 Shanghai, February 15, 2022 — FedEx Express (FedEx), a subsidiary of FedEx Corp. (NYSE: FDX) and one of the world's largest express transportation companies, announced the wrap-up of the second phase of the AnQ Awakening Cloud Classroom, its CSR program focused on health and safety education for children conducted in collaboration with the non-profit organization Tongdao. After a successful first phase, the second phase featured a greater variety of courses on safety and environmental protection and a bigger team of volunteers who taught more children across China through cloud classes.
During the second phase of the AnQ Awakening Cloud Classroom, which launched in November 2021, 16 lectures were organized, six of which were conducted both online and offline. The program reached 20 cities across China, including Qingdao, Shenzhen, Shanghai, Nanjing, Suzhou, Wuhan and Chengdu, directly benefiting 687 children and engaging countless FedEx employees, college students and customers from small- and medium-sized enterprises.
The second phase of the AnQ Awakening Cloud Classroom included upgrades of its original six modules: public waters, high in-car temperatures, hot liquids at home, travelling by private car, using gas in winter, and epidemic prevention. New modules included a special after school bonus of Popular Science with an environmental protection theme to help children better understand the concept of carbon neutrality. The second phase also introduced the AnQ Safety Awakening Mini Classroom, which attracted nearly 2,900 students who submitted 330 creative theme names. The popularity of the first phase led to more FedEx customer participation in collaborative e-lectures; they represented various fields including industry and trade, science and technology and e-commerce. These volunteers helped by sharing interesting stories about safety and health to a larger number of children.
"Amid the new normal of the pandemic, we've not only seen intense collaboration among families, schools and communities, but also effective use of the internet and digital technologies to offer safety, health and environmental education to children," said Eddy Chan, senior vice president of FedEx Express and president of FedEx China. "FedEx has always been committed to innovative CSR programs. By combining online and offline modes, the AnQ Awakening Cloud Classroom goes beyond geographical restrictions and enables us to create more opportunities for customers, public care groups, college students and our employees to fulfill their social responsibilities by teaching children through lively activities. Together, we are building a sustainable public care ecosystem that benefits all."
"I'm glad to see that with the strong support of FedEx, the enhanced AnQ Awakening Cloud Classroom has caught the attention of many parents, schools and communities," said Xiulan Tang, head of Tongdao. "The second phase of the program introduced more meaningful interactions, helping children learn to identify hidden safety hazards and better understand environmental protection, which is crucial to their healthy growth. We hope to grow children and young student participation and increase their awareness of safety and environmental protection in order to create a better and greener future."
In collaboration with social non-governmental organizations, FedEx will continue to leverage its strengths and internet innovations to promote public well-being. FedEx aims to not only protect and advance society, but also achieve the goals set by FedEx Cares 50 by 50 — to deliver hope, change and new possibilities to 50 million people around the world by the company's 50th anniversary in 2023.