Hong Kong Students Unleash Entrepreneurial Ingenuity with Innovative Household Products for India
Three Teams Advance to the Asia Pacific Finals of the FedEx Express/JA International Trade Challenge in Singapore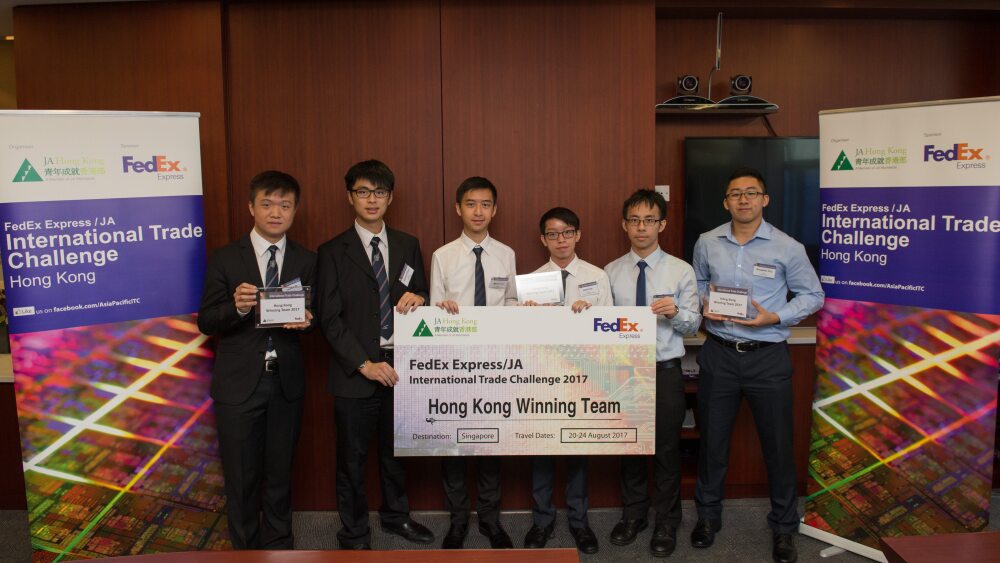 HONG KONG, July 24, 2017 — Three student teams demonstrated outstanding entrepreneurship with innovative household products for export to India at the FedEx Express/JA International Trade Challenge (FedEx/JA ITC) Hong Kong Finals 2017. These young entrepreneurs will represent Hong Kong to compete with 54 counterparts from nine other markets[1] at the Asia Pacific Finals which will be held in Singapore on August 21-23.
The three winning teams in Hong Kong are[2]:



Team Aspire, Kevin Ho and Manson So from St. Paul's Co-educational College, aimed to address the water pollution issue in Bangalore with their Nano-filtration water purifier. The product features a non-electric design, which is particularly beneficial for rural villagers who lack access to electricity.

Team Canvas, Richard Choy and Thomas So from Queen's College, came up with a Nano-silver based home water filter system to tackle water pollution in Mumbai. Customers can customize the system to meet their needs by adding extra filters with other functions.

Team IBI, Benjamin Chu and Peter Ho from La Salle College, planned to introduce a household pedal-powered washing machine in Maharashtra, Karnataka and Gujarat. It is not only energy-efficient, but also space-friendly with a foldable pedal design. In addition, the machine features a water inlet filter to remove water impurities for better cleaning results.
"FedEx believes young people are the future of the global economy," said Anthony Leung, managing director, FedEx Express, Hong Kong and Macau. "For more than a decade we've been proud to empower future business leaders through Junior Achievement. Each year, we see the students' entrepreneurial ambition and creativity take flight. The learning these students acquire throughout the program will serve them well in the future"
"The program highlights Junior Achievement's mission to inspire and prepare young people to succeed in the global business world and provides a platform for them to translate classroom learning into creative business solutions," said Garrick Lau, Deputy CEO, Junior Achievement Hong Kong. "We appreciate the continued support from FedEx in creating this unique platform for students to learn about international trade, gain first-hand experience of entrepreneurship and cross-cultural exchanges."
At the Hong Kong Finals this year, ten teams were shortlisted to present their market entry strategies for introducing a household product in India. The top three winning teams were chosen based on the thoroughness of their business plans, market research and creativity. Members of the expert judging panel included Alan Cheung, chairman & managing director, Grandion Industrial Limited; Albert Fung, co-founder and chairman, Campfire Collaborative Spaces; Derrick Lee, president, Canadian Chamber of Commerce in Hong Kong, and Irene Leung, CEO, Senior Citizen Home Safety Association.
This year's Regional Finals will feature an exciting change from the previous competition format. To further promote cross-border collaboration, finalists will not be competing in the same groups from their home markets but will instead go through a random shuffle to form a mixed team of two from different markets.
Now in its eleventh year, the FedEx/JA ITC has inspired more than 17,000 students in Asia Pacific, including 2,500 students from Hong Kong, to understand and appreciate entrepreneurialism from a global perspective.
[1] Australia, Mainland China, Japan, Korea, Malaysia, Philippines, Singapore, Thailand and Vietnam
[2] In alphabetical order of team names