FedEx Volunteers Promote Social Inclusion of Local Children as Part of FedEx Cares Program
FedEx Express Joined Hands with Fubon Charity Foundation To Help Underprivileged Children in Yilan County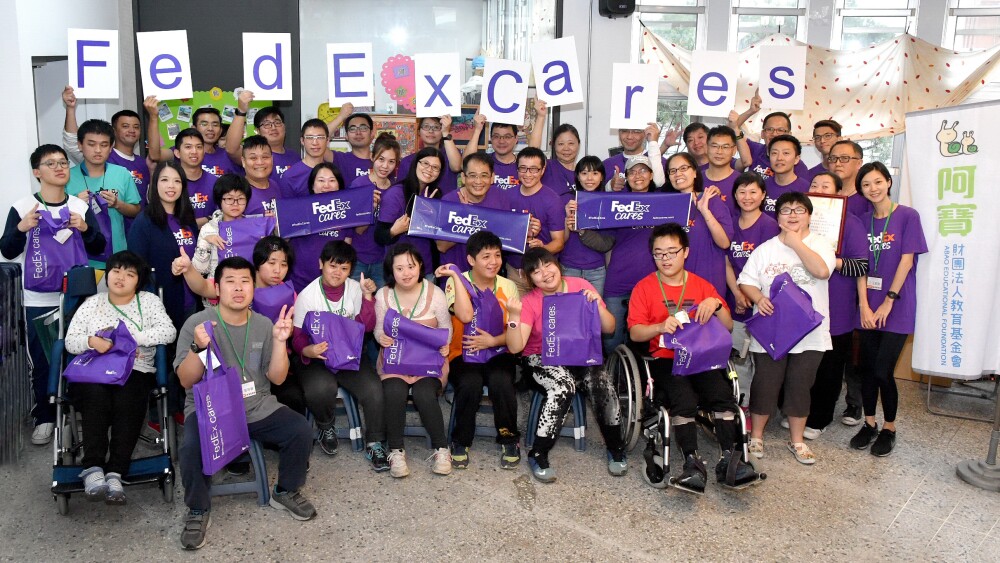 TAIPEI, December 17, 2018 — FedEx Express (FedEx), a subsidiary of FedEx Corp. (NYSE: FDX) and one of the world's largest express transportation companies, joined hands with Fubon Charity Foundation to address the social needs of underprivileged children in Yilan County, Taiwan.
As part of the FedEx Cares worldwide charitable giving program, FedEx team members extended their support and care to these underprivileged children by helping them build their self-confidence and life skills through a series of activities.
Thirty-three FedEx team members dedicated a whole day with children with disabilities from Abao Educational Foundation and led a series of exercises, including a bocce game, ball pit and making traditional Yilan handicrafts. These activities were aimed at building up the physical strength of these children and nurturing their social skills and confidence.
In addition, FedEx team members donated more than 500 sets of painting tools and Christmas gifts to bring cheer to the children during the season.
"At FedEx, we are passionate about making a positive impact and creating possibilities for the local communities where we work and serve," said Michael Chu, managing director, FedEx Express, Taiwan. "As a member of the community, it is our corporate responsibility to support the social and economic needs of the society. We hope our efforts will promote social inclusion and help improve the lives of these underprivileged children in the community. I would like to thank our FedEx team members who delivered the Purple Promise by making every FedEx experience outstanding for this community."
The initiative is part of the FedEx Cares global charitable giving program in which FedEx is investing US$200 million in 200 communities by 2020 to create opportunities and deliver positive change around the world. In the last two years, FedEx has invested more than US$101 million in 134 communities globally, which is more than half way to the 2020 goal.