FedEx Volunteers in Japan Take Part in Cleanup and Donation Activities as Part of FedEx Cares Week
Volunteer activities take place across the Asia-Pacific region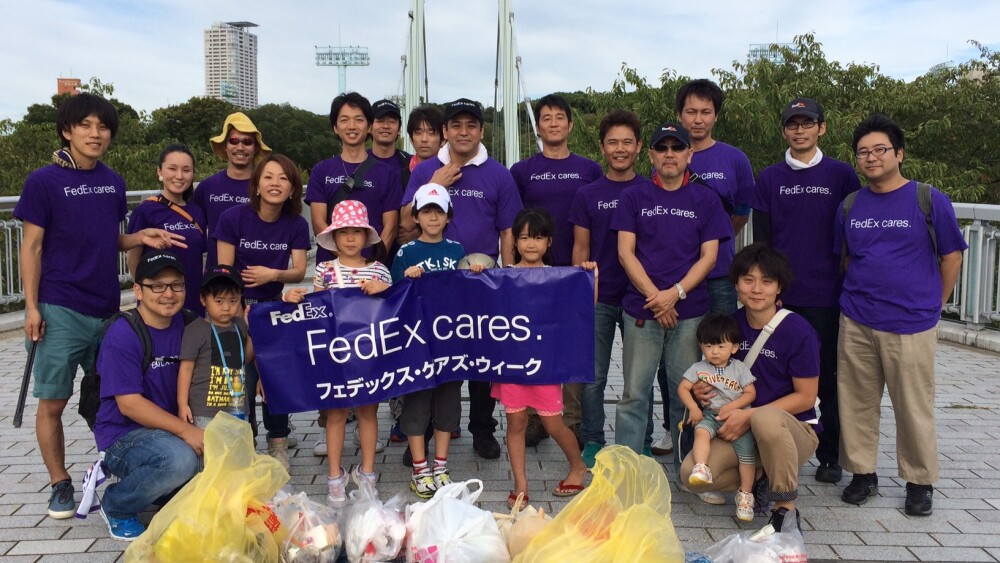 TOKYO, October 5, 2015 – As part of its 8th annual FedEx Cares Week initiative, 227 FedEx Express (FedEx) volunteers in Japan took part in a variety of local community causes from September 9 to 30, expressing their gratitude to the local people by giving back to the community.
As part of the preparation for FedEx Cares Week, employees shared ideas about the causes they were most passionate about. The FedEx Japan team then implemented the top projects of cleaning up roadsides and coastlines in local areas, and donating supplies to animal welfare organizations. (See below for details of the volunteer programs in Japan.)
"At FedEx, we believe it's important for the company and its employees to contribute to the communities where we operate. By conducting such locally-based volunteer activities each year, our employees feel closer to their local community, leading to a greater sense of social contribution," said Masamichi Ujiie, regional vice president, North Pacific, FedEx Express.
Across the region, FedEx Cares Week activities have a strong community and sustainability focus. About 1,100 FedEx volunteers in Asia-Pacific are expected to take part in 42 community activities between September 10 and November 7. This is part of a global FedEx initiative involving team members all around the world.
Globally, more than 10,000 FedEx team members are expected to volunteer during FedEx Cares Week. FedEx Corp. began this tradition in a handful of U.S. cities in 2004 and has since expanded it to nearly 500 global communities where its team members live and work.
For more information about FedEx Cares Week and the FedEx commitment to volunteerism and the communities it serves, please visit:
https://www.facebook.com/FedExAPAC
Programs in Japan
Timing
Program
Details
Sept 11 (Fri)
Clean up activity, Saitama
Pick up litter in Kawaguchi cityNumber of participants: 13
Sept 12 (Sat)

Arakawa cyclingpath clean up,

Tokyo

Clean up a 10km stretch of the Arakawacycling path in Koto-ku

Number of participants: 17

Sept 12 (Sat)
Cleanup activity, Aichi
Clean up along the Ikobe coastlineNumber of participants: 18
Sept 19 (Sat)
Park and surroundings clean up, Chiba
Pick up litter in the Inage district of Chiba city, including Inage Kaihin Park and Inage-no-hamaNumber of participants: 15
Sept 14 (Mon) – 16 (Wed)
Cleanup activity, Tochigi
Pick up litter in the industrial district of TochigiNumber of participants: 12
Sept 19 (Sat)
Cleanup activity, Aichi
Pick up litter along the Horikawa River up to the Nagoya Congress CenterNumber of participants: 22
Up to Sept 30 (Wed)
Donation activity,Tokyo and Chiba

Donate needed supplies to the "NPO Alma" and "Chibawan," organizations involved in finding new homes for cats and dogs being kept in the Chiba Prefecture Animal Protection Center.Collection boxes were set up at Shin-suna and Makuhari stations, and employees were encouraged to donate

Number of participants: 130

Donated materials: 772 (dog/cat food, towels, etc.)