FedEx Transports Urgently Needed Relief Supplies to Taiwan
Delivering more than 230 boxes of shipments to people with disabilities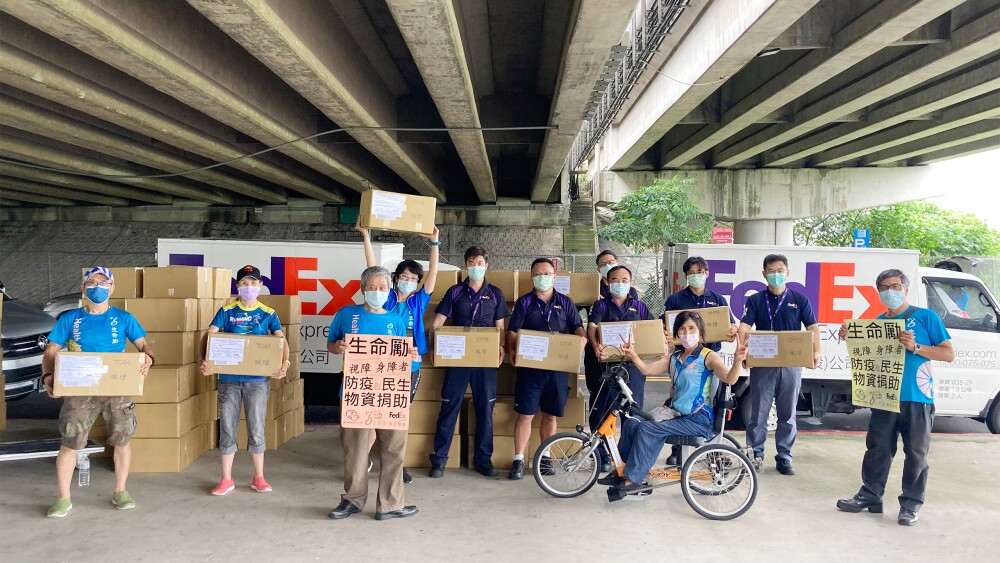 Taiwan, July 12, 2021 — FedEx Express, a subsidiary of FedEx Corp. (NYSE: FDX) and one of the world's largest express transportation companies, is working with Life Vitality Association, to deliver critical COVID-19 relief supplies and equipment in Taiwan. The Life Vitality Association is a non-profit organization that helps the elderly and people with disabilities.
The ongoing COVID-19 pandemic and ensuing lockdown since mid-May have impacted the daily life of people in Taiwan, especially underprivileged groups who have limited resources. To help with the situation, FedEx has committed in-kind transportation and logistics support to Life Vitality Association. FedEx has shipped more than 230 boxes of relief supplies to people with disabilities in several cities and counties, including Taipei, New Taipei, Taoyuan, Yilan, Hsinchu, Keelung, Miaoli, Taichung, Changhua, Chiayi, Tainan and Kaohsiung. The relief supplies included medical face masks, alcohol sprays, tissue paper and food products.
"As the impact of COVID-19 continues in Taiwan, we are extremely grateful that we were able to bring relief to those most in need," said Michael Chu, managing director, FedEx Taiwan. "This is a time to work together, so we mobilized our delivery network and our team members to help the communities in Taiwan where we live and work. We were glad to provide support at a time when response was critical. Through this meaningful program, FedEx team members delivered hope and a positive change to our society."
Dr. Chen Qi-feng, chairman of the Life Vitality Association, said "many families with disabilities were heavily impacted by the pandemic in terms of income and livelihoods. The Epidemic Prevention and Resources Kits Emergency Relief Program is here to help those who are in need, but delivery was a big problem until FedEx offered immediate support. FedEx sponsored delivery of more than 200 boxes across Taiwan giving hope to families of those physically and mentally disabled in such difficult times."
FedEx has a long history of working with nonprofit and government entities to support relief efforts during times of crisis. The company has delivered more than 13,000 COVID-19-related charitable shipments since January 2020, and the company has committed $4 million in cash and in-kind transportation support to nonprofits serving communities. FedEx is an integral part of the global vaccine supply chain, delivering vaccines and related supplies to more than 40 countries. With our innovative technologies used for vaccine shipments, FedEx can help ensure the temperature-sensitive deliveries move safely through our network. FedEx is dedicated to moving the world forward, while delivering for customers and team members around the world.