FedEx Supports Student Innovation and Entrepreneurialism at Business Idea Competition
Three Student Teams to Represent Japan at the 2018 International Trade Challenge Regional Finals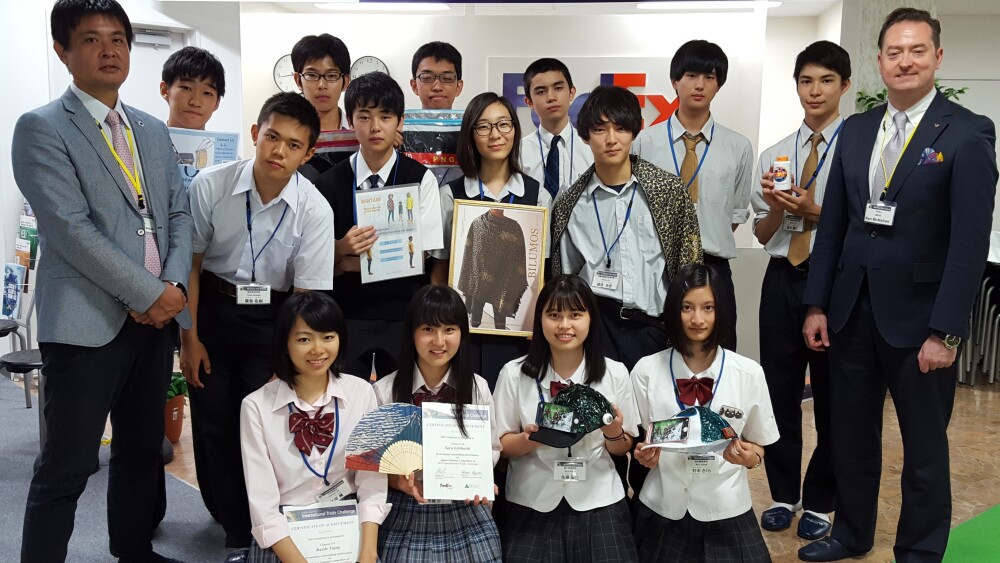 TOKYO, July 17, 2018 – FedEx Express (FedEx) and Junior Achievement, an organization dedicated to inspiring and preparing young people to succeed in the global economy, hosted the qualifying round for the Japan teams of the 2018 FedEx Express/Junior Achievement International Trade Challenge (FedEx/JA ITC) on July 16.
This year's challenge was to create a market entry strategy for an outdoor product in Papua New Guinea. Some 68 students in 34 teams (two students per team) submitted applications, and seven teams were invited to present in front of a panel of judges at the local competition.
The three winning teams selected to represent Japan at the FedEx/JA ITC regional finals from August 12 – 16 in Singapore are:
Team Sakura Hayakawa and Takahiro Ueda from Katoh Gakuen Gyoshu High School: An insect repelling blanket, a combination of Papua New Guinea's traditional weaving and insect repelling fiber using Japanese technology.
Team Akihito Okumura and Keigo Warashina from Katoh Gakuen Gyoshu High School: A supplement that is made of local specialties in Papua New Guinea.
Team Nishiyama Tomoki and Sasaki Kenta from Hongo High School: A soft, flexible and portable solar-power generating sheet that helps to mitigate impact of power outage issues in Papua New Guinea.
"Student teams worked together to develop creative business plans that illustrated both their energy and entrepreneurial skills," said Ken McMahon, managing director, Sales, FedEx Express, board member of Junior Achievement Japan, and judge at the ITC local competition. "The ITC finalists demonstrated their ability to understand consumer needs, consider potential solutions, and present compelling business cases for the launch of some very unique product ideas. At FedEx, as part of our commitment to expanding trade and cross-cultural exchange in our increasingly connected world, we are very proud to work with Junior Achievement to help students become future business leaders."
Through this competition, students gain first-hand experience of what roles world trade, product distribution and sales play in a market environment. In addition to teamwork, participating students learn the basics of risk evaluation in the business world and gain confidence in their analytical ability. FedEx employees volunteered as mentors to counsel students and guide them through the development of their plans.
Held annually, this year marks the 12th FedEx/JA ITC program. The program aims to help young people understand how entrepreneurship can improve the quality of their lives and the communities where they live. The three teams will represent Japan in a competition at the Regional Finals in Singapore between August 12-16, 2018 with 54 counterparts from nine other Asia Pacific markets: Japan, South Korea, Mainland China, Hong Kong, the Philippines, Singapore, Thailand, Vietnam and Australia. To further promote cross-border collaboration, finalists will not be competing in the same groups but will instead go through a random selection to form new teams consisting of participants from different countries.