FedEx Supports Reconstruction in China's Henan Province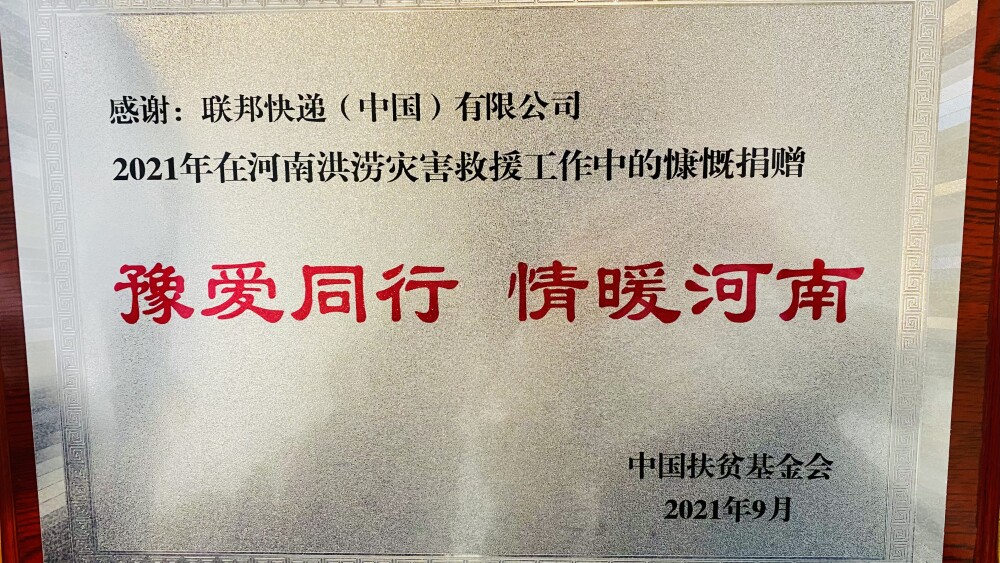 Shanghai, October 25, 2021 — FedEx Express, a subsidiary of FedEx Corp. (NYSE: FDX) and one of the world's largest express transportation companies, recently participated in the Henan Flood Relief and Reconstruction Visits and the Henan Post-Flood Reconstruction Seminar co-hosted by the China Foundation for Poverty Alleviation (CFPA) and Henan Rural Revitalization Bureau. Together with more than 80 representatives from political, business and academic circles, FedEx representatives visited the severely affected cities and counties in the? Henan Province to discuss plans for post-disaster reconstruction. At the conference, FedEx Express was honored as a caring enterprise supporting relief and reconstruction work.
After the heavy rainstorms and ensuing floods on July 20th, FedEx immediately donated RMB5,000,000 to support relief and reconstruction work in the storm-stricken areas of Henan Province.
According to CFPA, the FedEx Express donations were used for relief work, procurement of emergency supplies and post-disaster reconstruction focused on rural education so children in the affected areas could return to school and resume school life as soon as possible.
The reconstruction work for rural education includes:



Renovating the campus

Repairing, equipping and upgrading the affected schools' kitchens and teaching facilities

Improving school infrastructure and learning conditions

Providing local students with nutritious food to enhance their physical wellbeing.
The post-disaster reconstruction work is scheduled to complete by the end of this year.
In addition, the donation has been used to carry out a training program for emergencies such as safety and epidemic prevention. One program Say NO to Disaster - Campus Disaster Mitigation, has an interactive platform to reduce the impact of disasters. This program will strengthen education in disaster prevention and mitigation, as well as enhance students' awareness about disasters and how to avoid them. It will help schoolteachers lead disaster mitigation and prevention efforts and manage emergencies in a better way.
As a caring and socially responsible company, FedEx Express supports the communities where we live and work, while providing the best possible service to our customers. Through multiple channels, FedEx Express actively collaborates with non-profit organizations with expertise in disaster relief, safety, environmental sustainability and education. The company encourages its employees to participate in various public service activities to give back to their communities. By carrying out the FedEx Cares 50x50 program, the company will expand its global community engagement programs to positively impact 50 million people worldwide by 2023, when FedEx celebrates its 50th anniversary.
About FedEx Express
FedEx Express is the world's largest express transportation company, providing fast and reliable delivery to more than 220 countries and territories. FedEx Express uses a global air-and-ground network to speed delivery of time-sensitive shipments, by a definite time and date supported by a money-back guarantee[1].
[1] Subject to relevant terms and conditions