FedEx Supports Local Students Developing Business Ideas to Solve Social Problems at Asia Innovation Challenge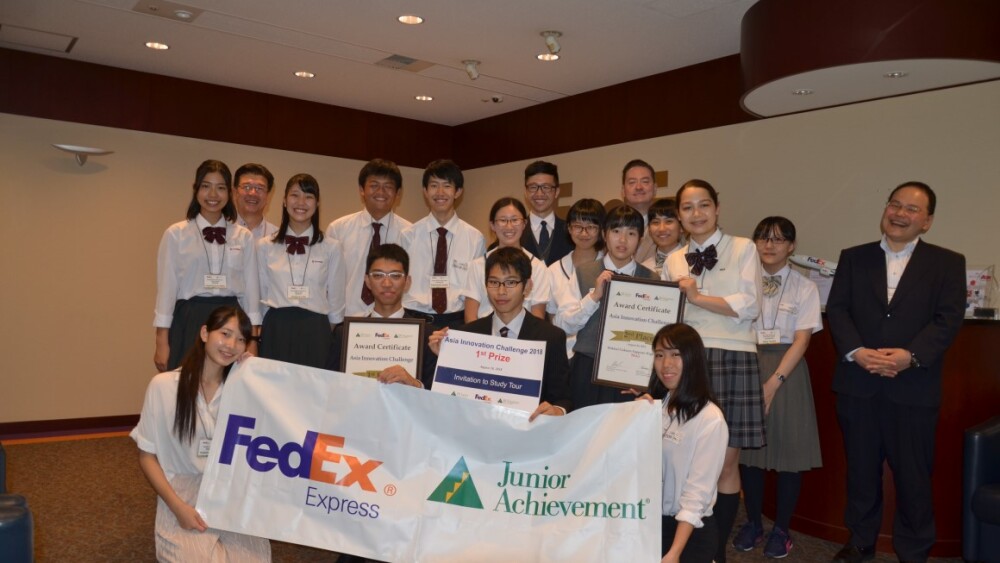 TOKYO, August 29, 2018 – FedEx Express (FedEx), a subsidiary of FedEx Corp. (NYSE: FDX), collaborated with Junior Achievement Japan, on the Asia Innovation Challenge (AIC), a business idea contest to help young people hone their business leadership skills. The contest took place at the FedEx Office in Makuhari on August 26.
During the contest, teams composed of four high school students, two from Japan and Singapore, worked together to create products and services that can improve or solve social problems in one of the selected ASEAN countries - Myanmar, Thailand or Brunei, chosen as a target market.
The winning team were: Tomoki Nishiyama, Kenta Sasaki (Japan), Felly Febryana Salim, Heidi Lee (Singapore)
Business idea:The selling of scarves and clothing with protection from dengue fever for Muslim women in Brunei: In Brunei where many Muslim women wear scarves (hijab) and clothes (abaya) to cover their skins, clothes with light fabric are very popular due to the high temperature throughout the year. Because of this, numerous cases of dengue fever, caused by mosquito bites, have been reported. The team proposed an online sales plan of hijab and abaya, created with polyester from recycled plastic bottles, coated with insecticide that causes no harm on the human body.
The second-place team were Olivia Greiner, Maho Arakawa (Japan), Chloe, Ying Hui (Singapore)
Business idea: An education business supporting the reduction of sexual offense rates in Thailand: The team proposed a business providing sexual education to students in Thailand where mixed-up information about related crime is disseminated. Also by training educators, the business is expected to contribute to prevent sexually transmitted diseases and unintentional pregnancies, as well as reducing sexual assaults in the future.
The third-place team were Natsuki Motomura, Nagomi Yoshimori (Japan), Muhd Ridhwan Bin Azman, Yusuf Rais (Singapore)
Business idea: A business providing rehabilitation equipment in Myanmar: Compared to other countries, Myanmar carries a considerable number of patients suffering from cerebral infarction. Many of them undergo rehabilitation, and these expenses are not covered by health insurance. The team created a business plan providing rehabilitation equipment which can be used at home at a reasonable price, contributing to the reduction of the citizens' economic burden, making it possible to continue on with rehabilitation.
One of the students from the winning team commented,
"This was my first experience working together with students from another country. During the process of creating the presentation, I worked together with students from Singapore by communicating through social media and communication applications. While we sometimes had difficulties communicating due to our different cultural backgrounds and national characteristics, this experience has taught me many things and helped me grow."
This year marks the fourth time FedEx is supporting the AIC. The program saw 92 high school students participating from Japan and Singapore, who were grouped into 23 four-member teams by ballot. In this contest, participants are challenged to work with other students from overseas to experience the qualities and skills necessary to succeed on the global stage, including English proficiency and skills such as cross-cultural communication, information gathering and analyzing, with creativity and presentation skills.
Four FedEx employees participated as mentors. They provided advice on how to effectively communicate with international team members, prepare materials, as well as answered student questions to assist their group-work activities.
FedEx, in cooperation with Junior Achievement Japan, continues to support the development of global talent and entrepreneurship by promoting programs for Japanese students. The Asia Innovation Challenge (AIC) is designed to give students an opportunity to work on a subject with other students from different cultures to understand the importance of the qualities required to succeed globally and encourage them to continuously learn these skills as students and in the future.