FedEx Singapore Nurtures Promising Entrepreneurs at the 2020-21 Virtual FedEx Express/Junior Achievement International Trade Challenge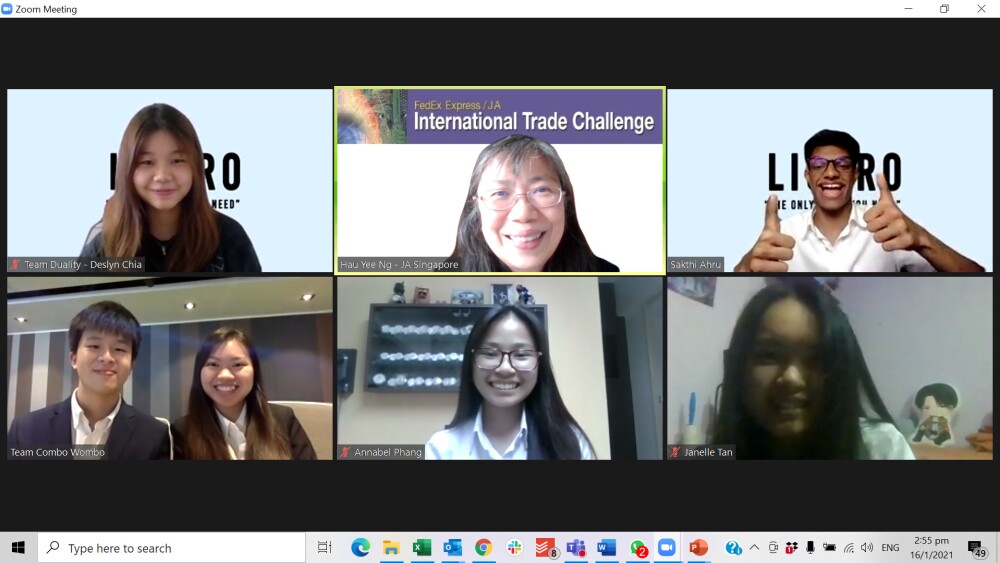 SINGAPORE, February 16 2021 – FedEx Express, a subsidiary of FedEx Corp. (NYSE: FDX) and one of the world's largest express transportation companies, announced the winners of the Singapore FedEx Express / Junior Achievement International Trade Challenge (FedEx/JA ITC) 2020. The three winning teams will represent Singapore to compete against teams from eight other countries in the Asia Pacific FedEx/JA ITC finals to be held on 1- 3 March 2021. The teams are:



Team Jaan: Annabel Phang Sheng Wei and Janelle Tan Yu Gui from ITE College Central, who developed a portable sterilizer for cleaning utensils.

Team Duality: Sakthivell Ahrumugam and Deslyn Chia Pei Yi from Ngee Ann Polytechnic, who developed a GPS-guided shoe that vibrates to indicate where travelers should walk.

Team Combo Wombo: Gerwyn Teo Wenqian and Xu Qingmiao from Singapore Polytechnic, who conceptualized an all-in-one environmentally friendly product that enabled travelers to be always connected and solved common travel-related problems.
The finalist teams demonstrated their strong entrepreneurial and project management skills that they learned in the ITC Workshops held virtually from October to December 2020. In the Singapore FedEx / JA ITC Finals, the teams presented their ideas to a panel of judges comprising FedEx and Junior Achievement volunteers. The finalist teams were evaluated on their market entry strategy for a travel product with Cambodia as the target market and were assessed based on the originality of project, depth of research undertaken for their business plans, as well as the feasibility of their idea. Outshining 12 other teams in the Singapore finals and 149 submissions, the winning teams will now compete in the Asia Pacific finals.
"FedEx is proud to have supported these budding entrepreneurs through the ITC program – especially in the 2020-21 program – given the changed format of the competition amid a pandemic. Through our years of collaboration with JA, we remain committed to inspire the next generation of up-and-coming entrepreneurs and business leaders," said Audrey Cheong, Managing Director, FedEx Express Singapore. "We are encouraged by the energy and inspiring work of the students and look forward to seeing the future impact that young entrepreneurs will make within the region."
"The talent that we see every year continues to impress. We are heartened to see the creativity of the participating students working together seamlessly through virtual platforms this year," said Ng Hau Yee, Director, Junior Achievement Singapore.
The three teams will represent Singapore at the Regional Finals competing with 51 counterparts from eight other Asia Pacific markets: Mainland China, Hong Kong, Japan, South Korea, the Philippines, Malaysia, Thailand and Vietnam. To further promote cross-border collaboration, finalists will not be competing in the same groups but will instead go through a random shuffle to form new teams with students from different countries.
Since its launch in Singapore in 2008, the FedEx/JA ITC has attracted more than 4,662 students nationwide, with 78 Singapore students representing the country at the regional challenge. The program itself has been running in APAC since 2007 and aims to encourage aspiring entrepreneurs to showcase their originality, creativity, and flair for business. In 2016, Colin Chee and Tan Jie Ying (Singapore Polytechnic) came in first at the regional challenge. Then in 2019, Team Prost, consisting of Kenneth Tee from Singapore and Noelle Pang from Hong Kong beat 29 teams from across the region.
###
About the FedEx Express / JA International Trade Challenge
Designed to foster business knowledge through practical teamwork exercises and classroom learning, the FedEx Express / Junior Achievement program comprises two key activities – the International Trade Workshops and the International Trade Challenge.
To enter the FedEx Express / JA International Trade Challenge, the teams must develop a specific product and create an original international marketing plan for a designated country. Through this process students work as teams of two and gain first-hand experience of what roles world trade, product distribution, and sales play in a market environment. In addition to teamwork, participating students learn about the basics of risk evaluation in the business world and gain confidence in their analytical ability.
About FedEx Express
FedEx Express, a subsidiary of FedEx Corp. (NYSE: FDX) and one of the world's largest express transportation companies, providing fast and reliable delivery to more than 220 countries and territories. FedEx Express uses a global air-and-ground network to speed delivery of time-sensitive shipments, by a definite time and date supported by a money-back guarantee [1].
[1] Subject to relevant terms and condition
About FedEx Corp.
FedEx Corp. (NYSE: FDX) provides customers and businesses worldwide with a broad portfolio of transportation, e-commerce and business services. With annual revenue of $75 billion, the company offers integrated business solutions through operating companies competing collectively, operating collaboratively and innovating digitally under the respected FedEx brand. Consistently ranked among the world's most admired and trusted employers, FedEx inspires its nearly 600,000 team members to remain focused on safety, the highest ethical and professional standards and the needs of their customers and communities. To learn more about how FedEx connects people and possibilities around the world, please visit about.fedex.com.
About JA Worldwide (Junior Achievement)
JA Worldwide is one of the world's largest organizations dedicated to inspiring and preparing young people to succeed in a global economy. Through a dedicated volunteer network, Junior Achievement provides in-school and after-school programs for students which focus on three key content areas: work readiness, entrepreneurship, and financial literacy. Today, 10.6 million students are served by JA Worldwide operations in 118 countries. For more information, visit www.jaworldwide.org.
NOTE TO EDITORS: FedEx Express press releases are available on the World Wide Web at https://about.van.fedex.com/newsroom/asia-english.
Check out FedEx Express Asia Pacific digital and social media pages for the latest trends and insights for businesses looking to go global:
FedEx Business Insights: http://fedexbusinessinsights.com/en/
FedEx | Go Global LinkedIn: https://www.linkedin.com/showcase/fedex-go-global/