FedEx Recognized for Delivering Positive Social Impact to Local Communities in Thailand

Awarded the AmCham Corporate Social Responsibility Award for the 12th Consecutive Year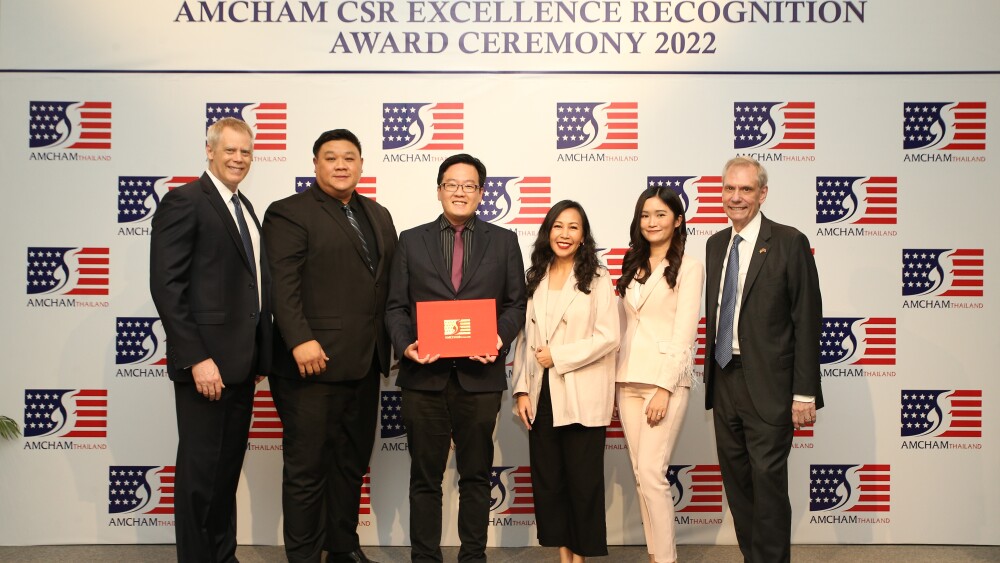 Bangkok, Thailand – November 30, 2022 – FedEx Express (FedEx), a subsidiary of FedEx Corp. (NYSE: FDX) and one of the world's largest express transportation companies, is awarded the Corporate Social Responsibility (CSR) Excellence Award 2022 by the American Chamber of Commerce (AMCHAM) in Thailand for the 12th consecutive year. This year, FedEx was recognized with the Platinum level status.
The Platinum Level recognition is awarded to companies who have achieved CSR Excellence for 10 consecutive years. The award recognizes companies in Thailand that demonstrate commitment through impactful community outreach initiatives, deliver good governance, and adopt sustainable business practices.
"Over the past four decades in Thailand, we are proud to support programs, enabling positive long-term changes and possibilities for communities to thrive. Nurturing the next generation of entrepreneurs and driving sustainability is an important part of our responsibility to the communities where we live and operate," said Tien-Long Woon, managing director, FedEx Express Thailand.
FedEx Cares, the organization's global community outreach program is focused on driving global entrepreneurship, sustainable logistics and humanitarian relief. Some of these initiatives include:

Building Greener and more Sustainable Communities
FedEx has set a goal to have carbon neutral global operations by 2040 through initiatives designed to make FedEx more sustainable across aviation, vehicle fleets, and at facilities over the next several years. In April 2022, FedEx introduced the first ever zero-tailpipe emissions electric vehicles for use in Thailand. The company recently looked at how to reduce waste by transforming old uniforms into fabric that were reused to produce more than 700 caps for FedEx team members.
In August 2022, FedEx employees helped refurbish a school building and plant sustainable farms to benefit over 176 students and teachers at Ban Huai Kwang Jing School in Phetchaburi.
FedEx is committed to nurture the next generation of entrepreneurs. For over 15 years, the company has sponsored the FedEx Express/Junior Achievement International Trade Challenge (ITC). This program has inspired more than 42,000 students from over 11 markets to broaden their understanding of global trade.
During the pandemic, FedEx donated electronic resources such as mobile phones, accessories, and educational equipment worth more than THB 278,000 to a remote school in Songkhla supporting the school's efforts to ensure online classes for students could continue without disruption.
To support university graduates, FedEx continues to extend support to the FedAmCham Career camp. FedEx team members offer valuable insight and advice to participating students on preparing resumes and interview skills. In addition, FedEx is teaming up with Suan Sunandha University to offer students 12 months internship, so that they can gain first-hand work experience in the logistics industry.
These community outreach initiatives are part of the company's FedEx Cares 50 by 50 goal to positively impact 50 million people around the world by the company's 50th anniversary in 2023. Learn more about FedEx Cares initiative here.
###
About FedEx Corp.
FedEx Corp. (NYSE: FDX) provides customers and businesses worldwide with a broad portfolio of transportation, e-commerce and business services. With annual revenue of $95 billion, the company offers integrated business solutions through operating companies competing collectively, operating collaboratively and innovating digitally under the respected FedEx brand. Consistently ranked among the world's most admired and trusted employers, FedEx inspires its nearly 550,000 employees to remain focused on safety, the highest ethical and professional standards and the needs of their customers and communities. FedEx is committed to connecting people and possibilities around the world responsibly and resourcefully, with a goal to achieve carbon-neutral operations by 2040. To learn more, please visit fedex.com/about.
About FedEx Express
FedEx Express is one of the world's largest express transportation companies, providing fast and reliable delivery to more than 220 countries and territories. FedEx Express uses a global air-and-ground network to speed the delivery of time-sensitive shipments by a definite time and date.