FedEx Recognized for Delivering Positive Social Impact to Communities in Vietnam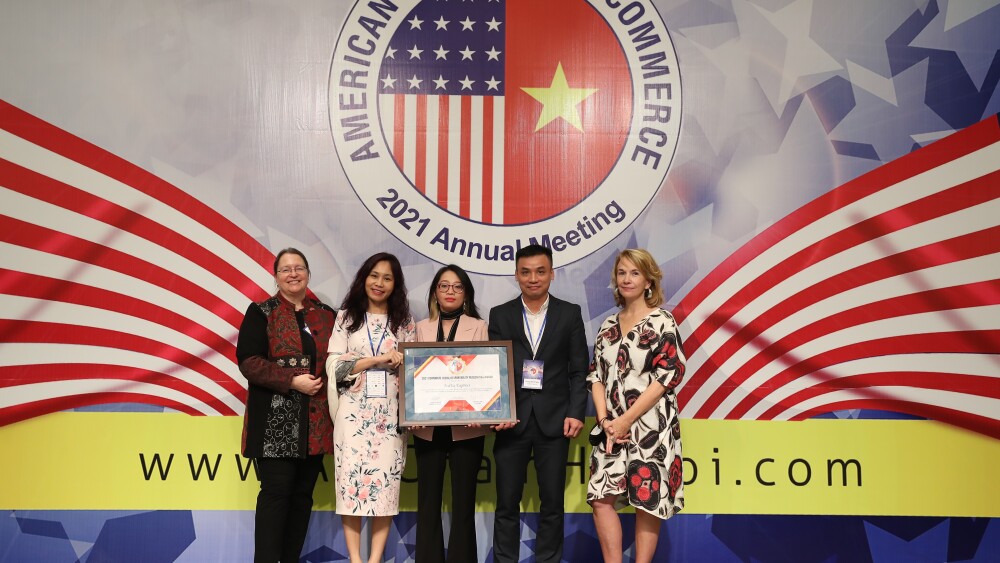 HANOI, 13, December 2021 – FedEx Express, a subsidiary of FedEx Corp. (NYSE: FDX) and one of the world's largest express transportation companies, received the 2021 Corporate Social Responsibility (CSR) Award from the American Chamber of Commerce in Vietnam (AmCham) for the third consecutive year.
The annual program recognizes AmCham member companies in Vietnam that demonstrate commitment to transparency, good governance, impactful community outreach initiatives, and sustainable business practices.
"Our mission is to connect the world responsibly and resourcefully. Whether we're transporting vaccines to combat the COVID-19 pandemic, bringing essential healthcare service to under-served communities or nurturing the next generation of entrepreneurs, we want to deliver positive social changes in Vietnam where our team members work and live. This recognition for the third consecutive year from AmCham is proof of our continued efforts and collective focus to make a difference. I am also very proud of our team members and their dedication to serve our community," said Hardy Diec, managing director, operations, FedEx Express Indochina.
The global community outreach at FedEx is focused on global entrepreneurship, sustainable logistics and humanitarian relief. In 2021, throughout the pandemic, FedEx supported the annual educational program FedEx/Junior Achievement International Trade Challenge, donated from Hungary to Vietnam, and brought critical healthcare services to rural areas through the FedEx Delivers Heartbeats program.



Moving what matters - Vaccine Shipments
Since the start of the pandemic, FedEx Express never stopped operating and has shipped nearly 110 kilotons of personal protective equipment and other healthcare supplies, including more than 2.5 billion masks worldwide.[1] We have been an integral part of the global vaccine supply chain, delivering COVID-19 vaccines and supplies to more than 50 countries and territories including Vietnam.
In September 2021, FedEx donated an express shipment of 100,000 doses of COVID-19 vaccines and 100,000 test kits from Budapest, Hungary to Hanoi, Vietnam to support the country's critical need for medical support.



Nurturing innovators for what's next
FedEx has teamed up with Junior Achievement (JA), the world's largest organization dedicated to promoting global trade and entrepreneurship education among the youth. Through the FedEx/JA International Trade Challenge (ITC) program – now in its 15th year – students have the opportunity to learn about the fundamentals of business and international trade. The program has attracted more than 4,000 participants around Asia Pacific, Middle East, and Africa (AMEA) markets.



Delivering healthcare access for under-served areas
2021 marks the 10th year of FedEx collaboration with VinaCapital Foundation in the FedEx Delivers Heartbeats Outreach Clinic program. In 2020, The FedEx Delivers Heartbeats Program provided cardiac checkups to 51,434 children through 143 mobile outreach clinics in 14 provinces across Vietnam[2]. Through the program, children in rural areas of Vietnam get access to free specialty healthcare and medical treatment for congenital heart disease.
The FedEx Delivers Heartbeats program has helped the lives of more than 8,000 children and improved the quality of life for families and communities by providing the underprivileged with proper diagnosis and treatment of their illnesses.[3]
These community outreach initiatives are consistent with the company's FedEx Cares 50 by 50 goal to positively impact 50 million people around the world by the company's 50th anniversary in 2023. Learn more about FedEx Cares initiative here.
[1] Approved Vaccine Messaging 14.10.21
[2] Reports | VinaCapital Foundation
[3] "FedEx Delivers Heartbeats" Reaches Underserved Areas to Help Vietnamese Children with Congenital Heart Disease