FedEx Nurtures Cross-border E-commerce Talent and Enables Taiwan SMEs To Explore Cross-border E-commerce Opportunities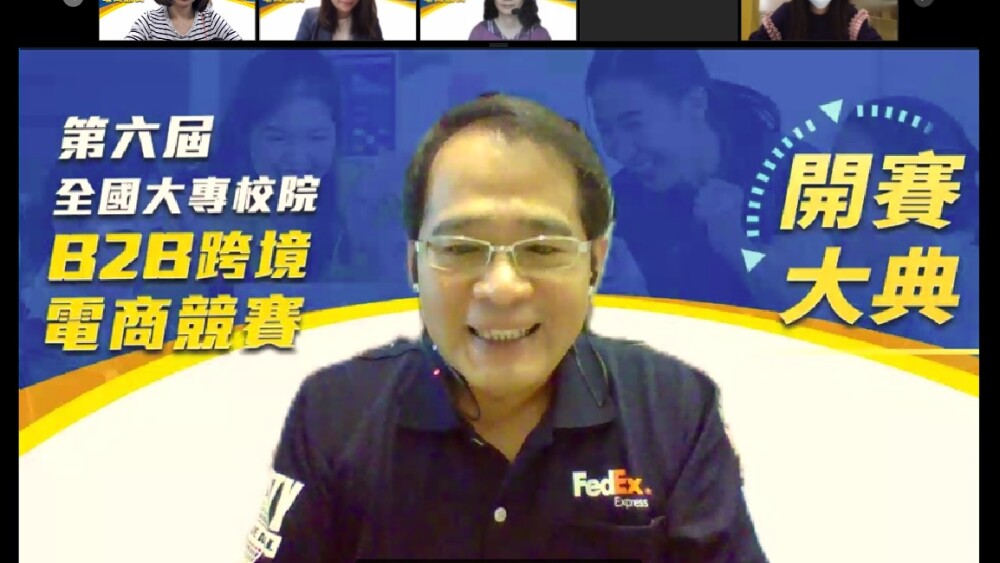 Taipei, November 11, 2021 – FedEx Express (FedEx), a subsidiary of FedEx Corp. (NYSE: FDX) and one of the world's largest express transportation companies, has officially kicked off the sponsorship for the sixth Taiwan University Student B2B Cross-border E-commerce Competition. The competition aims to nurture young cross-border e-commerce talent in Taiwan and inspire participants to enter the global marketplace. This is the second consecutive year for FedEx to join the event in collaboration with the Importers and Exporters Association of Taipei, Chung-Hua International Trade Association, JIAYE Information Co., Ltd and other co-organizers.
"With our successful experience in 2020, we are very excited that we will continue to join hands with other organizers to hold the competition this year," said Michael Chu, managing director of operations, FedEx Express, Taiwan. "During the competition, we are ready to leverage our professionals and experiences to cultivate young talent in Taiwan for the future of international trade and commerce. At the same time, we aim to support small- and medium-enterprises and e-tailers who are adopting digital practices to sell their products to the global marketplace easily."
With the impact of COVID-19, businesses have been adopting digital and e-commerce business practices to meet changing and growing customer demands. Besides B2C online transactions, the number of B2B customers using digital self-service channels is soaring[1]. Among the SMEs joining the B2B competition this year, most are enterprises in manufacturing, food, machinery and hardware tools. More than 70% of the SMEs had recently joined Alibaba.com. This showcases that more and more Taiwan businesses are shifting to digital applications and away from the traditional trade methods; they are adjusting their cross-border e-commerce business model in response to the new normal.
This year, the kick-off ceremony and training sessions of the competition are being held virtually for the first time due to COVID-19 safety measures. Through a series of practical workshops supported by FedEx and JIAYE Information Co., Ltd, the designated e-commerce platform, participants are able to gain first-hand knowledge and experience in how to run a B2B cross-border e-commerce business. The workshop will focus more on the cultivation of data analysis and operations strategy, with a view to nurturing talent in line with global digital trends. During the competition, FedEx is offering students and SMEs that join the competition an exclusive support team to provide professional suggestions on cross-border logistics-related issues that will make the shipping process easier.
The student teams will help run the business on Alibaba.com for their respective small business owner for two months under the guidance of FedEx and JIAYE Information Co., Ltd. Teams will be judged based on their performance in various areas, including the number of orders, inquiries, click conversions, and e-store design. The top eight teams with the highest scores will enter the finals and prepare a presentation to compete for the grand prize.
Started in 2017, the Taiwan University Student B2B Cross-Border E-commerce Competition has attracted more than 3,000 students and 450 B2B suppliers across Taiwan. The finals for the competition are scheduled for January 2022. Visit https://b2bhr.com.tw/Competition/6th-alibaba-b2b for more details about the competition.
Future Schedule of B2B Cross-Border E-Commerce Competition
Oct 25 – Dec26 Preliminaries
Jan 5, 2022 Announcement of finalists
Jan 15, 2022 Finals and award ceremony
[1] https://www.mckinsey.com/industries/advanced-electronics/our-insights/how-industrial-companies-can-put-ecommerce-at-the-heart-of-their-growth-strategy