FedEx Malaysia Named Best Employer for Eighth Time
Reflects FedEx Commitment to Employees and Success in Delivering Business Outcomes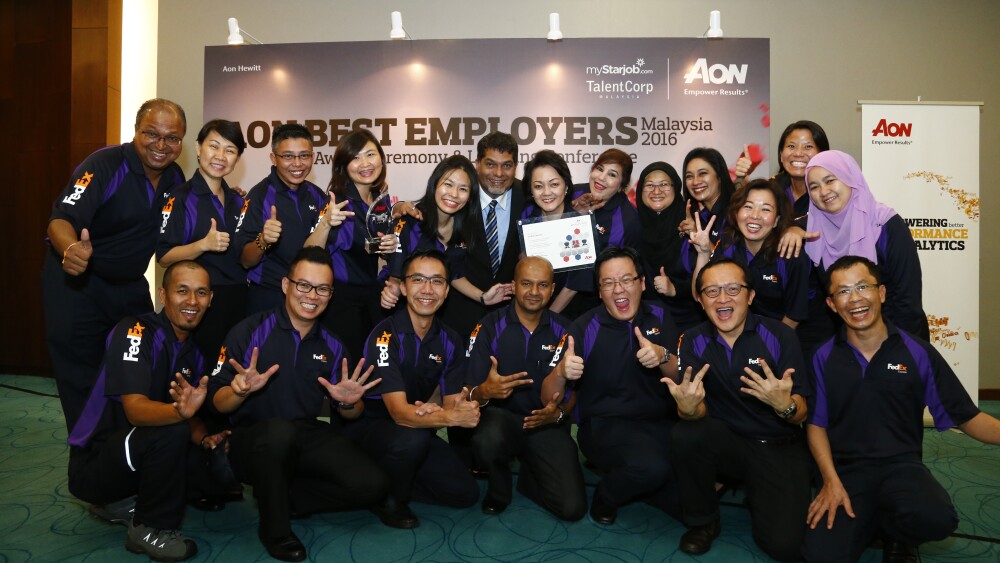 KUALA LUMPUR, August 26, 2016 — FedEx Express (FedEx), a subsidiary of FedEx Corp. (NYSE: FDX), and the world's largest express transportation company, has been named one of the Best Employers in Aon's Best Employers survey 2016 in Malaysia. Earning this distinction for an impressive eight times, FedEx Malaysia continues to be recognized for its People-First culture and employee-friendly work environment.
"At FedEx, our people are the heart and soul of our company," said Ramesh Kumar Singam, managing director, FedEx Express Malaysia. "We are constantly looking at ways to nurture a positive and progressive work environment that allows our employees to develop personally and professionally. This award serves as a testament to the contributions, dedication and hard work of all our employees in Malaysia to make every customer experience outstanding."
Aon's Best Employers survey was first launched in Malaysia in 2001. The survey aims to provide insights into how organizations can create a real competitive advantage through people; explore what makes a workplace of choice; and, identify a list of best employers in Asia Pacific. The Aon's Best Employers programme was conducted in twelve countries in Asia Pacific in 2016: Australia, China, Hong Kong, India, Indonesia, Japan, Korea, Malaysia, New Zealand, Singapore, Taiwan and Thailand.
In addition to being awarded Aon's 2016 Best Employer in Malaysia, FedEx was recognized as one of Aon's Best Employers in Asia Pacific in 2015. Earlier this year, FedEx ranked 8th in the Fortune Magazine "Most Admired Companies" survey and came in first in the delivery industry category.