FedEx Launches Self-Service Locker in Hong Kong
Bringing Greater Convenience to Online Shoppers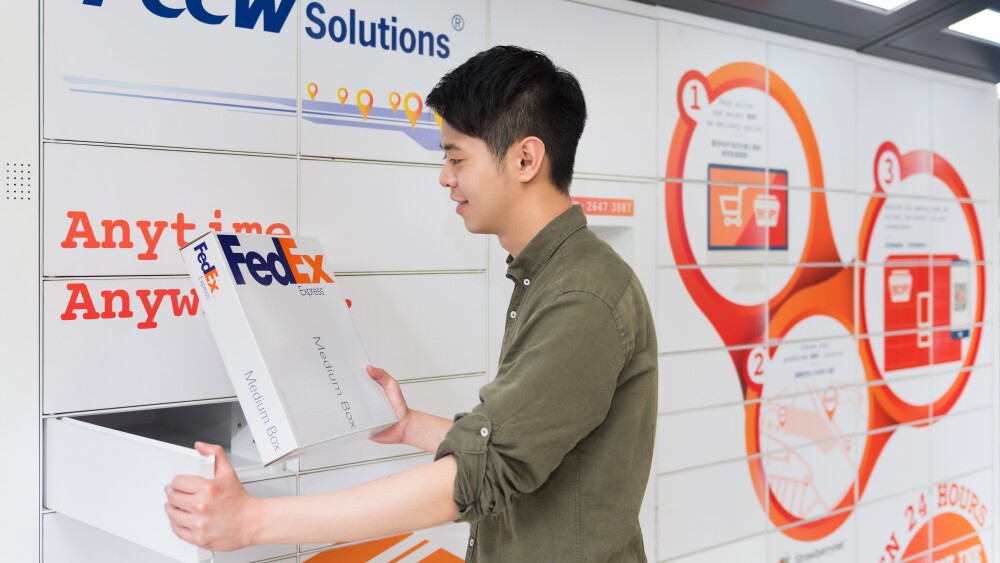 HONG KONG, May 24, 2017 — FedEx Express (FedEx), a subsidiary of FedEx Corp. (NYSE: FDX) and the world's largest express transportation company, announced the launch of FedEx Self-Service Locker across 35 locations powered by PCCW Solutions' digital logistics platform in Hong Kong. Customers and e-shoppers now have the option to pick up their FedEx packages[1] any time at any of the locker locations, at no additional charge.
To enjoy the new service, customers can reply to their FedEx pre-delivery notification message and indicate their preferred locker location. They will then receive an SMS message[2] containing pick-up details and a passcode[3]. Customers will need to input their mobile phone number and the given passcode into the locker automated machine upon pick-up.
"FedEx has a culture of innovation that drives us to pioneer new solutions and address customers' evolving needs," said Anthony Leung, managing director, FedEx Express, Hong Kong and Macau. "The introduction of the new self-collection service to strengthen our last-mile delivery capability is a testament to that. We believe the new service will provide a competitive edge for e-commerce businesses, as it creates a better experience for their customers when it comes to delivery arrangement."
For more information about the FedEx Self-Service Locker, visit fedex.com/hk_english/dropoff.
[1] The service is only applicable to shipments of up to 15 kilograms in weight and 128.5 cm in dimensions (i.e. the sum of length, width and height, each of which should not exceed 57 cm), and with a total declared value for customs of no more than US$500 per shipment.
[2] Customers should take due caution in disposing the SMS message. Any unintended sharing of the SMS message with others may potentially lead to loss of shipment. FedEx is not (and shall not be) liable for any damage to (and/or loss of) shipment resulting from customers' sharing (whether intended or unintended) of the message with others.
[3] Customers have to pick up the packages within 48 hours upon receipt of the SMS message; otherwise, the packages will be returned to FedEx. The FedEx money back guarantee does not apply to this service.