FedEx-Junior Achievement Inspire Korean Entrepreneurs to Build New Business Possibilities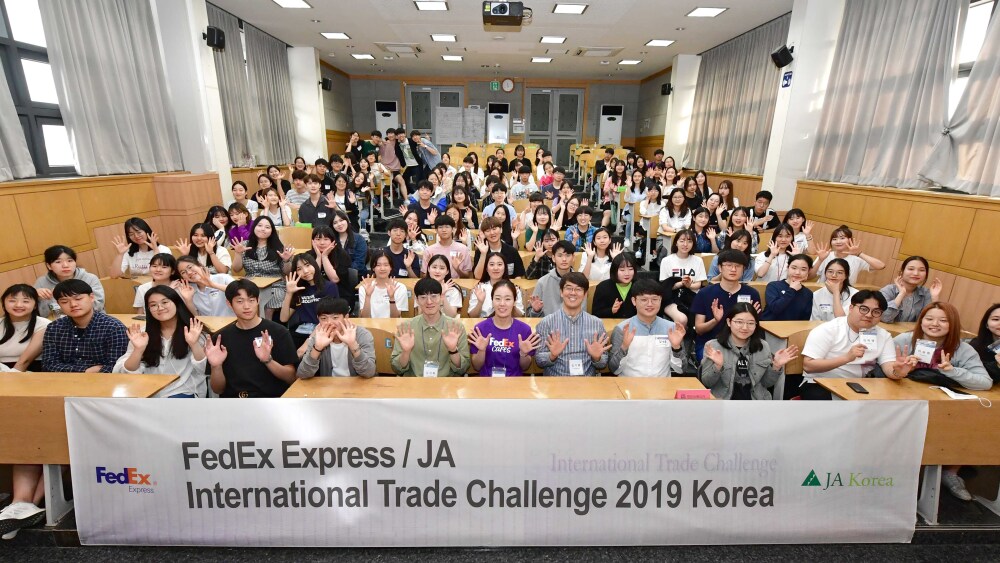 SEOUL, May 27, 2019 — FedEx Express, a subsidiary of FedEx Corp. (NYSE: FDX) and the world's largest express transportation company, together with Junior Achievement (JA) hosted the 2019 FedEx-JA International Trade Challenge Workshop (FedEx-JA ITC) on May 25 in Seoul.
The annual FedEx-JA ITC is a regional competition that aims to nurture the entrepreneurial spirit and skills of high school students and introduce them to the fundamentals of global trade.
This year, 148 high school students participated in the workshop to learn more about the basics of international commerce, how to develop market entry plans and present their business ideas. Students will then be invited to submit their market entry strategy plans in June. Shortlisted teams will present their plans to a panel of judges at the International Trade Challenge on June 15.
Six students will be selected to represent Korea at the Asia Pacific Finals in Kuala Lumpur, Malaysia, on August 18-22, 2019. They will go on to compete with students from ten Asia Pacific markets. At the Asia Pacific finals, finalists will be randomly grouped into new teams consisting of participants from different markets such as Australia, Mainland China, Hong Kong, Japan, South Korea, Malaysia, Singapore, Thailand, and Vietnam, in order to promote cross-cultural collaboration. This environment is designed to encourage participants to share experiences from their home countries and discuss best practices.
Last year, the champion team included a Korean student and a Vietnamese student whose team developed a wearable device for the French elderly that helps prevent falls by monitoring body balance and alerting when someone is at risk.
The program provides aspiring youth entrepreneurs with the opportunity to gain a solid foundation on which to build future careers in business. Since 2007, the FedEx-JA ITC has benefitted more than 1,700 students in Korea.
More information about the 2019 FedEx-JA International Trade Challenge can be found on the JA Korea website www.jakorea.org.