FedEx Inspires Business Innovation in Korean Students
Three Teams Advance to Regional Finals of 2015 FedEx Express/Junior Achievement International Trade Challenge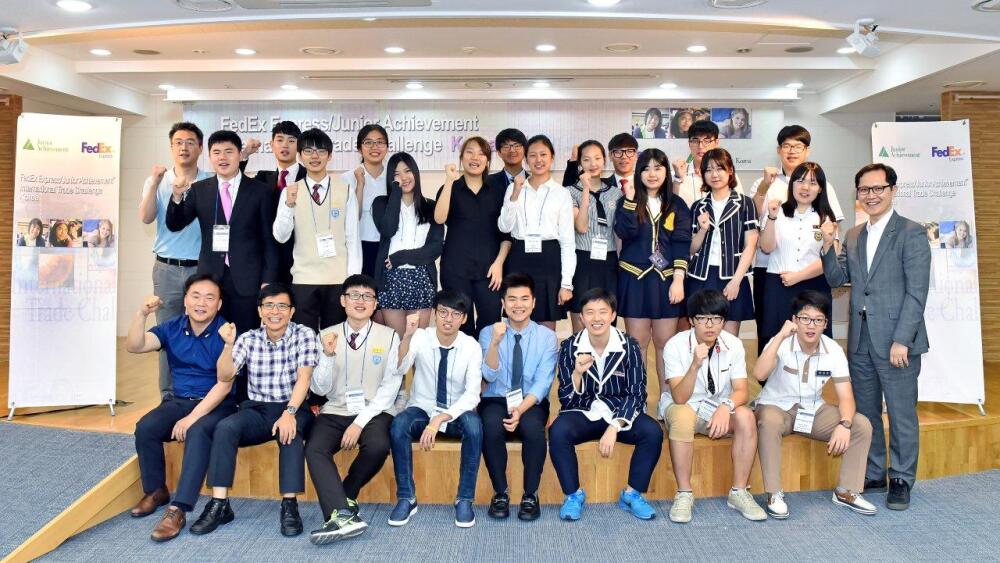 SEOUL, July 20, 2015 — After a highly-charged and intense of competition on July 18, FedEx Express and Junior Achievement (JA) are pleased to announce the three student teams from South Korea. They will compete against 48 representatives from eight other markets in Singapore at the FedEx Express/Junior Achievement International Trade Challenge (FedEx/JA ITC) Asia Pacific finals to be held from August 11 to 13, 2015.
The Korean representatives are:



The 1st place: team 'ACIA, Sue Kim and Zoё Shin from Bugil Academy, Recyclable pen that can be used to plant seeds.

The 2nd place: team 'SIS', Dongjae Min and Sungbin Cho from Seoul International School, Selling and Renting Paintings of Down Syndrome Patients to UAE's Corporations.

The 3rd place: team 'Sheep & Seaweed', Jihye Yang and Jinwoo Kim from Hankuk Academy of Foreign Studies, Environment-conscious paper product that can be recycled for children's books.
24 students from around South Korea took part in the business challenge and were required to develop a market entry strategy plan for an office supply with an element of CSR in United Arab Emirates. The students were judged by a panel of entrepreneurs and business leaders on their market-entry strategies detailing marketing, promotion, pricing, inventory and product distribution plans.
Eun-Mi Chae, managing director of FedEx Express Korea, said that she was impressed by the level of skill and talent of the students who participated at the local competition.
"We are continually impressed with the creativity and the understanding of business concepts that these students demonstrate. We have high hopes for them representing Korea at the Asia Pacific finals in August," said Eun-Mi Chae, managing director of FedEx Express Korea. "FedEx is committed to supporting education in South Korea. The FedEx/ JA ITC provides an excellent opportunity for the next generation of entrepreneurs and business leaders to gain great insight about how business thrives in the global market."
Before heading to Singapore, the six representatives will receive further training from JA Korea to prepare for the Asia Pacific finals.
The FedEx/JA ITC competition, first introduced in 2007 in Korea, has provided about 1,500 students first-hand experience in international trade and opportunity to develop a market entry strategy for products and services.