FedEx Holds Asia Innovation Challenge, a Business Idea Contest to Offer Solutions to Social Issues in Asian Countries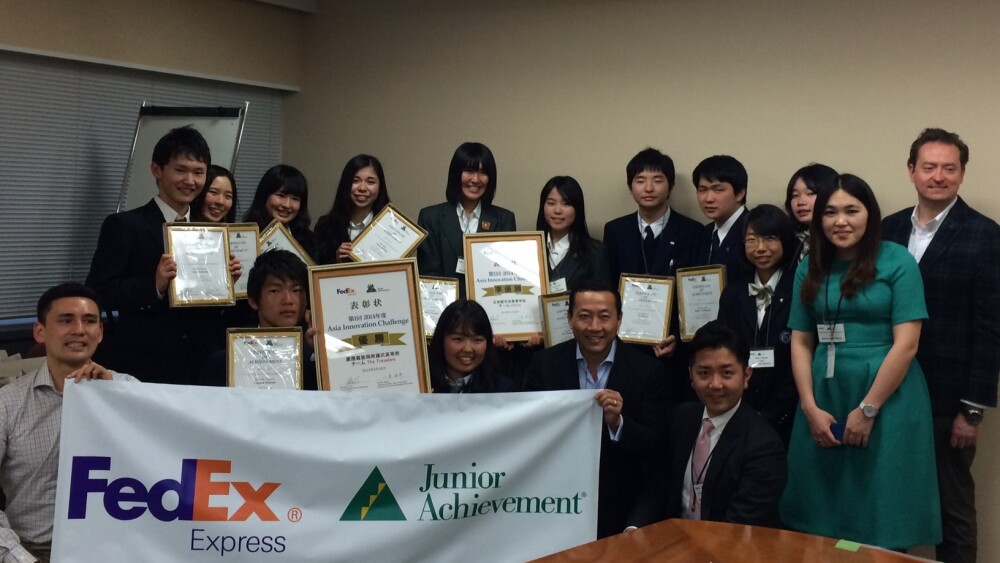 High school students from Japan and Singapore work together to propose business models, winning team proposes business aimed at expanding educational opportunities and raising child literacy rate in Myanmar
TOKYO, March 31, 2015 – FedEx Express held the final stage of the Asia Innovation Challenge business idea contest on Sunday, March 29, at which the winning participants were announced. This is a new socially conscious program sponsored by FedEx in collaboration with Junior Achievement Japan, which challenges high school students to devise and present business models for tackling social issues in Asian countries.
This year's inaugural contest saw a total of 60 high school students from Japan and Singapore participate and 25 students present their business plans in the final. In teams made up of students from each country, they went through a process of selecting a country, researching the social issues affecting that country, considering what kind of business could help tackle that issue, and discussing ideas before drawing up a concrete plan. To act as mentors and advise the students, nine employees from FedEx Japan took part in the program, utilizing their career experience to offer support.
The winning team of the Asia Innovation Challenge was comprised of two students from Japan (Takumi Matsuo and Mina Kumakura) and two students from Singapore (Ang Yi Ting and Goh Wan Yu Starlynn). Their proposal was targeted at children in Myanmar who for various reasons are unable to attend school, with the aim of expanding education opportunities and raising the child literacy rate through a business selling self-learning kits.
One of the winning students commented "It was really worthwhile to successfully work together with teammates in another country online and through e-mail, and to be able to experience an environment similar to real-life business. I want to make the most of this experience in the future."
"At FedEx, we continue to support initiatives aimed at nurturing Japanese students to become active workers in the future global environment, and I'm delighted to be holding this new program," said Masamichi Ujiie, regional vice president, North Pacific, FedEx Express. "In this contest, the Japanese students could discover new values through working with students from Singapore with a different language and cultural background, pooling their knowledge and insights to solve issues together. Apart from improving their language skills, I hope this experience could teach them the importance of having a global perspective."
Yoshihiro Nakamoto of Junior Achievement Japan commented, "We consider it essential to utilize Junior Achievement's global network in order to offer an opportunity for Japanese young people to cooperate with students overseas. I'm sure that the students could learn a lot from the advice of the FedEx employee volunteers."
Asia Innovation Challenge Overview
Task
Choose one country from among the ASEAN member nations of Indonesia, Thailand, Vietnam,
The Philippines and Myanmar, identify a social issue of that country, and draw up a business
model proposing a product or service that can contribute to solving or improving that issue.
Contest schedule
Dec 2014 Form teams, decide FedEx employees to participate
Decide the themes to be tackled by each team
Jan-Feb 2015 Produce business model and presentation materials (reasons for choosing
country and issue, explanation of product/service, target customers, cost/sales
strategy, etc.)
Sat, Feb 28 Deadline for submission of materials, announcement of seven teams chosen to
proceed to final stage
Sun, Mar 29 Final
Via online broadcast between Japan and Singapore FedEx offices, each of teams conducts presentation
Winning teams announced following conclusion of judging
FedEx and Junior Achievement Japan have been working together over the past five years to implement various educational programs for students, such as Job Shadow and Student City. The Asia Innovation Challenge is aimed at making students aware of the important qualities that are increasingly demanded in today's globally active workforce, and raising their motivation to learn more about such matters in future.