FedEx Global Citizenship Report Showcases How FedEx Multiplies Opportunities and Delivers Possibilities Around the World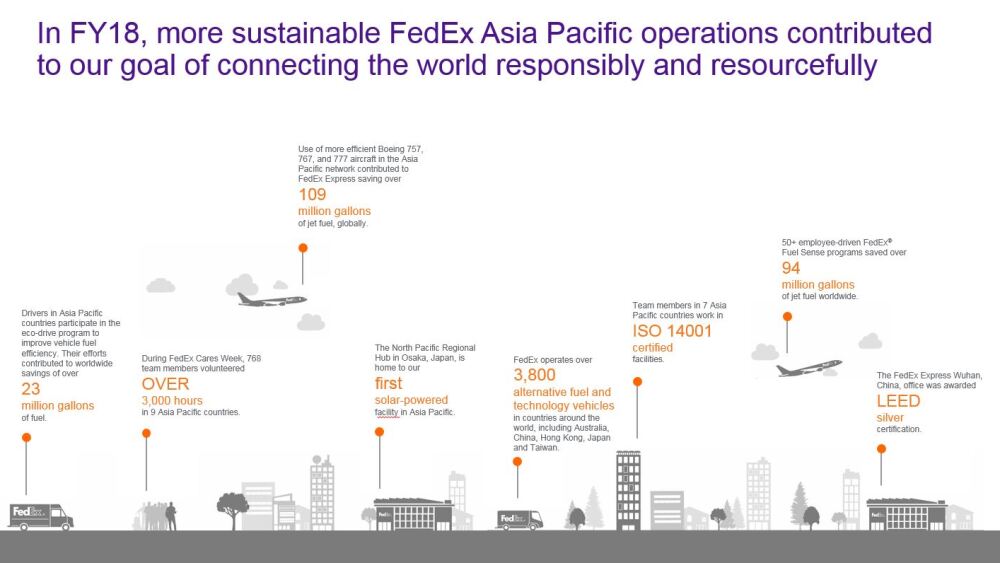 HONG KONG, May 2, 2019 — FedEx Corp. (NYSE: FDX) has released its 2019 Global Citizenship Report (GCR), which details how the company connects people and communities responsibly and resourcefully. The 11th annual report includes updates on the progress of the company's citizenship goals in FY18, which ended on May 31, 2018, and focuses on the company's corporate social responsibilities strategies in three key areas: from multiplying growth for our customers and our business (Economy), to multiplying efficiencies for the environment (Environment), and multiplying the potential of our people (People).

"FedEx unparalleled global network has given us the ability to multiply opportunities for people, businesses and the environment," said Karen Reddington, president, Asia Pacific, FedEx Express. "The GCR is a showcase of the collective good work that FedEx teams around the world have achieved and the contributions made by the Asia Pacific region to our global vision. It is heartening to see the progress, but the work does not stop there. We will continue to create the FedEx 'multiplier effect' by leveraging our resources, scale, and expertise—to keep connecting people and delivering possibilities for businesses and communities around the world."


Multiplying Growth

In FY18, FedEx exceeded US$65 billion in revenues, a 9 percent increase over FY17, and climbed to number 50 on the Fortune 500 list of U.S. companies. This success has enabled the company to continue driving growth and lifting economies where we operate.

In Asia Pacific, FedEx has enhanced its operational network in the region and introduced new flights to connect businesses to more opportunities around the world. For example, new routes launched in 2018 connecting Hanoi, Vietnam to the FedEx Asia Pacific Hub in Guangzhou, China as well as Sydney, Australia to Singapore are helping the development of businesses in these markets. New routes help businesses expand internationally by giving them better, faster access to global trade.

Entrepreneurial roots grow deep at FedEx. The company powers initiatives like the FedEx Express/JA International Trade Challenge to inspire young students to become the entrepreneurs of the future, as well as supporting today's entrepreneurs through the FedEx Small Business Grant Contest. These programs provide practical experience and insights from FedEx advisors that SMEs often do not have access to and provides them with necessary grants and resources to enable them to expand their global footprint and seize international possibilities.


Multiplying Good

Corporate social responsibility is at the heart of the connections FedEx makes around the world. Key elements of the company's strategy include environmental efficiency innovations, a sustainable supply chain, a diverse and inclusive workplace, and the robust giving and volunteering platform know as FedEx Cares.

The company is ahead of plan for its FedEx Cares goal of investing US$200 million in more than 200 global communities by 2020. FedEx has already invested in more than 200 communities and is on track to meet the total contribution goal early. In FY18 alone, the company invested more than US$55 million in corporate charitable contribution.

In Asia Pacific, FedEx volunteers contributed over 3,000 hours of their time in the FY18 FedEx Cares program. As a responsible road user, one of the organizations FedEx volunteers regularly support is Safe Kids, which promotes pedestrian road safety for children across China, Korea, Philippines, Thailand and Vietnam and creates Safe School Zones so students can walk to and from school in safety.


Multiplying Efficiencies

FedEx has made great strides in reducing its carbon emissions intensity through the company's Reduce, Replace, Revolutionize strategy on reducing impacts and improving productivity while creating new, more efficient and innovative solutions. Overall, these efforts have contributed to a 37 percent reduction in CO2 emissions intensity on a revenue basis across the enterprise since FY09, a period in which revenue grew by 84 percent. FedEx avoided more than 2.7 million metric tons of CO2e from fuel and energy saving initiatives last fiscal year alone.

The use of more efficient Boeing 757, 767 and 777 aircraft in the Asia Pacific network contributed to the 2020 target of reducing aircraft emissions intensity by 30% from 2005. For example, FedEx introduced Boeing 767-300 Freighter in Malaysia in July 2018 to upgrade its aircraft fleet, which delivers a 30 percent increase in fuel efficiency while strengthening delivery capabilities.

FedEx deployed 48 pure electric vehicles in 13 cities across China in 2018 to help further reduce fuel use and emissions. Through FY18, our efforts to apply our Reduce, Replace, Revolutionize approach collectively resulted in a 39.6 percent improvement in vehicle efficiency from its 2005 baseline.


Multiplying Potential

There would be no FedEx without the efforts of the company's 450,000 team members around the world, which is why the company strives to provide team members with a safe, inclusive work environment. In FY18 the company:


Provided an average of 19 hours of formal training per employee

Contributed a total of US$11 million in tuition assistance to more than 8,800 employees
FedEx has received consistent recognition as an employer of choice in both Asia Pacific and globally. FedEx was named the Best Employer in Asia Pacific by Aon Hewitt for six times. Earlier this year, FedEx was ranked 10th in Fortune's "World's Most Admired Companies" list. This marks the 19th consecutive year that FedEx has ranked among the top 20 on the list, with 15 of those years ranking among the top 10.