FedEx First Safe School Zone in Thailand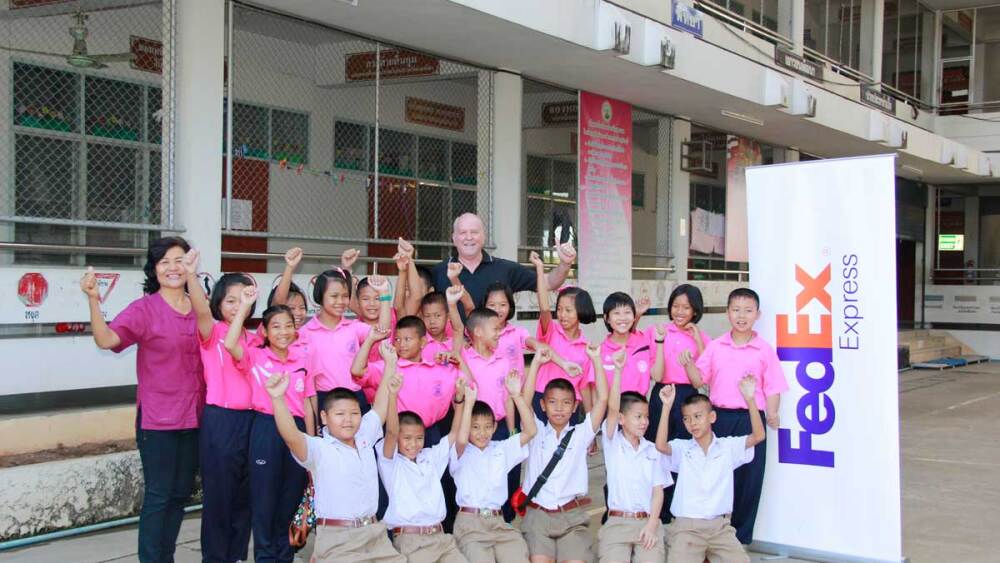 Innovative Road Safety Program to Benefit More than 500 Primary School Students in Nan
NAN, Nov. 16, 2015—FedEx Express, a subsidiary of FedEx Corp. (NYSE: FDX) and the world's largest express transportation company, and Safe Kids Thailand joined local school children, community and municipal leaders to celebrate the opening of the first Safe School Zone in Thailand on Nov. 14.
The inaugural Safe School Zone project, at Jumpeewanidaporn Primary School in Nan province, is the latest road safety program supported by FedEx and implemented by Safe Kids Thailand.
The multi-phased program began in January this year in an effort to reduce the number of child-related road accidents. Phase one of the project involved research and surveys to find safety trouble spots in the school's neighbourhoods. In phase two, the community worked together to make improvements such as covering holes on roads and walkways, erecting signs at dangerous road curves, reinforcing the school gates, and asking street vendors to move their stalls from pavements near the school.
"The Safe School Zone is an area in which pedestrian and road safety hazards are identified and fixed to make walking to and from school, safer for students," said Safe Kids Thailand spokesperson, Adisak Plitponkarnpim, associate professor and director, Child Safety Promotion and Injury Prevention Research Center. "This will contribute significantly to pedestrian safety and it is a great achievement after months of collaborative efforts between the students, teachers, the police, hospitals, and community and municipal leaders."
"The need for safe walking environments is more urgent than ever. The World Health Organisation recently declared roads in Thailand to be the second most dangerous in the world[1], with many road-related deaths involving pedestrians," said David Carden, managing director, FedEx Express Thailand and Indochina.
"FedEx is committed to improving road safety for children in Thailand who are especially vulnerable to road hazards. We support community-led projects that make our roads and pavements safer and we're delighted that more than 500 Jumpeewanidaporn school students and their parents will benefit from the first Safe School Zone in Thailand."
Inaugurated in Thailand in December 2011, Safe Kids programs have reached more than 108,000 children, 8,000 parents and 750 teachers throughout the country. The Safe School Zone project is an international program run by Safe Kids organisations around the world.
[1] Bangkok Post, Thailand's roads second-deadliest in world, UN agency finds, October 20 2015 http://www.bangkokpost.com/news/general/736748/thailand-roads-second-deadliest-in-world-un-agency-finds