FedEx Express Upgrades Break-Bulk Shipment Service to Enhance Cross-Border Commerce in APAC
Enhancement of FedEx International Priority DirectDistribution® helps streamline the distribution process so shipments arrive faster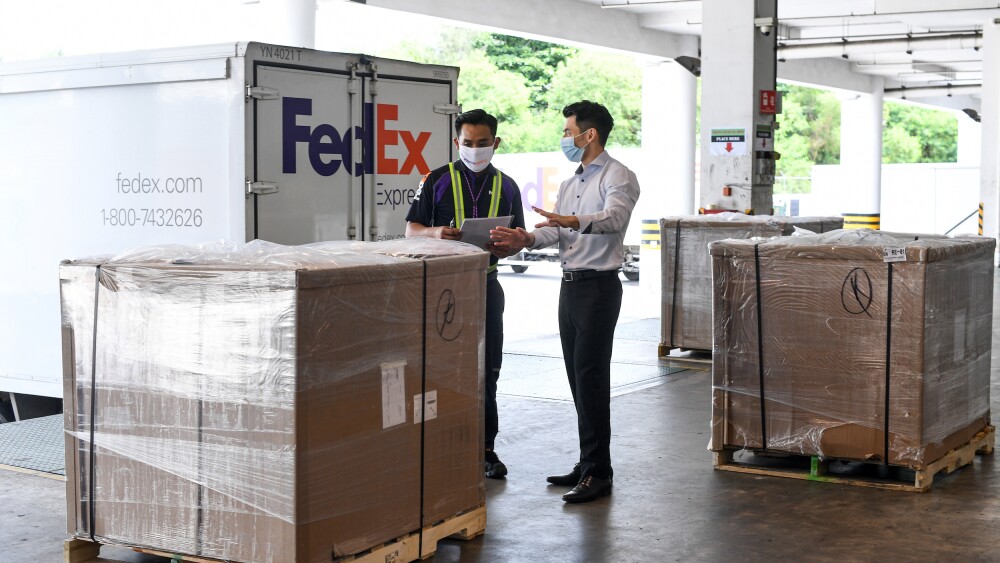 Hong Kong SAR, China, April 7, 2022 — FedEx Express (FedEx), a subsidiary of FedEx Corp. (NYSE: FDX) and one of the world's largest express transportation companies, has enhanced its break-bulk shipment service, FedEx International Priority DirectDistribution® (IPD), by shortening the transit times from 2-4 days to 1-3 days for shipments from Asia Pacific (APAC) region to six destinations. Now, customers in Australia, Hong Kong, New Zealand, Singapore, South Korea and Taiwan[1] in the APAC region can enjoy the same level of transit time as they would get from FedEx core express international delivery service – FedEx International Priority (IP), without incurring additional costs when shipping goods to these six destinations.
The service enhancement comes at a time when cargo demand continues to grow in the APAC region. According to the latest data from IATA, APAC air cargo demand grew by 4.9% YoY in January 2022, which is nearly double that of the global average (2.7% YoY)[2] thanks to active cross-border trade in the region. A recent study by Asia Development Bank[3] reveals that intra-regional trade momentum has continued to grow over the course of the pandemic. This has helped to better shield Asian economies as supply chain bottlenecks and virus prevention measures have disrupted trade elsewhere.
The enhanced IPD solution streamlines the cross-border delivery process by allowing APAC businesses, including e-tailers, to consolidate packages within the destination country/territory into a single shipment at their manufacturing location. Consolidated goods are then shipped internationally where they clear customs under a single invoice. FedEx then unpacks the shipment at the destination and sends the individual packages to multiple locations within the destination country/territory.
Businesses can enjoy key benefits of the upgraded IPD services that include:



Risk mitigation – IPD streamlines the supply chain and reduces risks associated with additional handling and inventory and warehouse management. Consolidated shipping also reduces losses or damage associated with the shipment.

Faster Delivery – Streamlining the supply chain and consolidated customs clearance helps to shrink transit times from weeks to days.

Reliability – One carrier manages the whole process from origin to destination, thereby reducing loss, damage or delay thanks to less handling, and added control and accountability.

End-to-end Visibility – Customers can manage and track the status for each individual shipment throughout the delivery process with FedEx Advanced Tracking, a platform that provides fully comprehensive shipment tracking, including proofs of delivery.
"The ongoing global pandemic has made reliability and supply chain resilience top of mind for businesses of all sizes.[4] To help them manage their supply chains effectively, we remain committed to bringing more effective international shipping solutions to our customers in the region," said Salil Chari, Senior Vice President, Marketing and Customer Experience, Asia Pacific, Middle East, and Africa (AMEA), FedEx Express. "With intra-regional trade set to contribute to more than 20% of the world's trade growth by 2030[5], this enhancement to International Priority DirectDistribution® (IPD) gives an extra boost to our customers, helping them improve their speed to market through a leaner logistics flow, without having to invest in additional logistics infrastructure,"
This is the latest service enhancement in the FedEx portfolio. In January, to cater to businesses' heightened expectations for trackable, time-definite delivery,[6] the company launched FedEx International Priority® Express (IPE), an enhanced time-definite service with delivery windows early in the day for critical time-sensitive shipments. Customers in the Asia Pacific, the Middle East, and Africa (AMEA) can schedule international delivery at a definite time, by 10:30 a.m. or by noon.
To learn more about FedEx International Priority DirectDistribution®, please visit https://www.fedex.com/en-hk/shipping/services/international-priority-directdistribution.html
[1] Transit times and delivery commitments may vary depending on origin, destination and nature of the goods shipped. For detailed information, please contact Customer Service.
[2] https://www.iata.org/en/iata-repository/publications/economic-reports/air-freight-monthly-analysis---january-2022/
[3] https://www.bloomberg.com/news/articles/2022-02-09/asia-deepens-ties-within-region-as-disruptions-roil-global-trade
[4] https://www.omnitracs.com/sites/default/files/files/2021-06/Consumer%20Survey%20Infographic.pdf
*Service availability in 1 to 3 business days and exact delivery time depends on origin and destination postal codes. Terms and conditions apply. For detailed information, please log in to fedex.com to obtain a quotation, or refer to Rate & Transit Times.
[5] https://www.mckinsey.com/featured-insights/asia-pacific/asia-the-highway-of-value-for-global-logistics
[6] https://apnews.com/press-release/marketers-media/virus-outbreak-technology-business-greater-china-e-commerce-abfad0a974fa005e768a9977148dca7d