FedEx Express Conducts One-Day Job Shadow Program at its North Pacific Regional Hub at Kansai International Airport
15 high school students learn about customs and ramp operations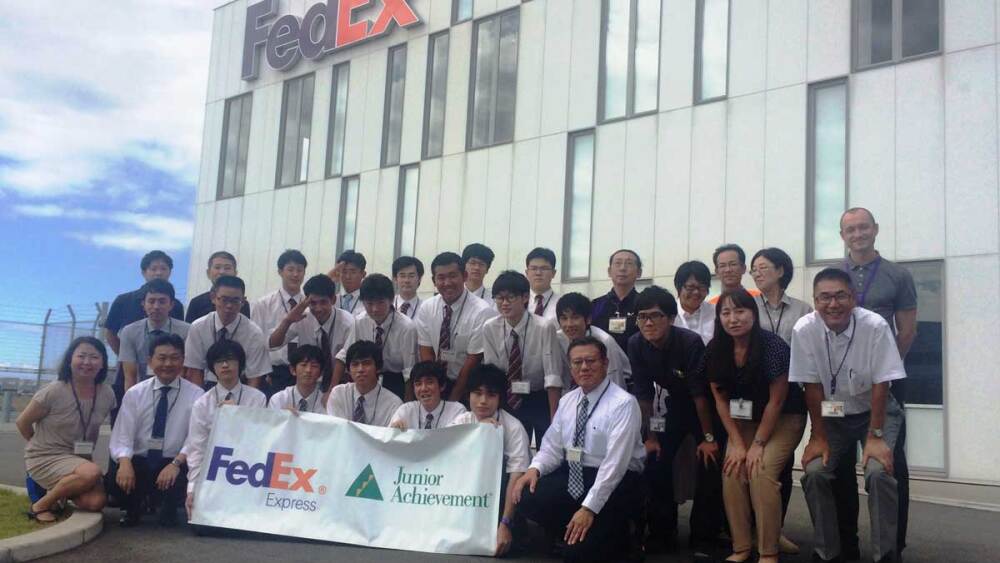 TOKYO, August 31, 2015 – FedEx Express (FedEx) conducted a one-day job shadow program for 15 students from Rakuyo Technical High School and Fushimi Technical High School on August 26 at the FedEx North Pacific Regional (NPAC) Hub located in Kansai International Airport.
The job shadow program, conducted jointly with Junior Achievement Japan, gives students an up-close opportunity to observe employees performing their jobs. The program aims to provide students with experience of the business world and gain a broader understanding of future career opportunities.
At this installment of the job shadow program, students received one-on-one mentoring from FedEx employees responsible for customs administration and ramp operations (transshipment management and checking). They learned about NPAC Hub operations, employees' duties, and the importance of teamwork and responsibility to customers.
"The job shadow program gives students the chance to observe our employees at work, which will help guide them as they consider their futures," said Masamichi Ujiie, regional vice president, North Pacific, FedEx Express. "Because our hub is a vital facility that links Asia with North America and Europe, our employees approach their various roles with a sense of responsibility that contributes to the overall FedEx team. I believe the students who participated in the job shadow program walked away with an understanding of the pride and responsibility that our employees take in their work."
One student who participated said, "I was extremely impressed with the concentration ability of employees in charge of customs operations, who swiftly and accurately process documents by referencing manuals like a large dictionary, in order to provide a speedy service. I found the whole experience very insightful particular the discussion after the job shadowing when FedEx employees shared their personal journey on how they embarked on their current career."
Since 2007, FedEx regularly conducts job shadow programs and supports a number of students, together with Junior Achievement Japan, a nonprofit that strives to train young people with the skills they need to go out into society.